A quick check...
Based on analysis of your activity, we've mistakenly classified you as a robot! Sorry about that. Please complete the question below to set us straight and we'll have you straight back to what you were doing in no time.
Today's Posts
More Tractor Brands
Thoughts on a Case IH Farmall 60
Thread starter High Brook Hills
Start date Oct 13, 2011
High Brook Hills
Bronze member.
We did a reverse auction for pricing on multiple makes and models. In the end the best pricing for the money came in as a Case IH Farmall 60 that had sat on their lot for some time. In comparison of HP per dollar and value of the equipment to the dollar the Case could not be beat. We did consider an interesting Deere but it was significantly more and a slightly larger McCormick with a cab that was the same price as the Case but the dealer shipped it out before we replied, missed by one day. After a summer of usage we have the following thoughts. For comparison, Farming is not our way of making a living but we are trying to turn a slight profit (which is NOT easy!!!). We have stepped up from a Farmall B (original family of owners from 1946), a Massey Ferguson 180 Diesel (Perkins, very good engine but the clutch went out and there were many other things going wrong). Wife has been mainly on the B and several Deeres including 100HP models. Our little beast has 12 X 12 forward/reverse shuttle shifting, MFWD, locking differential (manual), FEL model 360 w/6ft universal bucket, 3100lb lift 3pt, independent PTO, assembled in Georgia. The lights are lined up well. We like having the full lights and the blinking lights on top. It has been useful to have the 7pt wiring harness plug and the cigarette plug. Power steering has also been a nice to have, Wife likes the tilt steering wheel. We have found the adjustable/extendable 3pt sway bars to be very helpful. The lift and draft on the 3pt has been very nice. We found a gooseneck hitch for the 3pt and the tractor easily moves our trailers around. I strongly recommend the universal mount front end loader (FEL). It has been most useful! it is even strong enough to pull 14" posts out of the ground. We use a very old and heavy bush hog mower to counter weight the FEL. Without the counter weight we could not have used the FEL to move bucket loads of gravel. The FEL does stick out some from the front of the machine. I have found the PTO puts out a lot of torque. We have sheared many shear bolts/pins while running the mower and the auger. I have not done a study of the amount of fuel use but it does use less than the Farmall B did. I am not sure about the Massey. I like the way the hydraulic lines are put in use. There are hard lines on the right hand side and the lines going up the FEL are hard and attached close to the frame. I am not a fan of the flexible lines hanging low below the deck. My neighbors 5000 series Deere has had issues with the lines hanging so low. The have caught on debris and stumps and pulled loose. I have seen the same issue on New Hollands and Kubotas. The 3pt is more than strong enough to lift 2200 pound round bales. It has also been able to help drive the auger better than any other tractor we have used for that effort. In just over 50 hours of use the only complaint we have, well besides the shear pins, is related to our land. The land is a bit rolling and this tractor does feel a bit tippy if pushed on a slope. We could not get the B anywhere near a slope but the Massey did not feel uncomfortable with slopes. I will see about extending the tyres so as to give a wider footprint. Wife says it is the easiest tractor she has ever used. The 60HP has been plenty for us. The FEL and the MFWD are somethings we would prefer to not be without.
We have a Farmall 50 that we have about 280 hours on. It has the 12X12 transmission, 350 FEL and MFWD like yours. We've been pleased with the tractor and our dealer. As you mentioned, counter weight is needed on the tractor if you are using the loader to lift anything heavy. We used the tractor for mowing this summer and will be using it in the timber and on a wood chipper again this winter. The only complaint is that the fuel filter is difficult to service on our tractor. Any ideas from the group?
Just to post a follow-up on our ownership. Fluids, filters replaced at 50 hour intervals. Fuel consumption has still not been maintained, sorry about that! It does not appear atrocious so we should be good. I only worry about tipping with this tractor so extending the wheels out was important. I hauled ~11,000 pounds behind the tractor up a steep hill without any hitches, she just pulled and went without a hiccup! I would not wish to be without this tractor! No issues thus far as we approach the end of the first year of ownership. Oh, and no bad winter weather so we do not know how well it would work in snow.
Another year with this baby and we just love it even more! Only complaint: The tractor feels tippy especially as compared to the Farmall B, Massey 180, Deere 5305 and 6010. Very, very tippy. It has never tipped and we have some steep hills but it does not lend to wishing to be any sort of sideways! The Massey was definately the most stable platform of the group named above. No issues, no breakages. Cut and baled about 9 acres using a JD350 sickle bar, NH 54 rake, and NH Haybine square baler. Did it all with about seven gallons of fuel. Very hard to believe but these are all very low impact pieces of equipment. Running the large Bush Hog (very old, very heavy) uses about two gallons per hour at a constant 2400 RPM with the heavy load. Normal fluid/filter changes. Starts everytime. Stored in the barn with no animal access. I really, really appreciate the way the hydraulics are plumbed!!!! I do not have lines hanging down below the fram and have steel lines running up the FEL! No issues, no line breakages. My friends/family with similar uses of equipment are replacing lines several times a year and buying more hydraulic fluid. I still have plenty in the five gallon drum even after helping fill up a buddies system. All in all, I would definately do this again!!! Usage: Post holes, stretch fencing, hay production, gravel/sand/dirt/material movement, loading trailers (front forks! with FEL), grading, mowing, stump/tree removal, moving trailers (have a trailer ball attachment for 3 pt hitch) loaded and unloaded, lifting material to higher level (like a forklift), lifting mowers for maintenance, and leading cows.
Hmmm, cannot edit my post! Wife noted that I miscounted my refueling! Make that 12 gallons as I used 2.4 containers of fuel. I did 10 acres this past week with the same implements and went through almost 11 gallons of fuel. Difference? I cleaned out the air filter and the screen in front of the radiator. The equipment also received fresh lubrication as per maintenance schedules. Need to rethink greasing to a more often topping off! The rake I am just going with low RPMs and a higher gear. We "fly" through the fields MED 4 or HIGH 1 and about 1000 to 1200 RPM. After alot of work on the baler we were going in MED 2 at 2200 RPM making bales at a good clip. The Deere 350 is running at 2300 RPM and I alternate between LOW 4, MED 1, and MED 2 depending upon thickness and how the unit is cutting at the moment. New blades and a general overhaul at the beginning of the season. Lusting after a better cutting unit and a Hesston in-line baler. LOVE the 1950's rake!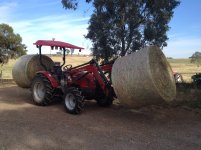 baileyana said: View attachment 397229 CASE IH FARMALL 60 B (Australian spec) The Little red Case has done a power of work since July, spraying, sowing,mowing, raking, baling, general farm stuff. 150 hours up, no dramas, 2 small issues, the right side power steer hose rubs on chassis rail, fixed with a sleeve of old radiator hose, and a clevis pin falling out of clutch pedal linkage, both fixed at home easily , The Case Farmall 60B (LS Mrtron) is solid and easy to live with, mowing is the toughest job (6 disk Krone AM234S) she drinks a bit of fuel, but, she is working hard, really happy with my tractor, only annoying thing is the clutch pedal is a bit close to body work, my big feet don't fit on pedal and sometimes don't get a smooth gear change. Overall rating 9/10 Click to expand...
bpFarmall60B
baileyana said: UPDATE: 250 hours up. all good with tractor , no issues at all, has done the ploughing and sowing , still loading hay and general farm stuff, really happy with the performance. BUT , OIL FILTERS, can't get them, it seems that the filters in the CNH Parts box Part# MT40006986 aren't the right filter, well it doesn't fit my tractor, the original LS Filter is Pt# 40006986 but it aint the same, thats a fail CNH . am trying to track down filters through LS importer Click to expand...
Hi BP, Just clicked up 750 hours, and have not had any trouble, did break a bolt on left side of FEL mount from being stupid, and the front tyres have worn badly from traveling on bitumen roads, so at 750 hours i changed ALL the oils and filters and adjusted the tappets which were on the loose side but that can be expected. The 60B has been an outstanding little utility tractor, am buying another with a cab this time to add to the fleet. I get filters through the NH dealer now WIX didnt have a cross reference either.
Footer Links 1
Terms of Use
Privacy Policy
Reviews , Tractors
Review: case ih maxxfarm 60 tractor.
Mark Fouhy went in search of an alternative to his wheel buggy. One option was a Case MaxxFarm 60hp tractor. Read on to see how this tractor performed under the conditions.
After battling mud and rain while moving feed troughs from paddock to paddock, and with one of our four wheel buggys away for repairs with a broken universal on the driveshaft, I decided there had to be a better option for this type of workload.
Knowing that one of Giltrap Agi Zone's (GAZ) dealerships had a late-model 60hp MaxxFarm tractor with low hours, sunshade, and a high-quality loader already fitted – all for a similar price to a new 50hp MaxxFarm without a loader – we got in touch with GAZ. The MaxxFarm was delivered within days, allowing us some time to put the little tractor through its paces.
The tractor has a simple set-up: forward/reverse shuttle on the dash, range shifter to the left of your seat, gears and joystick for loader operation with three-point linkage on your right hand side, as well as rear service valves and PTO operation controls that are colour coded and mounted to the right of the seat, where you can see what is happening. It's all on a flat operator platform and it doesn't take long to become familiar with your surroundings in the MaxxFarm.
You don't get mudguards fitted on the MaxxFarm 600, but there is glass in the front two corners of the platform. Although the tyres are relatively small, their grippy tread still throws about some mud, which you don't really want on the operator platform, making it wet, slippery and dangerous.
Under the wet conditions, the 2265kg tractor didn't seem to make any more mess across the paddocks than the buggys did – maybe even less, given the tyres of the tractor just gripped in, rather than spinning faster and faster.
The fact that the tractor is twice the weight of the feed and troughs it was towing means there is less chance of the unbraked troughs pushing it around in slippery conditions.
Travelling along our tracks, I initially found the Maxxfarm 600 to be a bit bumpy (partially because I need to spend more time in the summer using the blade and trailer, metalling and grading). But once I dropped the tyre pressure from 15psi back to 12, it made quite a difference to the smoothness of the ride, and gave me a bit more traction on the wet paddocks.
With a separate pump for steering functionality, you have plenty of flow for hydraulic functions at the two remote valves; pretty good, I thought, for a tractor in this class. The little Case worked well operating the Hustler Chainless 2000-bale feeder I put on it. Its hydraulics are capable of lifting 1750kg. With the bale feeder at 490kg, plus baleage at approximately 650kg, the Case was within its limits. But given the size of the tractor and the bulging of the tyres under the load, I wouldn't recommend it as a regular activity.
The 2.5-litre engine fitted to the 50-60hp MaxxFarm models are not Case-made engines. The engines are LS Mitron, made by Mitsubishi, so if they're anything like the little Mitsubishi tractors, they'll go for years. Aside from blowing a bit of smoke on start-up (if you haven't glowed it), the tractor seems to have plenty of get up and go, with a speed range between 1.2-28km/h. The Maxxfarm happily operates in third gear in the fourth range unloaded along the farm raceways, and fourth gear was fine too – until you hit a hill.
Pulling a road train of four troughs full of feed requires you to drop between second and fourth gears in the third range. Not fourth gear up the hills, however. The Maxxfarm allows you to pull the four troughs at the same speed as a buggy can pull two, and having no issues getting them in and out of the paddock is quite a time saver. The empty running on the Maxxfarm is a little slower, but you will have already made up that time by only having to do it once.
The MaxxFarm 600 I tested was fitted with a self-levelling Case front-end loader, designed and made to suit each of the models in the MaxxFarm range. You don't get fancy soft ride kits on loaders in this size, but like loaders for the big machines you do get a Euro hitch with third service valve for bale cutters or soft hands. Operation of the loader is also like the 'big boys', with a convenient joystick to control your tip and crowd and up and down, with the button for the third service valve located on the bottom side of the joystick.
If I had the choice of either a tractor with a loader or one without, I would always take the one with the loader as they are just so useful on the farm – even if it's just carrying your smoko bag! However, the downside of having a loader mounted is that the stoppers have been screwed out to prevent the wheels rubbing on the loader/frame, which decreases the super-tight 55-degree steering angle.
The test tractor also came with a Warrior sun shade fitted to the ROPS structure. This is great as it'll prevent you getting sunburnt while topping a paddock on a hot summer day. However, it won't keep your seat dry on a rainy day. The MaxxFarm 600 is the only model in the range that comes with a cab option.
The MaxxFarm did suit our purposes and excelled in the areas of efficiency, ease of operation and reliability. But in the end we came to the conclusion that we still needed the buggys even when we're not feeding, and given that we already have a loader tractor, we can use this to pull the troughs – although, unlike the MaxxFarm, our current tractor can be a bit messy on rainy days.
The MaxxFarm 600 proved to be great for transporting feed to stock, but handling baleage bales really is a job for a bigger machine.
Although this agricultural tractor is perfect for farmers requiring a smaller, more nimble machine, the real target market is small block owners, horse studs or perhaps landscapers and park and field maintenance. Overall, I was very impressed with the quality of the MaxxFarm and although it doesn't have a Case engine under the bonnet and is made in Korea, rather than Germany or Austria, I wouldn't be put off buying one as it still has the Case dealership and warranty behind it.
So after completing this test, I still have a bit of a dilemma – first, there's all the metalling and grading I need to do in the summer and second, I may still have to test a newer and more powerful buggy.
But, if you are in the market for a smaller tractor, low hours with a front end loader, I know of a good one for sale!
Good specification level in a small tractor, two RCVs, quick pick-up ball ends.
Solid, well-made loader, with third service, and joystick operation.
Smooth, easy-to-operate gearbox.
Exhaust mounted down below the operator platform, keeping fumes away from the operator and not obstructing the vision of the operator.
Performance of the hydraulics, easily lifting all I asked of it, and capable of running the likes of a bale feeder as well.
One-piece bonnet, easy to open and check coolant/fluid levels.
Having to wait to glow the engine, after about an hour of being turned off for an easy start, avoiding a large amount of smoke from the exhaust.
No neutral/direction indicator in the dash for the forwards/reverse shuttle.
If you're looking for used tractors for sale , check out our listings.
Photography: Mark Fouhy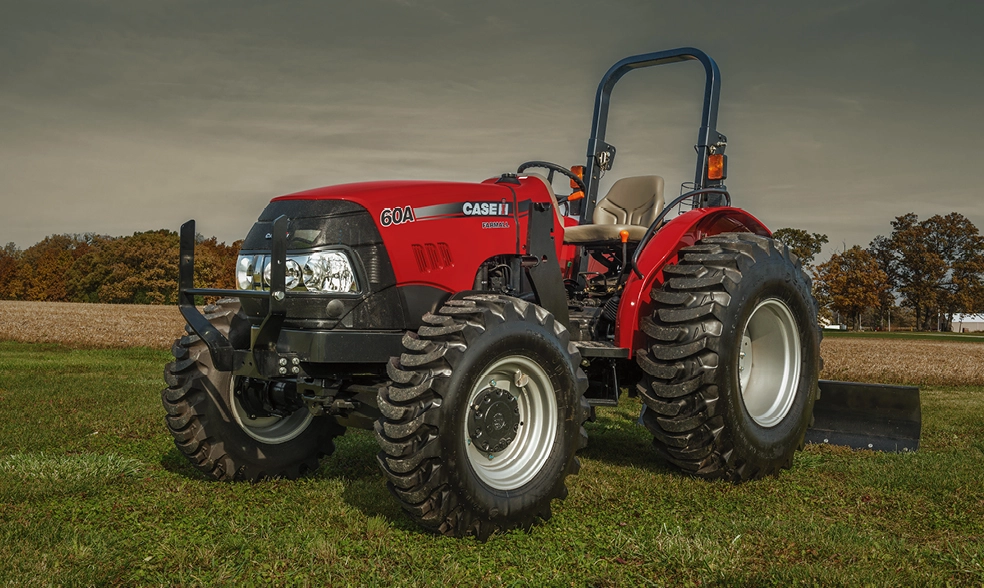 Farmall Utility 60A
The Farmall ® utility 60A is loaded with value for any operation. It delivers 60 engine HP and 51 PTO HP.
Compare To Other Manufacturers
Farmall Utility Brochure
Find a Dealer
Compatible Loaders
Compatible loader for your Farmall Utility A series tractor. Check out the full offering of loader attachments for all your material handling tasks here.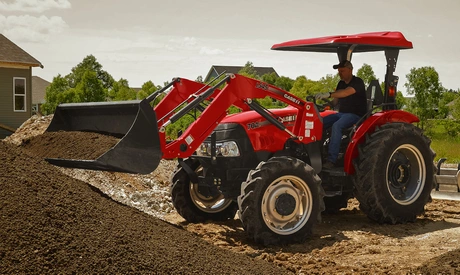 Designed for Farmall ® utility 50A, 60A and 70A
Max Lift Capacity: up to 2,205 lb. (1 000 kg)
Max Height: up to 106 in. (2 680 mm)
Boom Breakout Force: up to 3,131 lb. (1 420 kg)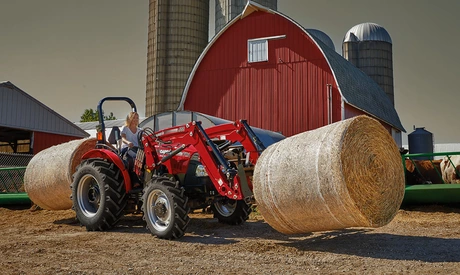 Max Lift Capacity: up to 2,734 lb. (1 240 kg)
Max Height: up to 105 in. (2 670 mm)
Boom Breakout Force: up to 3,527 lb. (1 600 kg)
Compatible Implements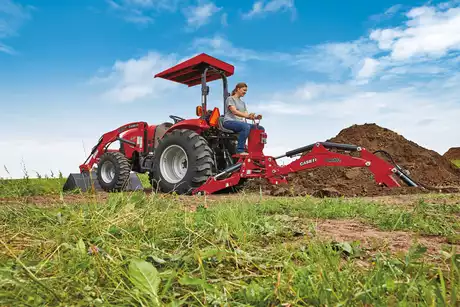 Portable, flexible and strong, Case IH backhoes let you confidently dig in tight quarters. Lightweight enough for one person to attach and remove within minutes and rugged enough to work hard all day.
Compatible tractors: Farmall ® Compact A series Farmall ® Compact C series Farmall ® Small Utility A series (50A, 60A, 70A)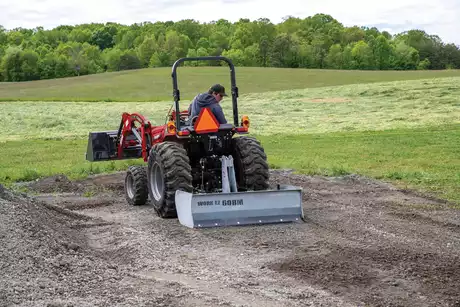 Ideal for fast, efficient leveling, grading, scraping and backfilling. Available in eight models featuring 4- to 8-ft. (1.2- to 2.4-m) working widths.
Compatible tractors: Farmall ® Compact A series Farmall ® Compact C series Farmall ® Small Utility A series Farmall ® Small Utility C series Farmall ® Medium Utility A series Farmall ® Medium Utility C series Farmall ® Medium Utility U series Farmall ® Large Utility 100A series Vestrum ® series Maxxum® series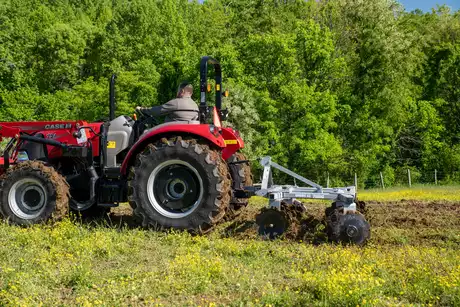 Disk Harrows
Case IH disk harrows loosen soil, chop weeds and break through crop residue. Constructed with 20- 18 in. (51 cm) quality, steel disks that can cut up to 6 in. (15 cm) deep.
Compatible Tractors: Farmall ® Compact A series Farmall ® Compact C series Farmall ® Small Utility A series Farmall ® Small Utility C series Farmall ® Medium Utility A series Farmall ® Medium Utility C series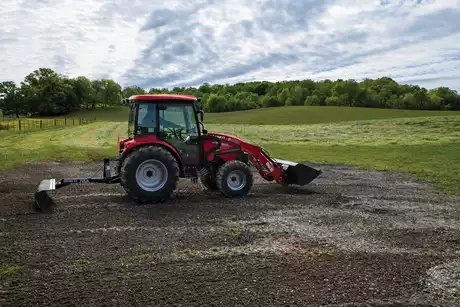 Landscape Rakes
Designed for precision soil preparation such as leveling, grading, topsoil spreading and rock removal. Feature heavy-duty, 5/16 x 1-in. (.8 x 2.5-cm) steel tines. Works with any tractor brand, model or year up to 50 HP with a 3-point hitch.
Compatible tractors: Farmall ® Compact A series Farmall ® Compact C series Farmall ® Small Utility A series Farmall ® Small Utility C series Farmall ® Medium Utility A series Farmall ® Medium Utility C series Farmall ® Medium Utility U series Farmall ® Large Utility 100A series Vestrum ® series
Special Offers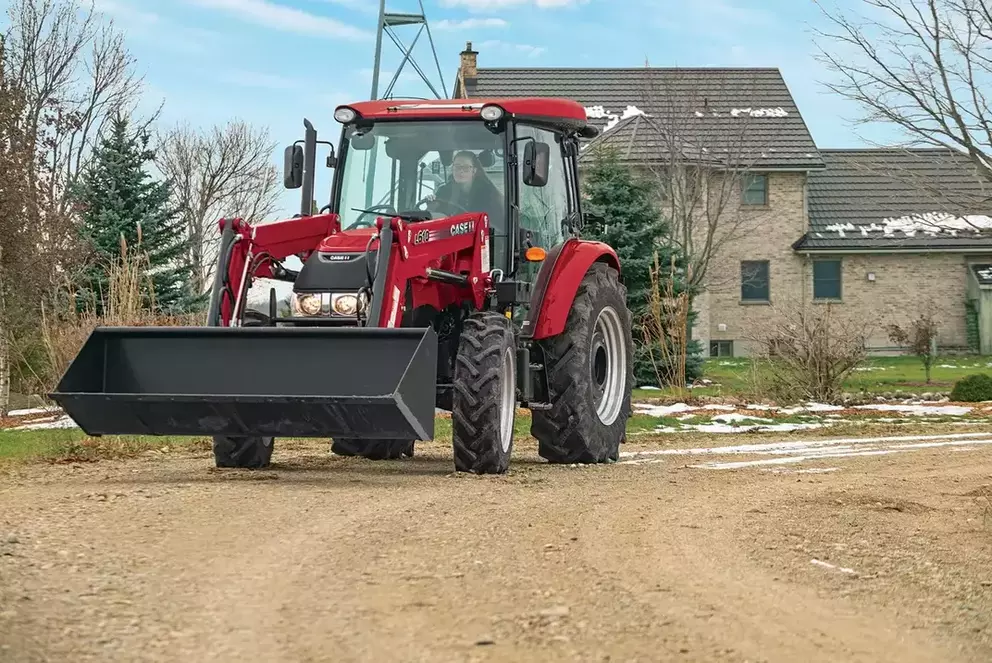 December 31, 2023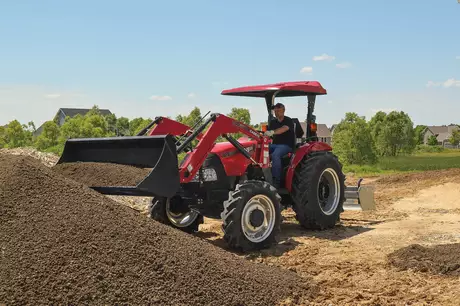 Parts & Service
Genuine Case IH Parts & Service
Only genuine Case IH parts were made specifically for your machine and designed for peak performance. Find everything you need from filters, fluids, safety equipment and Case IH merchandise, to owners manuals, parts diagrams, paint, and batteries at the Case IH parts store.
Build & Price
View All Farmall Small Utility A Tractors

LOCATIONS CONTACT US
EQUIPMENT SHOWROOM
ALL INVENTORY
AGRICULTURAL
TRACTOR PACKAGES
CONSTRUCTION
ATTACHMENTS
ZERO-TURN MOWERS
EMPLOYMENT OPPORTUNITIES
CASE IH Farmall 60A Tractor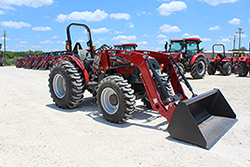 Make: CASE IH
Model: Farmall 60A
Condition: New
Type: Tractors, Agriculture
Photo Gallery
Get a Quote
Hidden Equipment
Address * ZIP / Postal Code
Description
Case ih farmall 60a tractor for sale at hendershot equipment in decatur & stephenville, tx.
ROPS unit w/ Loader
Available in 2WD and 4WD
The CASE IH Farmall 60A Tractor is loaded with value for any operation. It delivers 60 engine HP and 51 PTO HP.
Quick Specs
Gross Horsepower: 60
PTO Horsepower?: 51
Operator Area: ROPS
Traction: 2WD or MFD
Transmission: 8x8 Mechanical Shuttle
Also, Emissions Compliance: Tier 4 B/Final
Genuine Case IH Parts & Service
Only genuine Case IH parts were made for your machine and designed for peak performance. You will find everything you need from filters, fluids, shop products and safety equipment, to owners manuals, parts diagrams, paint, and batteries, at the Case IH online parts store.
*Subject to approved credit with CNH Industrial Capital Financial. Taxes and Fees may apply. Some restrictions may apply. See an Equipment Salesman for details. Pictures are for illustrative purposes only and may not reflect actual equipment in this offer.*
*With approved credit
More from CASE IH 
More from Hendershot Equipment
Arena groomers ,  box blades ,  buckets & grapples ,  pallet forks ,  post driver ,  post hole digger ,  rotary cutter ,  skid mower ,  spears ,  tandem discs ,  atvs , augers, backhoes ,  balers ,  compact excavator , hay equipment ,  light towers , loaders, lawn mowers , mower conditioners ,  scissor lifts , skid steer attachments,   skid steer loaders , skid steer mowers, spreaders,  telehandlers , track loaders ,  tractors ,  utvs ,  wheel rakes , locations in decatur and stephenville near bowie, alvord, sunset, boyd, chico, rhome, springtown, justin, jacksboro, azle, montague, denton, jacksboro, weatherford, burleson, cresson, crowley, fort worth, lake worth, mineral wells, granbury, lipan, glen rose, hico, hamilton, comanche, dublin, deleon, early, brownwood, gorman, bluff dale, morgan mill, and tolar, tx., related equipment.
Vermeer BPX9010 Bale Processor
Vermeer 504R Signature Round Baler
Vermeer 504R Classic Round Baler
Finance Calculator