Want to create or adapt books like this? Learn more about how Pressbooks supports open publishing practices.
15 Critical Listening
Learning objectives.
Understand the differences between listening and hearing.
Explain the benefits of listening.
Understand the types of noise that can affect a listener's ability to attend to a message.
Define and explain critical listening and its importance in the public speaking context.
Understand ways to improve your ability to critically listen to speeches.
Zach Graves – The Importance of Listening – CC BY-SA 2.0.
"Are you listening to me?" Often this question is asked because the speaker thinks the listener is nodding off or daydreaming. We sometimes think that listening means we only have to sit back, stay barely awake, and let a speaker's words wash over us. While many Americans look upon being active as something to admire, to engage in, and to excel at, listening is thought of as a "passive" activity. More recently, O, the Oprah Magazine featured a cover article with the title, "How to Talk So People Really Listen: Four Ways to Make Yourself Heard." This title leads us to expect a list of ways to leave the listening to others and insist that they do so, but the article contains a surprise ending. The final piece of advice is this: "You can't go wrong by showing interest in what other people say and making them feel important. In other words, the better you listen, the more you'll be listened to" (Jarvis, 2009).
You may have heard the adage, "We have two ears but only one mouth." This saying reminds us that listening can be twice as important as talking. As a student, you most likely spend many hours in a classroom doing a significant amount of focused listening. Sometimes it is difficult to apply those efforts to communication in other areas of your life. As a result, your listening skills may not be all they could be. In this chapter, we will examine listening versus hearing, listening styles, listening difficulties, listening stages, and listening critically.
Listening vs. Hearing
Kimba Howard – megaphone – CC BY 2.0.
Listening or Hearing
Hearing is an accidental and automatic brain response to sound that requires no effort. We are surrounded by sounds most of the time. For example, we are accustomed to the sounds of airplanes, lawn mowers, furnace blowers, the rattling of pots and pans, and so on. We hear those incidental sounds and, unless we have a reason to do otherwise, we train ourselves to ignore them. We learn to filter out sounds that mean little to us, just as we choose to hear our ringing cell phones and other sounds that are more important to us.
Listening, on the other hand, is purposeful and focused rather than accidental. As a result, it requires motivation and effort. Listening , at its best, is active, focused, and concentrated attention for the purpose of understanding the meanings expressed by a speaker. We are not always the best listeners. Later in this chapter, we will examine some of the reasons why and some strategies for becoming more active critical listeners.
Hearing is an accidental and automatic brain response to sound that requires no effort.
Listening is active, focused, and concentrated attention for the purpose of understanding the meanings expressed by a speaker.
Benefits of Listening
Try not to take listening for granted. Before the invention of writing, people conveyed virtually all knowledge through some combination of showing and telling. Elders recited tribal histories to attentive audiences. Listeners received religious teachings enthusiastically. Myths, legends, folktales, and stories for entertainment only survived because audiences were eager to listen. Nowadays, however, you can gain information and entertainment through reading and electronic recordings rather than through real-time listening. If you become distracted and let your attention wander, you can go back and replay a recording. Despite that fact, you can still gain at least four compelling benefits by becoming more active and competent at real-time listening.
You Become a Better Student
When you focus on the material presented in a classroom, you will be able to identify the words used in a lecture and the way they were emphasized. Listening instead of hearing will help you understand the more complex meanings of the words said in a lecture. You will take better notes, and you will more accurately remember the instructor's claims, information, and conclusions. Many times, instructors give verbal cues about what information is important, specific expectations about assignments, and even what material is likely to be on an exam, so careful listening can be beneficial.
You Become a Better Friend
When you give your best attention to people expressing thoughts and experiences that are important to them, those individuals are likely to see you as someone who cares about their well-being. This fact is especially true when you give your attention only and refrain from interjecting opinions, judgments, and advice.
People Will Perceive You as Intelligent and Perceptive
When you listen well to others, you reveal yourself as being curious and interested in people and events. Also, your ability to understand the meanings of what you hear will make you a more knowledgeable and thoughtful person.
Good Listening Can Help Your Public Speaking
When you listen well to others, you start to pick up more on the stylistic components related to how people form arguments and present information. As a result, you can analyze what you think works and doesn't work in others' speeches, which can help you transform your speeches in the process. For example, paying attention to how others cite sources orally during their speeches may give you ideas about how to more effectively cite sources in your presentation.
Listening Styles
John Benson – Listening Styles – CC BY 2.0.
If listening were easy, and if all people went about it in the same way, the task for a public speaker would be much easier. Even Aristotle, as long ago as 325 BC, recognized that listeners in his audience were varied in listening style . He differentiated them as follows:
Rhetoric falls into three divisions, determined by the three classes of listeners to speeches. For of the three elements in speech-making—speaker, subject, and person addressed—it is the last one, the hearer, that determines the speech's end and object. The hearer must be either a judge, with a decision to make about things past or future, or an observer. A member of the assembly decides about future events, a juryman about past events: while those who merely decide on the orator's skill are observers (Aristotle, c. 350 BCE).
Thus, Aristotle classified listeners into those who would be using the speech to make decisions about past events, those who would make decisions affecting the future, and those who would evaluate the speaker's skills. This is all the more remarkable when we consider that Aristotle's audiences were composed exclusively of male citizens of one city-state, all prosperous property owners.
Our audiences today are likely to be much more heterogeneous. Think about the classroom audience that will listen to your speeches in this course. Your classmates come from many religious and ethnic backgrounds. Some of them may speak English as a second language. Some might be survivors of war-torn parts of the world such as Bosnia, Darfur, or northwest China. Being mindful of such differences will help you prepare a speech in which you minimize the potential for misunderstanding.
Listening style is the way an audience member listens to the speech.
Part of the potential for misunderstanding is the difference in listening styles. In an article in the International Journal of Listening , Watson, Barker, and Weaver (Watson, et al., 1995) identified four listening styles: people, action, content, and time.
The people-oriented listener is interested in the speaker. People-oriented listeners listen to the message in order to learn how the speaker thinks and how they feel about their message. For instance, when people-oriented listeners listen to an interview with a famous rap artist, they are likely to be more curious about the artist as an individual than about music, even though the people-oriented listener might also appreciate the artist's work. If you are a people-oriented listener, you might have certain questions you hope will be answered, such as: Does the artist feel successful? What's it like to be famous? What kind of educational background does he or she have? In the same way, if we're listening to a doctor who responded to the earthquake crisis in Haiti, we might be more interested in the doctor as a person than in the state of affairs for Haitians. Why did he or she go to Haiti? How did he or she get away from his or her normal practice and patients? How many lives did he or she save? We might be less interested in the equally important and urgent needs for food, shelter, and sanitation following the earthquake.
The people-oriented listener is likely to be more attentive to the speaker than to the message. If you tend to be such a listener, understand that the message is about what is important to the speaker.
Action-oriented listeners are primarily interested in finding out what the speaker wants. Does the speaker want votes, donations, volunteers, or something else? It's sometimes difficult for an action-oriented speaker to listen through the descriptions, evidence, and explanations with which a speaker builds his or her case.
Action-oriented listening is sometimes called task-oriented listening. In it, the listener seeks a clear message about what needs to be done and might have less patience for listening to the reasons behind the task. This can be especially true if the reasons are complicated. For example, when you're a passenger on an airplane waiting to push back from the gate, a flight attendant delivers a brief speech called the preflight safety briefing. The flight attendant does not read the findings of a safety study or the regulations about seat belts. The flight attendant doesn't explain that the content of his or her speech is actually mandated by the Federal Aviation Administration. Instead, the attendant says only to buckle up so we can leave. An action-oriented listener finds "buckling up" a more compelling message than a message about the underlying reasons.
Content-oriented listeners are interested in the message itself, whether it makes sense, what it means, and whether it's accurate. When you give a speech, many members of your classroom audience will be content-oriented listeners who will be interested in learning from you. You, therefore, have an obligation to represent the truth in the fullest way you can. You can emphasize an idea, but if you exaggerate, you could lose credibility in the minds of your content-oriented audience. You can advocate ideas that are important to you, but if you omit important limitations, you are withholding part of the truth and could leave your audience with an inaccurate view.
Imagine you're delivering a speech on the plight of orphans in Africa. If you just talk about the fact that there are over forty-five million orphans in Africa but don't explain why you'll sound like an infomercial. In such an instance, your audience's response is likely to be less enthusiastic than you might want. Instead, content-oriented listeners want to listen to well-developed information with solid explanations.
People who are  time-oriented listeners   prefer a message that gets to the point quickly. Time-oriented listeners can become impatient with slow delivery or lengthy explanations. This kind of listener may be receptive for only a brief amount of time and may become rude or even hostile if the speaker expects a longer focus of attention. Time-oriented listeners convey their impatience through eye rolling, shifting about in their seats, checking their cell phones, and other inappropriate behaviors. If you've been asked to speak to a group of middle-school students, you need to realize that their attention spans are simply not as long as those of college students. This is an important reason speeches to young audiences must be shorter or broken up by more variety than speeches to adults.
In your professional future, some of your audience members will have real-time constraints, not merely perceived ones. Imagine that you've been asked to deliver a speech on a new project to the board of directors of a local corporation. Chances are the people on the board of directors are all pressed for time. If your speech is long and filled with overly detailed information, time-oriented listeners will simply start to tune you out as you're speaking. Obviously, if time-oriented listeners start tuning you out, they will not be listening to your message. This is not the same thing as being a time-oriented listener who might be less interested in the message content than in its length.
Types of Listeners
The people-oriented listener is interested in the speaker.
The action-oriented listener is primarily interested in finding out what the speaker wants.
The content-oriented listener  is interested in the message itself, whether it makes sense, what it means, and whether it's accurate.
The time-oriented listener prefers a message that gets to the point quickly.
Why Listening Is Difficult
Ian T. McFarland – Listen – CC BY-SA 2.0.
At times, everyone has difficulty staying completely focused during a lengthy presentation. We can sometimes have difficulty listening to even relatively brief messages. Some of the factors that interfere with good listening might exist beyond our control, but others are manageable. It's helpful to be aware of these factors so that they interfere as little as possible with understanding the message.
Noise is one of the biggest factors to interfere with listening. Noise can be defined as anything that interferes with your ability to attend to and understand a message. There are many kinds of noise, but we will focus on only the four you are most likely to encounter in public speaking situations: physical noise, psychological noise, physiological noise, and semantic noise.
Physical Noise
Physical noise   consists of various sounds in an environment that interfere with a source's ability to hear. Construction noises right outside a window, planes flying directly overhead, or loud music in the next room can make it difficult to hear the message being presented by a speaker even if a microphone is being used. It is sometimes possible to manage the context to reduce the noise. Closing a window might be helpful. Asking the people in the next room to turn their music down might be possible. Changing to a new location is more difficult, as it involves finding a new location and having everyone get there.
Psychological Noise
Psychological noise consists of distractions to a speaker's message caused by a receiver's internal thoughts. For example, if you are preoccupied with personal problems, it is difficult to give your full attention to understanding the meanings of a message. The presence of another person to whom you feel attracted, or perhaps a person you dislike intensely, can also be psychosocial noise that draws your attention away from the message.
Physiological Noise
Physiological noise consists of distractions to a speaker's message caused by a listener's own body. Maybe you're listening to a speech in class around noon and you haven't eaten anything. Your stomach may be growling and your desk is starting to look tasty. Maybe the room is cold and you're thinking more about how to keep warm than about what the speaker is saying. In either case, your body can distract you from attending to the information being presented.
Semantic Noise
Semantic noise occurs when a receiver experiences confusion over the meaning of a source's word choice. While you are attempting to understand a particular word or phrase, the speaker continues to present the message. While you are struggling with a word interpretation, you are distracted from listening to the rest of the message. One of the authors was listening to a speaker who mentioned using a sweeper to clean carpeting. The author was confused, as she did not see how a broom would be effective in cleaning carpeting. Later, the author found out that the speaker was using the word "sweeper" to refer to a vacuum cleaner; however, in the meantime, her listening was hurt by her inability to understand what the speaker meant. Another example of semantic noise is the euphemism. Euphemism is diplomatic language used for delivering unpleasant information. For instance, if someone is said to be "flexible with the truth," it might take us a moment to understand that the speaker means this person sometimes lies.
  Noise can be defined as anything that interferes with your ability to attend to and understand a message.
Physical noise consists of various sounds in an environment that interfere with a source's ability to hear.
Psychological noise consists of distractions to a speaker's message caused by a receiver's internal thoughts.
Physiological noise consists of distractions to a speaker's message caused by a listener's own body.
Semantic noise occurs when a receiver experiences confusion over the meaning of a source's word choice.
Examples of Noise
Many distractions are not the fault of the listener or the speaker. However, when you are the speaker, being aware of these sources of noise , or distractions that keep a person from listening, can help you reduce some of the noise that interferes with your audience's ability to understand you.
Attention Span
A person can only maintain focused attention for a finite length of time. In his 1985 book Amusing Ourselves to Death: Public Discourse in the Age of Show Business , New York University's Steinhardt School of Education professor Neil Postman argued that modern audiences have lost the ability to sustain attention to a message (Postman, 1985). More recently, researchers have engaged in an ongoing debate over whether Internet use is detrimental to attention span (Carr, 2010). Whether or not these concerns are well founded, you have probably noticed that even when your attention is "glued" to something in which you are deeply interested, every now and then you pause to do something else, such as getting a drink of water, stretching, or looking out the window.
The limits of the human attention span can interfere with listening, but listeners and speakers can use strategies to prevent this interference. As many classroom instructors know, listeners will readily renew their attention when the presentation includes frequent breaks in pacing (Middendorf & Kalish, 1996). For example, a fifty- to seventy-five-minute class session might include some lecture material alternated with questions for class discussion, video clips, handouts, and demonstrations. Instructors who are adept at holding listeners' attention also move about the front of the room, writing on the board, drawing diagrams, and intermittently using slide transparencies or PowerPoint slides.
If you have instructors who do a good job of keeping your attention, they are positive role models showing strategies you can use to accommodate the limitations of your audience's attention span.
Receiver Biases
Good listening involves keeping an open mind and withholding judgment until the speaker has completed the message. Conversely, biased listening is characterized by jumping to conclusions; the biased listener believes, "I don't need to listen because I already know what I think." Reciever bias can refer to two things: biases with reference to the speaker and preconceived ideas and opinions about the topic or message. Both can be considered noise. Everyone has biases, but good listeners have learned to hold them in check while listening.
The first type of bias listeners can have is related to the speaker. Often a speaker stands up and an audience member simply doesn't like the speaker, so the audience member may not listen to the speaker's message. Maybe you have a classmate who just gets under your skin for some reason, or maybe you question a classmate's competence on a given topic. When we have preconceived notions about a speaker, those biases can interfere with our ability to listen accurately and competently to the speaker's message.
The second type of bias listeners can have is related to the topic or content of the speech. Maybe the speech topic is one you've heard a thousand times, so you just tune out the speech. Or maybe the speaker is presenting a topic or position you fundamentally disagree with. When listeners have strong preexisting opinions about a topic, such as the death penalty, religious issues, affirmative action, abortion, or global warming, their biases may make it difficult for them to even consider new information about the topic, especially if the new information is inconsistent with what they already believe to be true. As listeners, we have difficulty identifying our biases, especially when they seem to make sense. However, it is worth recognizing that our lives would be very difficult if no one ever considered new points of view or new information. We live in a world where everyone can benefit from clear thinking and open-minded listening.
Listening or Receiver Apprehension
Listening or receiver apprehension is the fear that you might be unable to understand the message or process the information correctly or be able to adapt your thinking to include the new information coherently (Wheeless, 1975). In some situations, you might worry that the information presented will be "over your head"—too complex, technical, or advanced for you to understand adequately.
Many students will actually avoid registering for courses in which they feel certain they will do poorly. In other cases, students will choose to take a challenging course only if it's a requirement. This avoidance might be understandable but is not a good strategy for success. To become educated people, students should take a few courses that can shed light on areas where their knowledge is limited.
As a speaker, you can reduce listener apprehension by defining terms clearly and using simple visual aids to hold the audience's attention. You don't want to underestimate or overestimate your audience's knowledge on a subject, so good audience analysis is always important. If you know your audience doesn't have special knowledge on a given topic, you should start by defining important terms. Research has shown us that when listeners do not feel they understand a speaker's message, their apprehension about receiving the message escalates. Imagine that you are listening to a speech about chemistry and the speaker begins talking about "colligative properties." You may start questioning whether you're even in the right place. When this happens, apprehension clearly interferes with a listener's ability to accurately and competently understand a speaker's message. As a speaker, you can lessen the listener's apprehension by explaining that colligative properties focus on how much is dissolved in a solution, not on what is dissolved in a solution. You could also give an example that they might readily understand, such as saying that it doesn't matter what kind of salt you use in the winter to melt ice on your driveway, what is important is how much salt you use.
Sources of noise , or distractions that keep a person from listening, include attention span, receiver bias, and listening or receiver apprehension.
Stages of Listening
Figure 3: Stages of Feedback
As you read earlier, there are many factors that can interfere with listening, so you need to be able to manage a number of mental tasks at the same time in order to be a successful listener. Author Joseph DeVito has divided the listening process into five stages: receiving, understanding, remembering, evaluating, and responding (DeVito, 2000).
Receiving is the intentional focus on hearing a speaker's message, which happens when we filter out other sources so that we can isolate the message and avoid the confusing mixture of incoming stimuli. At this stage, we are still only hearing the message. Notice in Figure 3: Stages of Feedback that this stage is represented by the ear because it is the primary tool involved with this stage of the listening process.
One of the authors of this book recalls attending a political rally for a presidential candidate at which about five thousand people were crowded into an outdoor amphitheater. When the candidate finally started speaking, the cheering and yelling was so loud that the candidate couldn't be heard easily despite using a speaker system. In this example, our coauthor had difficulty receiving the message because of the external noise. This is only one example of the ways that hearing alone can require sincere effort, but you must hear the message before you can continue the process of listening.
Understanding
In the understanding stage, we attempt to learn the meaning of the message, which is not always easy. For one thing, if a speaker does not enunciate clearly, it may be difficult to tell what the message was—did your friend say, "I think she'll be late for class," or "my teacher delayed the class"? Notice in Figure 3:  Stages of Feedback that stages two, three, and four are represented by the brain because it is the primary tool involved with these stages of the listening process.
Even when we have understood the words in a message, because of the differences in our backgrounds and experience, we sometimes make the mistake of attaching our own meanings to the words of others. For example, say you have made plans with your friends to meet at a certain movie theater, but you arrive and nobody else shows up. Eventually, you find out that your friends are at a different theater all the way across town where the same movie is playing. Everyone else understood that the meeting place was the "west side" location, but you wrongly understood it as the "east side" location and therefore missed out on part of the fun.
The consequences of ineffective listening in a classroom can be much worse. When your professor advises students to get an "early start" on your speech, he or she probably hopes that you will begin your research right away and move on to developing a thesis statement and outlining the speech as soon as possible. However, students in your class might misunderstand the instructor's meaning in several ways. One student might interpret the advice to mean that as long as she gets started, the rest of the assignment will have time to develop itself. Another student might instead think that to start early is to start on the Friday before the Monday due date instead of Sunday night.
So much of the way we understand others is influenced by our own perceptions and experiences. Therefore, at the understanding stage of listening, we should be on the lookout for places where our perceptions might differ from those of the speaker.
Remembering
Remembering begins with listening; if you can't remember something that was said, you might not have been listening effectively. Wolvin and Coakley note that the most common reason for not remembering a message after the fact is because it wasn't really learned in the first place (Wolvin & Coakley, 1996). However, even when you are listening attentively, some messages are more difficult than others to understand and remember. Highly complex messages that are filled with detail call for highly developed listening skills. Moreover, if something distracts your attention even for a moment, you could miss out on information that explains other new concepts you hear when you begin to listen fully again.
It's also important to know that you can improve your memory of a message by processing it meaningfully—that is, by applying it in ways that are meaningful to you (Gluck, et al., 2008). Instead of simply repeating a new acquaintance's name over and over, for example, you might remember it by associating it with something in your own life. "Emily," you might say, "reminds me of the Emily I knew in middle school," or "Mr. Impiari's name reminds me of the Impala my father drives."
Finally, if understanding has been inaccurate, recollection of the message will be inaccurate too.
The fourth stage in the listening process is evaluating or judging the value of the message. We might be thinking, "This makes sense" or, conversely, "This is very odd." Because everyone embodies biases and perspectives learned from widely diverse sets of life experiences, evaluations of the same message can vary widely from one listener to another. Even the most open-minded listeners will have opinions of a speaker, and those opinions will influence how the message is evaluated. People are more likely to evaluate a message positively if the speaker speaks clearly, presents ideas logically, and gives reasons to support the points made.
Unfortunately, personal opinions sometimes result in prejudiced evaluations. Imagine you're listening to a speech given by someone from another country and this person has an accent that is hard to understand. You may have a hard time simply making out the speaker's message. Some people find a foreign accent to be interesting or even exotic, while others find it annoying or even take it as a sign of ignorance. If a listener has a strong bias against foreign accents, the listener may not even attempt to attend to the message. If you mistrust a speaker because of an accent, you could be rejecting important or personally enriching information. Good listeners have learned to refrain from making these judgments and instead to focus on the speaker's meanings.
Responding ,  sometimes referred to as feedback, is the fifth and final stage of the listening process. It's the stage at which you indicate your involvement. Almost anything you do at this stage can be interpreted as feedback. For example, you are giving positive feedback to your instructor if at the end of class you stay behind to finish a sentence in your notes or approach the instructor to ask for clarification. The opposite kind of feedback is given by students who gather their belongings and rush out the door as soon as class is over. Notice in Figure 3: Stages of Feedback that this stage is represented by the lips because we often give feedback in the form of verbal feedback; however, you can just as easily respond nonverbally.  
Stages of Feedback
Receiving is the stage where you intentionally focus on hearing a speaker's message. This focus happens when you filter out other sources so that you can isolate the message and avoid the confusing mixture of incoming stimuli.
Understanding is the stage where we attempt to learn the meaning of the message.
Remembering is the stage that begins with listening. If you can't remember something that was said, you might not have been listening effectively.
Evaluating is the stage where we judge the value of the message.
Responding is the stage where you give the speaker feedback.
Formative Feedback
Not all response occurs at the end of the message. Formative feedback is a natural part of the ongoing transaction between a speaker and a listener. As the speaker delivers the message, a listener signals their involvement with focused attention, note-taking, nodding, and other behaviors that indicate understanding or failure to understand the message. These signals are important to the speaker, who is interested in whether the message is clear and accepted or whether the content of the message is meeting the resistance of preconceived ideas. Speakers can use this feedback to decide whether additional examples, support materials, or explanation is needed.
Summative Feedback
Summative feedback is given at the end of the communication. When you attend a political rally, a presentation given by a speaker you admire, or even a class, there are verbal and nonverbal ways of indicating your appreciation for or your disagreement with the messages or the speakers at the end of the message. Maybe you'll stand up and applaud a speaker you agreed with or just sit staring in silence after listening to a speaker you didn't like. In other cases, a speaker may be attempting to persuade you to donate to a charity, so if the speaker passes a bucket and you make a donation, you are providing feedback on the speaker's effectiveness. At the same time, we do not always listen most carefully to the messages of speakers we admire. Sometimes we simply enjoy being in their presence, and our summative feedback is not about the message but about our attitudes about the speaker. If your feedback is limited to something like, "I just love your voice," you might be indicating that you did not listen carefully to the content of the message.
There is little doubt that by now, you are beginning to understand the complexity of listening and the great potential for errors. By becoming aware of what is involved with active listening and where difficulties might lie, you can prepare yourself both as a listener and as a speaker to minimize listening errors with your own public speeches.
Formative feedback is a natural part of the ongoing transaction between a speaker and a listener during the speech (note taking, nodding, smiling, etc.).
Summative feedback is given at the end of the communication (asking questions, peer reviewing, etc).
Listening Critically
Kizzzbeth – Good Listener – CC BY-SA 2.0.
As a student, you are exposed to many kinds of messages. You receive messages conveying academic information, institutional rules, instructions, and warnings; you also receive messages through political discourse, advertisements, gossip, jokes, song lyrics, text messages, invitations, web links, and all other manners of communication. You know it's not all the same, but it isn't always clear how to separate the truth from the messages that are misleading or even blatantly false. Nor is it always clear which messages are intended to help the listener and which ones are merely self-serving for the speaker. Part of being a good listener is to learn when to use caution in evaluating the messages we hear.
Critical listening , in a public speaking context, means using careful, systematic thinking and reasoning to see whether a message makes sense in light of factual evidence. Critical listening can be learned with practice but is not necessarily easy to do. Some people never learn this skill; instead, they take every message at face value even when those messages are in conflict with their knowledge. Problems occur when messages are repeated to others who have not yet developed the skills to discern the difference between a valid message and a mistaken one. Critical listening can be particularly difficult when the message is complex. Unfortunately, some speakers may make their messages intentionally complex to avoid critical scrutiny. For example, a city treasurer giving a budget presentation might use very large words and technical jargon, which make it difficult for listeners to understand the proposed budget and ask probing questions.
Critical listening, in a public speaking context, means using careful, systematic thinking and reasoning to see whether a message makes sense in light of factual evidence.
Six Ways to Improve Your Critical Listening
Critical listening is first and foremost a skill that can be learned and improved. In this section, we are going to explore six different techniques you can use to become a more critical listener.
Recognizing the Difference between Facts and Opinions
Senator Daniel Patrick Moynihan is credited with saying, "Everyone is entitled to their own opinions, but they are not entitled to their own facts" (Wikiquote). Part of critical listening is learning to separate opinions from facts, and this works two ways: critical listeners are aware of whether a speaker is delivering a factual message or a message based on opinion, and they are also aware of the interplay between their own opinions and facts as they listen to messages.
In American politics, the issue of health care reform is heavily laden with both opinions and facts, and it is extremely difficult to sort some of them out. A clash of fact versus opinion happened on September 9, 2010, during President Obama's nationally televised speech to a joint session of Congress outlining his health care reform plan. In this speech, President Obama responded to several rumors about the plan, including the claim "that our reform effort will insure illegal immigrants. This, too, is false—the reforms I'm proposing would not apply to those who are here illegally." At this point, one congressman yelled out, "You lie!" Clearly, this congressman did not have a very high opinion of either the health care reform plan or the president. However, when the nonpartisan watch group Factcheck.org examined the language of the proposed bill, they found that it had a section titled "No Federal Payment for Undocumented Aliens" (Factcheck.org, 2009).
Often when people have a negative opinion about a topic, they are unwilling to accept facts. Instead, they question all aspects of the speech and have a negative predisposition toward both the speech and the speaker.
This is not to say that speakers should not express their opinions. Many of the greatest speeches in history include personal opinions. Consider, for example, Martin Luther King Jr.'s famous "I Have a Dream" speech, in which he expressed his personal wish for the future of American society. Critical listeners may agree or disagree with a speaker's opinions, but the point is that they know when a message they are hearing is based on opinion and when it is factual.
Uncovering Assumptions
If something is factual , supporting evidence exists. However, we still need to be careful about what evidence does and does not mean. Assumptions are gaps in a logical sequence that listeners passively fill with their own ideas and opinions and may or may not be accurate. When listening to a public speech, you may find yourself being asked to assume something is a fact when in reality many people question that fact. For example, suppose you're listening to a speech on weight loss. The speaker talks about how people who are overweight are simply not motivated or lack the self-discipline to lose weight. The speaker has built the speech on the assumption that motivation and self-discipline are the only reasons why people can't lose weight. You may think to yourself, what about genetics? By listening critically, you will be more likely to notice unwarranted assumptions in a speech, which may prompt you to question the speaker if questions are taken or to do further research to examine the validity of the speaker's assumptions. If, however, you sit passively by and let the speaker's assumptions go unchallenged, you may find yourself persuaded by information that is not factual.
Factual means supporting evidence exists.
Assumptions are gaps in a logical sequence that listeners passively fill with their own ideas and opinions and may or may not be accurate.
When you listen critically to a speech, you might hear information that appears unsupported by evidence. You shouldn't accept that information unconditionally. You would accept it under the condition that the speaker offers credible evidence that directly supports it.
Facts vs. Assumptions
Be Open to New Ideas
Sometimes people are so fully invested in their perceptions of the world that they are unable to listen receptively to messages that make sense and would be of great benefit to them. Human progress has been possible, sometimes against great odds, because of the mental curiosity and discernment of a few people. In the late 1700s when the technique of vaccination to prevent smallpox was introduced, it was opposed by both medical professionals and everyday citizens who staged public protests (Edward Jenner Museum). More than two centuries later, vaccinations against smallpox, diphtheria, polio, and other infectious diseases have saved countless lives, yet popular opposition continues.
In the world of public speaking, we must be open to new ideas. Let's face it, people have a tendency to filter out information they disagree with and to filter in information that supports what they already believe. Nicolaus Copernicus was a sixteenth-century astronomer who dared to publish a treatise explaining that the earth revolves around the sun, which was a violation of Catholic doctrine. Copernicus's astronomical findings were labeled heretical and his treatise banned because a group of people at the time were not open to new ideas. In May of 2010, almost five hundred years after his death, the Roman Catholic Church admitted its error and reburied his remains with the full rites of Catholic burial (Owen, 2010).
While the Copernicus case is a fairly dramatic reversal, listeners should always be open to new ideas. We are not suggesting that you have to agree with every idea that you are faced with in life; rather, we are suggesting that you at least listen to the message and then evaluate the message.
Relate New Ideas to Old Ones
As both a speaker and a listener, one of the most important things you can do to understand a message is to relate new ideas to previously held ideas. Imagine you're giving a speech about biological systems and you need to use the term "homeostasis," which refers to the ability of an organism to maintain stability by making constant adjustments. To help your audience understand homeostasis, you could show how homeostasis is similar to adjustments made by the thermostats that keep our homes at a more or less even temperature. If you set your thermostat for seventy degrees and it gets hotter, the central cooling will kick in and cool your house down. If your house gets below seventy degrees, your heater will kick in and heat your house up. Notice that in both cases your thermostat is making constant adjustments to stay at seventy degrees. Explaining that the body's homeostasis works in a similar way will make it more relevant to your listeners and will likely help them both understand and remember the idea because it links to something they have already experienced.
If you can make effective comparisons while you are listening, it can deepen your understanding of the message. If you can provide those comparisons for your listeners, you make it easier for them to give consideration to your ideas.
Note-taking is a skill that improves with practice. You already know that it's nearly impossible to write down everything a speaker says. In fact, in your attempt to record everything, you might fall behind and wish you had divided your attention differently between writing and listening.
Careful, selective note-taking is important because we want an accurate record that reflects the meanings of the message. However much you might concentrate on the notes, you could inadvertently leave out an important word, such as not , and undermine the reliability of your otherwise carefully written notes. Instead, if you give the same care and attention to listening, you are less likely to make that kind of a mistake.
It's important to find a balance between listening well and taking good notes. Many people struggle with this balance for a long time. For example, if you try to write down only key phrases instead of full sentences, you might find that you can't remember how two ideas were related. In that case, too few notes were taken. At the opposite end, extensive note-taking can result in a loss of emphasis on the most important ideas.
To increase your critical listening skills, continue developing your ability to identify the central issues in messages so that you can take accurate notes that represent the meanings intended by the speaker.
Listening Ethically
Ben Smith – String telephone – CC BY-SA 2.0.
Ethical listening rests heavily on honest intentions. We should extend to other speakers the same respect we want to receive when it's our turn to speak. We should be facing the speaker with our eyes open. We should not be checking our cell phones. We should avoid any behavior that belittles the speaker or the message.
Scholars Stephanie Coopman and James Lull emphasize the creation of a climate of caring and mutual understanding, observing that "respecting others' perspectives is one hallmark of the effective listener" (Coopman & Lull, 2008). Respect, or unconditional positive regard for others, means that you treat others with consideration and decency whether you agree with them or not. Professors Sprague, Stuart, and Bodary (Sprague, et al., 2010). also urge us to treat the speaker with respect even when we disagree, don't understand the message, or find the speech boring.
Doug Lippman (1998) (Lippman, 1998), a storytelling coach, wrote powerfully and sensitively about listening in his book:
Like so many of us, I used to take listening for granted, glossing over this step as I rushed into the more active, visible ways of being helpful. Now, I am convinced that listening is the single most important element of any helping relationship. Listening has great power. It draws thoughts and feelings out of people as nothing else can. When someone listens to you well, you become aware of feelings you may not have realized that you felt. You have ideas you may have never thought before. You become more eloquent, more insightful.… As a helpful listener, I do not interrupt you. I do not give advice. I do not do something else while listening to you. I do not convey distraction through nervous mannerisms. I do not finish your sentences for you. In spite of all my attempts to understand you, I do not assume I know what you mean. I do not convey disapproval, impatience, or condescension. If I am confused, I show a desire for clarification, not dislike for your obtuseness. I do not act vindicated when you misspeak or correct yourself. I do not sit impassively, withholding participation. Instead, I project affection, approval, interest, and enthusiasm. I am your partner in communication. I am eager for your imminent success, fascinated by your struggles, forgiving of your mistakes, always expecting the best. I am your delighted listener (Lippman, 1998).
This excerpt expresses the decency with which people should treat each other. It doesn't mean we must accept everything we hear, but ethically, we should refrain from trivializing each other's concerns. We have all had the painful experience of being ignored or misunderstood. This is how we know that one of the greatest gifts one human can give to another is listening.
Ethical listening is a concept that rests heavily on honest intentions. It is when we extend to other speakers the same respect we want to receive when it's our turn to speak.
Aristotle. (c. 350 BCE). Rhetoric (W. Rhys Roberts, Trans.). Book I, Part 3, para. 1. Retrieved from http://classics.mit.edu/Aristotle/rhetoric.1.i.html .
Carr, N. (2010, May 24). The Web shatters focus, rewires brains.  Wired Magazine . Retrieved from  http://www.wired.com/magazine/2010/05/ff_nicholas_carr/all/1 .
Coopman, S. J., & Lull, J. (2008).  Public speaking: The evolving art . Cengage Learning, p. 60.
DeVito, J. A. (2000).  The elements of public speaking  (7th ed.). New York, NY: Longman.
Edward Jenner Museum. (n.d.). Vaccination. Retrieved from  http://www.jennermuseum.com/Jenner/vaccination.html
Factcheck.org, a Project of the Annenberg Public Policy Center of the University of Pennsylvania. (2009, September 10). Obama's health care speech. Retrieved from  http://www.factcheck.org/2009/09/obamas-health-care-speech
Gluck, M. A., Mercado, E., & Myers, C. E. (2008).  Learning and memory: From brain to behavior . New York: Worth Publishers, pp. 172–173.
Jarvis, T. (2009, November). How to talk so people really listen: Four ways to make yourself heard. O, the Oprah Magazine . Retrieved from http://www.oprah.com/relationships/Communication-Skills-How-to-Make-Yourself-Heard
Lippman, D. (1998).  The storytelling coach: How to listen, praise, and bring out people's best . Little Rock, AR: August House.
Middendorf, J., & Kalish, A. (1996). The "change-up" in lectures.  The National Teaching and Learning Forum ,  5 (2).
Owen, R. (2010, May 23). Catholic church reburies "heretic" Nicolaus Copernicus with honour.  Times Online . Retrieved from  http://www.timesonline.co.uk/tol/news/world/europe/article7134341.ece
Postman, N. (1985).  Amusing ourselves to death: Public discourse in the age of show business . New York: Viking Press.
Sprague, J., Stuart, D., & Bodary, D. (2010).  The speaker's handbook  (9th ed.). Boston, MA: Wadsworth Cengage.
Watson, K. W., Barker, L. L., & Weaver, J. B., III. (1995). The listening styles profile (LSP-16): Development and validation of an instrument to assess four listening styles.  International Journal of Listening ,  9 , 1–13.
Wheeless, L. R. (1975). An investigation of receiver apprehension and social context dimensions of communication apprehension. Speech Teacher , 24 , 261–268.
Wikiquote. (n.d.). Daniel Patrick Moynihan. Retrieved from  http://en.wikiquote.org/wiki/Daniel_Patrick_Moynihan
Wolvin, A., & Coakley, C. G. (1996). Listening (5th ed.). Boston, MA: McGraw-Hill.
Stand up, Speak out Copyright © 2017 by Josh Miller; Marnie Lawler-Mcdonough; Megan Orcholski; Kristin Woodward; Lisa Roth; and Emily Mueller is licensed under a Creative Commons Attribution-NonCommercial-ShareAlike 4.0 International License , except where otherwise noted.
Share This Book
Try the new Pops OpenText experience >>
Speech foundation > critical thinking >, critical thinking & public speaking.
Critical thinking is the levelheaded analysis of an issue in the pursuit of a judgment
Critical thinking is the levelheaded analysis of an issue in the pursuit of a judgment.
Relationship to Public Speaking
One of the distinguishing factors separating humans from other species is our ability to think, to visualize, and to act on factors in our daily lives. Many learning institutions have devoted segments of curriculum to understanding and using critical thinking skills. In public speaking, we have been applying critical thinking skills for many years. When you address, theorize, examine, explain, and review your work (whether written or verbal) you are thinking critically. Critical thinking helps the speaker to grow over time through preparation outlines, speaking notes, audience analysis, topic research and support, delivery, and review. Not being afraid to ask questions such as "How can I make this better? Stronger? What do I need to do?" and "How can I make the greatest impact?" is the application of critical thinking skills. As you go through the entire speechmaking process, you are involved in critical thinking.
Critical Thinking Process Adapted for Public Speaking
Based on the work of Drs. Richard Paul and Linda Elder in The Miniature Guide to Critical Thinking: Concepts and Tools, we have developed these steps for critical thinking in the speechmaking process.
Purpose – What is the purpose/goal/intent/outcome I am trying to accomplish in my speech? What do I want the audience to know, think, feel, or do when I am done with my speech?
Question – What question am I addressing? What are the needs of my listeners?
Information – What information am I providing to support my goal and purpose? What experience do I bring to the topic, method, and goal?
Concepts – What are the concepts I want my listeners to understand? Are they clear? Are they relevant? Do they make sense?
Assumptions – What assumptions have I made about my listeners, their knowledge level, their interests, their needs? Are my assumptions valid? Am I taking my listeners for granted? How can I answer the listeners' questions or assumptions?
Inferences – Have I reasoned out all aspects and lines of thinking in presenting my evidence? What is my support for the inferences and suggestions I am making in my speech? Have I evaluated the sources I will use for support?
Points of View – Do I acknowledge, allow, and respect other points of view from my listeners? In the speech-building stages, how do I incorporate these opposing views? How do I respond to other points of view?
Implications – Do I understand the ramifications and results of the position and goal I am presenting in my speech? How can I incorporate the pieces of information as I progress as a speech writer and presenter for critical thinking for public speaking?
Another analysis tool is referred to as "the five W's and one H." Use the who, what, where, when, why, and how questions to examine your work and the work of others. These are universal questions and tools that directly ask you to seek deeper information. They are similar in approach to the Paul-Elder model but prove to be useful in their own right.
Example: Who is affected by my message? Who is my intended audience? What do I want to accomplish in my speech? What information will I use to support my ideas? What should I wear to present? Where am I presenting? A large/small room, etc.? When will I be speaking? Before or after others? As a lone presenter? Morning or evening? Why was I chosen to speak? Why does this topic matter? How can I organize my message for greatest effect? How can I vocally make an impression on my audience?
For each question asked, it should lead to more questions, and those answers lead to more questions, and the cycle repeats! It is a never-ending cycle of questions. It is up to you to decide when the cycle will end, is it based on: • When you have enough information for your speech? • When time doesn't permit you to keep seeking? • When others dictate to you that the search is over? • When you must put thoughts to paper for your preparation outline? Your speaking notes? • Or is it when you present your speech for an audience?
The cycle of using these five W's and one H can help you find a deeper and more complex understanding of your speechmaking process—and the world around you!
Review Questions
1) What is critical thinking? How does it relate to public speaking?
2) What are the steps to the Paul-Elder model of critical thinking? How are they applied for public speaking?
Benefits of Public Speaking →
How Public Speaking Improves Critical Thinking Skills
In today's fast-paced world, effective communication and critical thinking skills are essential for personal and professional success. Public speaking is one avenue that can significantly improve these crucial abilities, allowing individuals to excel in various aspects of their lives.
This blog post will explore the relationship between public speaking and critical thinking, revealing how honing your presentation skills can lead to enhanced reasoning abilities and better decision-making.
Key Takeaways
Public speaking and critical thinking skills are intrinsically linked, as both require the ability to analyze and present information clearly.
Practicing public speaking techniques such as research, active listening , and constructive feedback can enhance analytical abilities, boost cognitive flexibility, promote self-awareness and personal growth while improving problem-solving capabilities
Improved communication skills through public speaking lead to clearer expression of ideas, better collaboration with team members in professional settings resulting in more effective discussions. In a personal context it builds confidence on stage & off increasing interpersonal relationships.
The Relationship Between Public Speaking And Critical Thinking
Public speaking and critical thinking are intricately linked, as both skills require the ability to analyze information and present it in a clear and compelling way. In essence, effective public speakers must possess sharp critical thinking abilities to craft persuasive arguments that resonate with their audience.
As a public speaker, you need solid critical thinking skills for many aspects of your presentation: from researching your subject matter thoroughly to crafting logical arguments backed by evidence.
Additionally, you must be able to anticipate potential counterarguments and have responses at the ready.
On the other hand, when honing your oratory capabilities through frequent practice sessions or watching others present, analyzing their techniques can sharpen your own analytical faculties.
In conclusion, public speaking offers an invaluable opportunity for personal growth; developing proficiency in this domain inherently cultivates sharper critical reasoning capacity—an essential component for success across various spheres of life.
Benefits Of Public Speaking For Developing Critical Thinking Skills
Public speaking helps improve critical thinking skills by enhancing communication abilities, increasing cognitive flexibility, boosting problem-solving capabilities, promoting self-awareness and personal growth.
Improved Communication
Public speaking can greatly improve communication skills, which is an important aspect of critical thinking. When giving a speech, one must consider their audience and tailor their message accordingly.
This involves being able to articulate thoughts clearly and concisely while also being engaging and persuasive.
Improving communication skills through public speaking not only benefits the speaker but also those around them in personal and professional settings. It allows for clearer expression of ideas, better collaboration with team members, and more effective problem-solving in group discussions.
Overall, public speaking provides ample opportunities for individuals to hone their communication skills – a crucial component for successful critical thinking that can be applied across various areas of life from work to personal relationships.
Enhanced Analytical Abilities
Through public speaking, individuals can develop enhanced analytical abilities that are essential for critical thinking. Analytical thinking involves breaking down complex concepts into smaller components and using logic to understand relationships between them.
When developing a speech, speakers must learn how to analyze their audience's needs and interests in order to deliver content that resonates with them.
For example, when preparing a persuasive speech on environmental conservation, a speaker might use  data analysis skills  to understand the impact of human activity on ecosystems.
By practicing  public speaking techniques  such as these, individuals can enhance their analytical abilities in both personal and professional settings – making it easier for them to organize thoughts clearly, evaluate ideas rigorously, make informed decisions confidently – all important aspects of critical thinking.
Boosted Cognitive Flexibility
Public speaking can also boost cognitive flexibility, which refers to the ability to adapt and switch between various modes of thinking. When preparing for a speech, speakers need to consider different perspectives and approaches in order to present their arguments persuasively.
This requires an open-mindedness and willingness to embrace alternative viewpoints.
Through public speaking, individuals learn how to better manage and navigate complex situations by honing their cognitive flexibility skills. For example, when faced with questions from the audience or rebuttals from opponents during debates , speakers must think quickly on their feet while switching between logical reasoning, analytical thinking, creativity and persuasion techniques.
Increased Self-awareness And Personal Growth
Developing critical thinking skills through public speaking can lead to increased self-awareness and personal growth. By being exposed to a variety of perspectives, speakers are able to challenge their own assumptions and beliefs, leading to greater introspection and understanding of oneself.
Through this process, speakers also have the chance to gain a sense of accomplishment as they improve their skills over time. This newfound confidence can extend beyond just public speaking and positively impact other areas of life as well.
Improved Problem-solving
Another important benefit of public speaking for developing critical thinking skills is improved problem-solving. When preparing a speech or presentation, speakers are required to think creatively and critically about how to best communicate their message.
This involves identifying potential problems or challenges that may arise during the delivery and finding effective solutions.
For example, when delivering a persuasive speech on environmental issues, speakers must identify potential counterarguments that their audience may have and anticipate the objections before presenting their case convincingly.
Through regular practice with public speaking activities such as debates or presentations, individuals can hone these problem-solving abilities while also improving communication skills by learning how to articulate ideas clearly effectively.
Techniques To Improve Critical Thinking Through Public Speaking
To improve critical thinking through public speaking, techniques such as conducting thorough research, practicing active listening and constructive feedback, using logic and evidence to support arguments, embracing uncertainty and open-mindedness, and adapting to different audiences can be incredibly helpful.
Conducting Thorough Research
Conducting thorough research is an essential component of developing critical thinking skills through public speaking. Effective research requires analytical thinking and problem-solving skills, as well as the ability to evaluate sources for credibility and relevance.
For example, when preparing a speech on climate change, conducting in-depth research can help identify key issues and data points that support the argument for environmental conservation.
Research also allows for identifying potential counterarguments or opposing viewpoints beforehand so they can be addressed effectively during delivery. Utilizing credible sources such as academic journals or scientific studies helps establish the speaker's credibility while giving their audience confidence in their message's reliability.
Practicing Active Listening And Constructive Feedback
Active listening and constructive feedback are crucial skills for any public speaker looking to improve their critical thinking abilities. Active listening involves paying close attention to what the audience is saying, both verbally and non-verbally, in order to gain a better understanding of their perspectives and interests.
Constructive feedback entails providing helpful criticism that can assist public speakers in improving their presentations or speeches. This can involve highlighting areas where improvements could be made while also recognizing strengths.
Constructive feedback encourages growth and development in a safe environment, allowing public speakers to hone their skills over time.
Using Logic And Evidence To Support Arguments
As a public speaker, it is critical to back up your arguments with logical reasoning and evidence. Including these elements in your presentation helps to improve critical thinking skills by reinforcing the value of well-supported positions.
When crafting an argument, prioritize identifying key points that support your claim and use them as evidence throughout your speech.
In addition, using logic to support arguments helps create a sense of credibility and persuasion in speeches. This approach underscores the importance of making compelling cases that resonate with audiences and encourages active engagement throughout presentations.
Embracing Uncertainty And Open-mindedness
Another important technique to improve critical thinking through public speaking is embracing uncertainty and open-mindedness. Critical thinkers are not afraid of uncertainty and recognize that multiple perspectives exist on any given topic.
Embracing uncertainty also means being willing to change one's views based on new information or evidence. Speakers who engage in debates or discussions with others should actively listen to opposing viewpoints and constructively critique them using logic and evidence.
For example, let's say a speaker is giving a speech about climate change. Rather than dismissing opposing viewpoints outright, the speaker could consider why someone may have a different opinion and try to understand their perspective.
Adapting To Different Audiences
As a public speaker, it's essential to understand that every audience is unique. Adapting to different audiences can help you connect with them effectively and make your speech more impactful.
For instance, if you're giving a presentation to financial experts, using technical language might be appropriate. However, if you're speaking to a general audience that has no prior knowledge of finances, simplifying complex concepts would be necessary.
By adapting to different audiences through critical thinking skills like research and active listening during presentations will increase chances for success when delivering speeches.
Additional Benefits Of Improving Critical Thinking Skills Through Public Speaking
Improved critical thinking skills through public speaking can lead to better decision making, enhanced creativity, and the development of leadership skills .
Improved Decision Making
Improving critical thinking skills through public speaking can lead to better decision-making abilities. When delivering a speech, it's essential to analyze different perspectives and evidence to decide on the best approach.
Critical thinking helps in evaluating arguments effectively, separating irrelevant information from pertinent ones.
For instance, before giving an argumentative speech on climate change, it's crucial for a speaker first to research the topic thoroughly and weigh the pros and cons of different solutions suggested by various scientists.
By analyzing each option critically, drawing logical conclusions based on research findings, they can build a persuasive speech that will influence their audience positively.
Better Problem Solving
Public speaking can improve problem-solving skills, which is a crucial aspect of critical thinking. When delivering a speech, speakers need to anticipate potential problems and find ways to address them effectively.
This mindset can also extend beyond public speaking and into daily life, helping individuals approach challenges in a more rational and logical way.
In addition, public speaking helps develop creativity by encouraging individuals to explore different perspectives and ideas. Through engaging with diverse audiences during speeches or debates, speakers learn how to think outside of conventional boundaries while maintaining sound reasoning behind their arguments.
Enhancing Creativity
Improving critical thinking skills through public speaking can also enhance one's creativity. The ability to think critically allows individuals to approach problems and situations with an open mind, considering all possible solutions and perspectives.
For example, a speaker who has honed their critical thinking skills may be able to brainstorm unique analogies or metaphors that effectively convey complex concepts to their audience.
Similarly, they may be able to develop original arguments that offer fresh insights on important issues.
Furthermore, the process of preparing for a speech involves researching various sources of information from different angles. Engaging with diverse viewpoints helps foster creativity by providing new perspectives on familiar topics while introducing unknown factors into the mix.
Boosting Confidence
Public speaking can have a powerful impact on boosting confidence levels. When individuals enter the world of public speaking, they are inherently taking a risk by putting themselves in front of an audience.
However, with practice and exposure to different audiences, individuals can become more comfortable and confident in their abilities to communicate effectively.
In addition, public speaking courses often provide opportunities for constructive feedback from instructors and peers. This feedback allows individuals to identify their strengths and weaknesses, providing them with the knowledge needed to improve both their delivery and content moving forward.
Furthermore, receiving positive feedback from an audience after a successful speech can be incredibly rewarding and contribute significantly to one's confidence levels.
Developing Leadership Skills
Improving critical thinking through public speaking can also help develop valuable leadership skills. By learning to analyze the audience, adapt to different communication styles and effectively convey ideas, speakers are more likely to gain respect and trust from their listeners.
Public speaking provides a platform for individuals to practice decision-making, problem-solving, and strategic planning in an effective manner.
Moreover, mastering rhetoric techniques such as persuasion and argumentation enhances one's ability to influence others positively in personal or professional settings. By developing analytical thinking skills and leveraging them with creative presentation techniques, expert speakers know exactly how they can motivate people towards action or change behavior patterns with great ease.
Conclusion: Public Speaking Improves Critical Thinking Skills
In conclusion, public speaking is a valuable tool for improving critical thinking skills. By enhancing communication abilities and analytical thinking, individuals can become more persuasive and effective speakers.
Through techniques such as thorough research, active listening, and constructive feedback, public speakers can develop the logic and evidence needed to support their arguments effectively.
With increased self-awareness and personal growth also comes improved problem-solving capabilities that are essential in both professional and personal contexts.
1. How does public speaking improve critical thinking skills?
Public speaking requires individuals to analyze and organize their thoughts in a clear and concise manner , which can improve their ability to think critically about complex topics and arguments.
2. Can public speaking help me develop better problem-solving skills?
Yes, by practicing public speaking, you are forced to consider multiple perspectives on an issue or topic, which can help you develop stronger problem-solving skills that enable you to identify potential solutions more quickly.
3. What are some techniques I can use during public speaking to challenge my critical thinking abilities?
Using analogies and metaphors, posing hypothetical scenarios, incorporating statistics and data into your presentation, asking thought-provoking questions or even employing rhetorical devices like repetition or contrast can stimulate deeper analysis of a topic or argument.
4. How do the benefits of improved critical thinking acquired through public speaking carry over into other areas of life?
Improved critical thinking skills make it easier for individuals to evaluate information more effectively across all aspects of life from making important decisions at work/school or analyzing current events happening within global political/economic landscape in order understand different viewpoints & draw one's own conclusions based upon evidence available.

Want to create or adapt books like this? Learn more about how Pressbooks supports open publishing practices.
1.1 Why Is Public Speaking Important?
Learning objectives.
Explore three types of public speaking in everyday life: informative, persuasive, and entertaining.
Understand the benefits of taking a course in public speaking.
Explain the benefits people get from engaging in public speaking.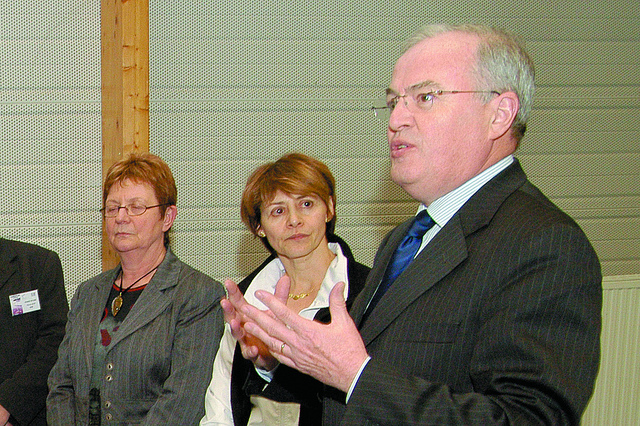 Christian Pierret – Leader – CC BY 2.0.
In today's world, we are constantly bombarded with messages both good and bad. No matter where you live, where you work or go to school, or what kinds of media you use, you are probably exposed to hundreds. if not thousands, of advertising messages every day. Researcher Norman W. Edmund estimates that by 2020 the amount of knowledge in the world will double every seventy-three days (Edmund, 2005). Because we live in a world where we are overwhelmed with content, communicating information in a way that is accessible to others is more important today than ever before. To help us further understand why public speaking is important, we will first examine public speaking in everyday life. We will then discuss how public speaking can benefit you personally.
Everyday Public Speaking
Every single day people across the United States and around the world stand up in front of some kind of audience and speak. In fact, there's even a monthly publication that reproduces some of the top speeches from around the United States called Vital Speeches of the Day ( http://www.vsotd.com ). Although public speeches are of various types, they can generally be grouped into three categories based on their intended purpose: informative, persuasive, and entertaining.
Informative Speaking
One of the most common types of public speaking is informative speaking . The primary purpose of informative presentations is to share one's knowledge of a subject with an audience. Reasons for making an informative speech vary widely. For example, you might be asked to instruct a group of coworkers on how to use new computer software or to report to a group of managers how your latest project is coming along. A local community group might wish to hear about your volunteer activities in New Orleans during spring break, or your classmates may want you to share your expertise on Mediterranean cooking. What all these examples have in common is the goal of imparting information to an audience.
Informative speaking is integrated into many different occupations. Physicians often lecture about their areas of expertise to medical students, other physicians, and patients. Teachers find themselves presenting to parents as well as to their students. Firefighters give demonstrations about how to effectively control a fire in the house. Informative speaking is a common part of numerous jobs and other everyday activities. As a result, learning how to speak effectively has become an essential skill in today's world.
Persuasive Speaking
A second common reason for speaking to an audience is to persuade others. In our everyday lives, we are often called on to convince, motivate, or otherwise persuade others to change their beliefs, take an action, or reconsider a decision. Advocating for music education in your local school district, convincing clients to purchase your company's products, or inspiring high school students to attend college all involve influencing other people through public speaking.
For some people, such as elected officials, giving persuasive speeches is a crucial part of attaining and continuing career success. Other people make careers out of speaking to groups of people who pay to listen to them. Motivational authors and speakers, such as Les Brown ( http://www.lesbrown.com ), make millions of dollars each year from people who want to be motivated to do better in their lives. Brian Tracy, another professional speaker and author, specializes in helping business leaders become more productive and effective in the workplace ( http://www.briantracy.com ).
Whether public speaking is something you do every day or just a few times a year, persuading others is a challenging task. If you develop the skill to persuade effectively, it can be personally and professionally rewarding.
Entertaining Speaking
Entertaining speaking involves an array of speaking occasions ranging from introductions to wedding toasts, to presenting and accepting awards, to delivering eulogies at funerals and memorial services in addition to after-dinner speeches and motivational speeches. Entertaining speaking has been important since the time of the ancient Greeks, when Aristotle identified epideictic speaking (speaking in a ceremonial context) as an important type of address. As with persuasive and informative speaking, there are professionals, from religious leaders to comedians, who make a living simply from delivering entertaining speeches. As anyone who has watched an awards show on television or has seen an incoherent best man deliver a wedding toast can attest, speaking to entertain is a task that requires preparation and practice to be effective.
Personal Benefits of Public Speaking
Oral communication skills were the number one skill that college graduates found useful in the business world, according to a study by sociologist Andrew Zekeri (Zekeri, 2004). That fact alone makes learning about public speaking worthwhile. However, there are many other benefits of communicating effectively for the hundreds of thousands of college students every year who take public speaking courses. Let's take a look at some of the personal benefits you'll get both from a course in public speaking and from giving public speeches.
Benefits of Public Speaking Courses
In addition to learning the process of creating and delivering an effective speech, students of public speaking leave the class with a number of other benefits as well. Some of these benefits include
developing critical thinking skills,
fine-tuning verbal and nonverbal skills,
overcoming fear of public speaking.
Developing Critical Thinking Skills
One of the very first benefits you will gain from your public speaking course is an increased ability to think critically. Problem solving is one of many critical thinking skills you will engage in during this course. For example, when preparing a persuasive speech, you'll have to think through real problems affecting your campus, community, or the world and provide possible solutions to those problems. You'll also have to think about the positive and negative consequences of your solutions and then communicate your ideas to others. At first, it may seem easy to come up with solutions for a campus problem such as a shortage of parking spaces: just build more spaces. But after thinking and researching further you may find out that building costs, environmental impact from loss of green space, maintenance needs, or limited locations for additional spaces make this solution impractical. Being able to think through problems and analyze the potential costs and benefits of solutions is an essential part of critical thinking and of public speaking aimed at persuading others. These skills will help you not only in public speaking contexts but throughout your life as well. As we stated earlier, college graduates in Zekeri's study rated oral communication skills as the most useful for success in the business world. The second most valuable skill they reported was problem-solving ability, so your public speaking course is doubly valuable!
Another benefit to public speaking is that it will enhance your ability to conduct and analyze research. Public speakers must provide credible evidence within their speeches if they are going to persuade various audiences. So your public speaking course will further refine your ability to find and utilize a range of sources.
Fine-Tuning Verbal and Nonverbal Skills
A second benefit of taking a public speaking course is that it will help you fine-tune your verbal and nonverbal communication skills. Whether you competed in public speaking in high school or this is your first time speaking in front of an audience, having the opportunity to actively practice communication skills and receive professional feedback will help you become a better overall communicator. Often, people don't even realize that they twirl their hair or repeatedly mispronounce words while speaking in public settings until they receive feedback from a teacher during a public speaking course. People around the United States will often pay speech coaches over one hundred dollars per hour to help them enhance their speaking skills. You have a built-in speech coach right in your classroom, so it is to your advantage to use the opportunity to improve your verbal and nonverbal communication skills.
Overcoming Fear of Public Speaking
An additional benefit of taking a public speaking class is that it will help reduce your fear of public speaking. Whether they've spoken in public a lot or are just getting started, most people experience some anxiety when engaging in public speaking. Heidi Rose and Andrew Rancer evaluated students' levels of public speaking anxiety during both the first and last weeks of their public speaking class and found that those levels decreased over the course of the semester (Rose & Rancer, 1993). One explanation is that people often have little exposure to public speaking. By taking a course in public speaking, students become better acquainted with the public speaking process, making them more confident and less apprehensive. In addition, you will learn specific strategies for overcoming the challenges of speech anxiety. We will discuss this topic in greater detail in Chapter 3 "Speaking Confidently" .
Benefits of Engaging in Public Speaking
Once you've learned the basic skills associated with public speaking, you'll find that being able to effectively speak in public has profound benefits, including
influencing the world around you,
developing leadership skills,
becoming a thought leader.
Influencing the World around You
If you don't like something about your local government, then speak out about your issue! One of the best ways to get our society to change is through the power of speech. Common citizens in the United States and around the world, like you, are influencing the world in real ways through the power of speech. Just type the words "citizens speak out" in a search engine and you'll find numerous examples of how common citizens use the power of speech to make real changes in the world—for example, by speaking out against "fracking" for natural gas (a process in which chemicals are injected into rocks in an attempt to open them up for fast flow of natural gas or oil) or in favor of retaining a popular local sheriff. One of the amazing parts of being a citizen in a democracy is the right to stand up and speak out, which is a luxury many people in the world do not have. So if you don't like something, be the force of change you're looking for through the power of speech.
Developing Leadership Skills
Have you ever thought about climbing the corporate ladder and eventually finding yourself in a management or other leadership position? If so, then public speaking skills are very important. Hackman and Johnson assert that effective public speaking skills are a necessity for all leaders (Hackman & Johnson, 2004). If you want people to follow you, you have to communicate effectively and clearly what followers should do. According to Bender, "Powerful leadership comes from knowing what matters to you. Powerful presentations come from expressing this effectively. It's important to develop both" (Bender, 1998). One of the most important skills for leaders to develop is their public speaking skills, which is why executives spend millions of dollars every year going to public speaking workshops; hiring public speaking coaches; and buying public speaking books, CDs, and DVDs.
Becoming a Thought Leader
Even if you are not in an official leadership position, effective public speaking can help you become a " thought leader ." Joel Kurtzman, editor of Strategy & Business , coined this term to call attention to individuals who contribute new ideas to the world of business. According to business consultant Ken Lizotte, "when your colleagues, prospects, and customers view you as one very smart guy or gal to know, then you're a thought leader" (Lizotte, 2008). Typically, thought leaders engage in a range of behaviors, including enacting and conducting research on business practices. To achieve thought leader status, individuals must communicate their ideas to others through both writing and public speaking. Lizotte demonstrates how becoming a thought leader can be personally and financially rewarding at the same time: when others look to you as a thought leader, you will be more desired and make more money as a result. Business gurus often refer to "intellectual capital," or the combination of your knowledge and ability to communicate that knowledge to others (Lizotte, 2008). Whether standing before a group of executives discussing the next great trend in business or delivering a webinar (a seminar over the web), thought leaders use public speaking every day to create the future that the rest of us live in.
Key Takeaways
People have many reasons for engaging in public speaking, but the skills necessary for public speaking are applicable whether someone is speaking for informative, persuasive, or entertainment reasons.
Taking a public speaking class will improve your speaking skills, help you be a more critical thinker, fine-tune your verbal and nonverbal communication skills, and help you overcome public speaking anxiety.
Effective public speaking skills have many direct benefits for the individual speaker, including influencing the world around you, developing leadership skills, and becoming a go-to person for ideas and solutions.
Talk to people who are currently working in the career you hope to pursue. Of the three types of public speaking discussed in the text, which do they use most commonly use in their work?
Read one of the free speeches available at http://www.vsotd.com . What do you think the speaker was trying to accomplish? What was her or his reason for speaking?
Which personal benefit are you most interested in receiving from a public speaking class? Why?
Bender, P. U. (1998). Stand, deliver and lead. Ivey Business Journal , 62 (3), 46–47.
Edmund, N. W. (2005). End the biggest educational and intellectual blunder in history: A $100,000 challenge to our top educational leaders . Ft. Lauderdale, FL: Scientific Method Publishing Co.
Hackman, M. Z., & Johnson, C. E. (2004). Leadership: A communication perspective (4th ed.). Long Grove, IL: Waveland.
Lizotte, K. (2008). The expert's edge: Become the go-to authority people turn to every time [Kindle 2 version]. New York, NY: McGraw-Hill. Retrieved from Amazon.com (locations 72–78).
Rose, H. M., & Rancer, A. S. (1993). The impact of basic courses in oral interpretation and public speaking on communication apprehension. Communication Reports , 6 , 54–60.
Zekeri, A. A. (2004). College curriculum competencies and skills former students found essential to their careers. College Student Journal , 38 , 412–422.
Stand up, Speak out Copyright © 2016 by University of Minnesota is licensed under a Creative Commons Attribution-NonCommercial-ShareAlike 4.0 International License , except where otherwise noted.
Share This Book
school Campus Bookshelves
menu_book Bookshelves
perm_media Learning Objects
login Login
how_to_reg Request Instructor Account
hub Instructor Commons
Download Page (PDF)
Download Full Book (PDF)
Periodic Table
Physics Constants
Scientific Calculator
Reference & Cite
Tools expand_more
Readability
selected template will load here
This action is not available.
6: Critical Thinking and Reasoning
Last updated
Save as PDF
Page ID 8993
Terri Russ@Saint Mary's College
Millersville University via Public Speaking Project
6.1: Introduction
6.2: Critical Thinking Traits and Skills
6.3: Logic and the Role of Arguments
6.4: Understanding Fallacies
6.5: Formal Fallacies
6.6: Informal Fallacies
6.7: Conclusion
6.8: Activities and Glossary
Managing Stress in Uncertain Times - Support Services & Resources

Undergraduates
PhDs & Postdocs
Faculty & Staff
Prospective Students
Online Students
Career Champions
I'm Exploring
Architecture & Design
Education & Academia
Engineering
Fashion, Retail & Consumer Products
Fellowships & Gap Year
Fine Arts, Performing Arts, & Music
Government, Law & Public Policy
Healthcare & Public Health
International Relations & NGOs
Life & Physical Sciences
Marketing, Advertising & Public Relations
Media, Journalism & Entertainment
Non-Profits
Pre-Health, Pre-Law and Pre-Grad
Real Estate, Accounting, & Insurance
Social Work & Human Services
Sports & Hospitality
Startups, Entrepreneurship & Freelancing
Sustainability, Energy & Conservation
Technology, Data & Analytics
DACA and Undocumented Students
First Generation and Low Income Students
International Students
LGBTQ+ Students
Transfer Students
Students of Color
Students with Disabilities
Explore Careers & Industries
Make Connections & Network
Search for a Job or Internship
Write a Resume/CV
Write a Cover Letter
Engage with Employers
Research Salaries & Negotiate Offers
Find Funding
Develop Professional and Leadership Skills
Apply to Graduate School
Apply to Health Professions School
Apply to Law School
Self-Assessment
Experiences
Post-Graduate
Jobs & Internships
Career Fairs
For Employers
Meet the Team
Peer Career Advisors
Social Media
Career Services Policies
Walk-Ins & Pop-Ins
Strategic Plan 2022-2025
Critical Thinking: A Simple Guide and Why It's Important
Share This: Share Critical Thinking: A Simple Guide and Why It's Important on Facebook Share Critical Thinking: A Simple Guide and Why It's Important on LinkedIn Share Critical Thinking: A Simple Guide and Why It's Important on Twitter
Critical Thinking: A Simple Guide and Why It's Important was originally published on Ivy Exec .
Strong critical thinking skills are crucial for career success, regardless of educational background. It embodies the ability to engage in astute and effective decision-making, lending invaluable dimensions to professional growth.
At its essence, critical thinking is the ability to analyze, evaluate, and synthesize information in a logical and reasoned manner. It's not merely about accumulating knowledge but harnessing it effectively to make informed decisions and solve complex problems. In the dynamic landscape of modern careers, honing this skill is paramount.
The Impact of Critical Thinking on Your Career
☑ problem-solving mastery.
Visualize critical thinking as the Sherlock Holmes of your career journey. It facilitates swift problem resolution akin to a detective unraveling a mystery. By methodically analyzing situations and deconstructing complexities, critical thinkers emerge as adept problem solvers, rendering them invaluable assets in the workplace.
☑ Refined Decision-Making
Navigating dilemmas in your career path resembles traversing uncertain terrain. Critical thinking acts as a dependable GPS, steering you toward informed decisions. It involves weighing options, evaluating potential outcomes, and confidently choosing the most favorable path forward.
☑ Enhanced Teamwork Dynamics
Within collaborative settings, critical thinkers stand out as proactive contributors. They engage in scrutinizing ideas, proposing enhancements, and fostering meaningful contributions. Consequently, the team evolves into a dynamic hub of ideas, with the critical thinker recognized as the architect behind its success.
☑ Communication Prowess
Effective communication is the cornerstone of professional interactions. Critical thinking enriches communication skills, enabling the clear and logical articulation of ideas. Whether in emails, presentations, or casual conversations, individuals adept in critical thinking exude clarity, earning appreciation for their ability to convey thoughts seamlessly.
☑ Adaptability and Resilience
Perceptive individuals adept in critical thinking display resilience in the face of unforeseen challenges. Instead of succumbing to panic, they assess situations, recalibrate their approaches, and persist in moving forward despite adversity.
☑ Fostering Innovation
Innovation is the lifeblood of progressive organizations, and critical thinking serves as its catalyst. Proficient critical thinkers possess the ability to identify overlooked opportunities, propose inventive solutions, and streamline processes, thereby positioning their organizations at the forefront of innovation.
☑ Confidence Amplification
Critical thinkers exude confidence derived from honing their analytical skills. This self-assurance radiates during job interviews, presentations, and daily interactions, catching the attention of superiors and propelling career advancement.
So, how can one cultivate and harness this invaluable skill?
✅ developing curiosity and inquisitiveness:.
Embrace a curious mindset by questioning the status quo and exploring topics beyond your immediate scope. Cultivate an inquisitive approach to everyday situations. Encourage a habit of asking "why" and "how" to deepen understanding. Curiosity fuels the desire to seek information and alternative perspectives.
✅ Practice Reflection and Self-Awareness:
Engage in reflective thinking by assessing your thoughts, actions, and decisions. Regularly introspect to understand your biases, assumptions, and cognitive processes. Cultivate self-awareness to recognize personal prejudices or cognitive biases that might influence your thinking. This allows for a more objective analysis of situations.
✅ Strengthening Analytical Skills:
Practice breaking down complex problems into manageable components. Analyze each part systematically to understand the whole picture. Develop skills in data analysis, statistics, and logical reasoning. This includes understanding correlation versus causation, interpreting graphs, and evaluating statistical significance.
✅ Engaging in Active Listening and Observation:
Actively listen to diverse viewpoints without immediately forming judgments. Allow others to express their ideas fully before responding. Observe situations attentively, noticing details that others might overlook. This habit enhances your ability to analyze problems more comprehensively.
✅ Encouraging Intellectual Humility and Open-Mindedness:
Foster intellectual humility by acknowledging that you don't know everything. Be open to learning from others, regardless of their position or expertise. Cultivate open-mindedness by actively seeking out perspectives different from your own. Engage in discussions with people holding diverse opinions to broaden your understanding.
✅ Practicing Problem-Solving and Decision-Making:
Engage in regular problem-solving exercises that challenge you to think creatively and analytically. This can include puzzles, riddles, or real-world scenarios. When making decisions, consciously evaluate available information, consider various alternatives, and anticipate potential outcomes before reaching a conclusion.
✅ Continuous Learning and Exposure to Varied Content:
Read extensively across diverse subjects and formats, exposing yourself to different viewpoints, cultures, and ways of thinking. Engage in courses, workshops, or seminars that stimulate critical thinking skills. Seek out opportunities for learning that challenge your existing beliefs.
✅ Engage in Constructive Disagreement and Debate:
Encourage healthy debates and discussions where differing opinions are respectfully debated.
This practice fosters the ability to defend your viewpoints logically while also being open to changing your perspective based on valid arguments. Embrace disagreement as an opportunity to learn rather than a conflict to win. Engaging in constructive debate sharpens your ability to evaluate and counter-arguments effectively.
✅ Utilize Problem-Based Learning and Real-World Applications:
Engage in problem-based learning activities that simulate real-world challenges. Work on projects or scenarios that require critical thinking skills to develop practical problem-solving approaches. Apply critical thinking in real-life situations whenever possible.
This could involve analyzing news articles, evaluating product reviews, or dissecting marketing strategies to understand their underlying rationale.
In conclusion, critical thinking is the linchpin of a successful career journey. It empowers individuals to navigate complexities, make informed decisions, and innovate in their respective domains. Embracing and honing this skill isn't just an advantage; it's a necessity in a world where adaptability and sound judgment reign supreme.
So, as you traverse your career path, remember that the ability to think critically is not just an asset but the differentiator that propels you toward excellence.
Technical Support
Find My Rep
You are here
The Public Speaking Playbook- Vantage Learning Platform
Teri Kwal Gamble - College of New Rochelle, USA
Michael W. Gamble - New York Institute of Technology, USA
Description
See what's new to this edition by selecting the Features tab on this page. Should you need additional information or have questions regarding the HEOA information provided for this title, including what is new to this edition, please email [email protected] . Please include your name, contact information, and the name of the title for which you would like more information. For information on the HEOA, please go to http://ed.gov/policy/highered/leg/hea08/index.html .
For assistance with your order: Please email us at [email protected] or connect with your SAGE representative.
SAGE 2455 Teller Road Thousand Oaks, CA 91320 www.sagepub.com
" This is the smoothest student onboarding process I have ever experienced . Everything is syncing and the students were able to figure things out with almost no help from me."
"With Vantage, I set up my course in under 10 minutes, which is unheard of... I love Vantage! "
"Extremely valuable! Interactive, engaging and simple to use ."
"It really helps you wrap your head around what you're learning and come to a complete understanding of the course material."
" Student performance after implementing Vantage is incredible ...this is a really tangible way to see that."
"I think that Vantage [is] an ideal system that will promote engagement of students."
"I am really excited to have tools that help motivate students to actually do the reading …"
"...Really going to deepen students' understanding and...boost their comprehension. "
"I have used every other major digital platform that exists, and I can say that Vantage has no equal. "
"My learners really enjoyed the SAGE Vantage experience. Many of them said it forced them to read, which aided in their comprehension…The feedback I received is that they all really enjoyed the interactive nature of the program , as well as the [number] of activities…"
A student dashboard offers easy access to text content and visually tracks progress on assignments and assessments.
Study tools, including flashcards and note-taking, highlighting, and definition look-up capabilities, give students all they need for class preparation and course success.
Assignable Knowledge Checks (with helpful hints) provide formative assessments after each major section of text content to reinforce retention of key concepts.
Chapter Quizzes provide summative assessments at the end of each chapter to measure progress and long-term retention.
Assignable multimedia activities with assessment —including video and self-assessments —build critical thinking while consistently engaging students in an interactive application of text content. Focused feedback on correct and incorrect answers eliminates any guesswork in the learning journey.
Customizable Learning Management System (LMS) Integration. Our approach to integration empowers you to drive students to the content you want them to see in your LMS immediately following Single Sign On (SSO). In addition, automatic grade sync and full gradebook integration options can bolster timesaving, streamlined access to all your course content.
Dedicated Technical Support. We are proud to offer robust technical assistance from our team of SAGE educational technology experts based in New York. Instructors and students can access extended weekday and weekend support via phone, email, and online communication.
Live and Self-Service Training. Synchronous training sessions are available to every Vantage adopter and complement our full suite of self-service "how-to" tools. Guided walk-throughs of basic and advanced Vantage features and live Q & A discussions empower you to personalize your course design and determine how Vantage can best support your teaching goals.
100 sample student speeches available in SAGE Vantage illustrates examples of effective speeches as well as speeches that need improvement
Updated for currency and relevance , including new chapter openers, real world examples, COVID-19, pop culture references, and current events.
Refreshed "storytelling" focus emphasizes the text's chapter on storytelling and how students have life-stories to share that can improve the speaker–audience connection.
A fresh look at the role of empathy in public speaking , whether performing the role of speaker, audience member, or evaluator, the ability to empathize increases effectiveness.
Expanded coverage of virtual and online presentations , including how to use Zoom and avoid Zoom fatigue, how to create podcasts, and how to ensure that transitioning between formats, from face-to-face to virtual, goes smoothly.
A play-by-play guide to presentations using a coaching approach encourages speakers to practice regularly in order to build skills and speak at peak ability.
Coverage of the fundamentals of speech preparation and delivery in the first chapter empowers students to manage speech anxiety, build confidence, and prepare for their first speech.
Self-assessments, Game Plans, and checklists highlight areas where students excel or need improvement, setting the tone for building skills and confidence through routine practice.
Exercises put skills into practice in every chapter, with a regular emphasis on speech analysis, speech preparation, and delivery.
Coaching Tips drive home the key takeaways for speakers with inspiring quotes and practical advice.
For Students
For instructors.
Before purchasing, make sure your instructor assigned this courseware product.
Already using Vantage?
Log in to Vantage
Need help with Vantage?
Get technical support
Frequently asked questions
Muhammadiyeva, H., et al. "The Role of Critical Thinking in Developing Speaking Skills." International Journal on Integrated Education , vol. 3, no. 1, 2020, pp. 62-64, doi: 10.31149/ijie.v3i1.41 .
Download citation file:
Critical thinking is one of the major and rapidly growing concepts in education. Today, its role in second and foreign language learning and teaching is of great importance. Critical thinking skills and the mastery of the English language are expected to become essential outcomes of university education. To become fluent in a language and must be able to think critically and express thoughts, students need practise speaking activities using critical thinking skills. In this article, we define the concept "critical thinking" and discuss the role of critical thinking in the development of speaking skills through some practical activities that can be used in the classroom for students to practice critical thinking skills.
Table of contents
Skip to Content
Catalog Home
University of Oregon Home
Site navigation
Ungergraduate Programs
Graduate Programs
Core-Education Courses
Apply to the UO
Undergraduate Programs
College of Arts and Sciences >
Humanities >
English >
Writing, Public Speaking, and Critical Reasoning Minor
American English Institute
Cinema Studies
Comparative Literature
Creative Writing
East Asian Languages and Literatures
English (BA)
English Minor
Comics and Cartoon Studies Minor
Digital Humanities Minor
Disability Studies Minor
English (MA)
English (PhD)
Writing, Public Speaking, and Critical Reasoning Certificate
Politics, Culture, and Identity Graduate Specialization
Folklore and Public Culture
German and Scandinavian
Judaic Studies
Linguistics
Medieval Studies
Religious Studies
Romance Languages
Russian, East European, and Eurasian Studies
Theatre Arts
Natural Sciences
Social Sciences
https://wscr.uoregon.edu/
Emily Simnitt,Director 301E Tykeson Hall 1267 University of Oregon Eugene, Oregon 97403 - 1267 541-346-3517 [email protected]
Do you believe that reasoned discourse is foundational to democracy and to social change to build a better, more just society? Are you passionate about citizenship and the art of argument? Do you see yourself engaging your listeners through the power of dialogic reasoning? If your answers these questions are yes, you will thrive with a minor in writing, public speaking, and critical reasoning.
The UO's innovative program will help you to develop your ability to write well, speak effectively in public, and think critically—some of the most valuable skills for life in a globalized world.
Minor in Writing, Public Speaking, and Critical Reasoning
The minor in writing, public speaking, and critical reasoning prepares undergraduates for active and effective participation in the complex, diverse, and ever-changing communicative situations they will face after graduation.
Office of Admissions 1217 University of Oregon, Eugene, OR 97403-1217
Accessibility
Report a Concern
Privacy Policy
Find People
© University of Oregon . All Rights Reserved
UO prohibits discrimination on the basis of race, color, sex, national or ethnic origin, age, religion, marital status, disability, veteran status, sexual orientation, gender identity, and gender expression in all programs, activities and employment practices as required by Title IX, other applicable laws, and policies. Retaliation is prohibited by UO policy. Questions may be referred to the Title IX Coordinator, Office of Affirmative Action and Equal Opportunity, or to the Office for Civil Rights. Contact information, related policies, and complaint procedures are listed on the statement of non-discrimination .
Print this page.
The PDF will include all information unique to this page.
WHO DO WE WORK WITH
BECOME A MEMBER
Tailored-Made Soft-Skills training for CSO's
Training on critical thinking and public speaking
Training on policy analysis and creative writting
Effective internal communication training for CSO's and businesses
Training on critical thinking and…
Debate Center offers a set of activities that aim at developing critical thinking and public speaking skills. We utilize formal debate techniques in order to help participants gain a new perspective through debating a wide range of debate motions, while emphasizing argumentation skills, active listening skills, time management skills, and public speaking skills. We also work with different local and international organizations in planning, designing, drafting and implementing tailored-made programs that fit their needs. 
This service is made for: students, formal and informal groups, local and international organizations, businesses and education institutions.
REQUEST A QUOTA
M18 Critical Thinking & Reasoning
Critical thinking and reasoning: logic and the role of arguments.
Critical thinkers tend to exhibit certain traits that are common to them. These traits are summarized in Table 6.1: [1]
Recall that critical thinking is an active mode of thinking. Instead of just receiving messages and accepting them as is, we consider what they are saying. We ask if messages are well-supported. We determine if their logic is sound or slightly flawed. In other words, we act on the messages before we take action based on them. When we enact critical thinking on a message, we engage a variety of skills including: listening, analysis, evaluation, inference and interpretation or explanation, and self-regulation [2]
Next, we will examine each of these skills and their role in critical thinking in greater detail. As you read through the explanation of and examples for each skill, think about how it works in conjunction with the others. It's important to note that while our discussion of the skills is presented in a linear manner, in practice our use of each skill is not so straightforward. We may exercise different skills simultaneously or jump forward and backward.
" Martha Stewart " by nrkbeta.  CC-BY-SA .
Without an open-minded mind, you can never be a great success. ~ Martha Stewart
In order to understand listening, we must first understand the difference between listening and hearing . At its most basic, hearing refers to the physiological process of receiving sounds, while listening refers to the  psychological process of interpreting or making sense of those sounds.
Every minute of every day we are surrounded by hundreds of different noises and sounds. If we were to try to make sense of each different sound we would probably spend our day just doing this. While we may hear all of the noises, we filter out many of them. They pass through our lives without further notice. Certain noises, however, jump to the forefront of our consciousness. As we listen to them, we make sense of these sounds. We do this every day without necessarily thinking about the process. Like many other bodily functions, it happens without our willing it to happen.
Critical thinking requires that we consciously listen to messages. We must focus on what is being said – and not said. We must strive not to be distracted by other outside noises or the internal noise of our own preconceived ideas. For the moment we only need to take in the message.
Listening becomes especially difficult when the message contains highly charged information. Think about what happens when you try to discuss a controversial issue such as abortion. As the other person speaks, you may have every good intention of listening to the entire argument.
However, when the person says something you feel strongly about you start formulating a counter-argument in your head. The end result is that both sides end up talking past each other without ever really listening to what the other says.
Once we have listened to a message, we can begin to analyze it. In practice we often begin analyzing messages while still listening to them. When we analyze something, we consider it in greater detail, separating out the main components of the message. In a sense, we are acting like a surgeon on the message, carving out all of the different elements and laying them out for further consideration and possible action.
Let's return to Shonda's persuasive speech to see analysis in action. As part of the needs section of her speech, Shonda makes the following remarks:
Americans today are some of the unhealthiest people on Earth. It seems like not a week goes by without some news story relating how we are the fattest country in the world. In addition to being overweight, we suffer from a number of other health problems. When I was conducting research for my speech, I read somewhere that heart attacks are the number one killer of men and the number two killer of women. Think about that. My uncle had a heart attack and had to be rushed to the hospital. They hooked him up to a bunch of different machines to keep him alive. We all thought he was going to die. He's ok now, but he has to take a bunch of pills every day and eat a special diet. Plus he had to pay thousands of dollars in medical bills. Wouldn't you like to know how to prevent this from happening to you?
If we were to analyze this part of Shonda's speech (see Table 6.2), we could begin by looking at the claims she makes. We could then look at the evidence she presents in support of these claims. Having parsed out the various elements, we are then ready to evaluate them and by extension the message as a whole.
When we evaluate something we continue the process of analysis by assessing the various claims and arguments for validity. One way we evaluate a message is to ask questions about what is being said and who is saying it. The following is a list of typical questions we may ask, along with an evaluation of the ideas in Shonda's speech.
Is the speaker credible?
Yes. While Shonda may not be an expert per se on the issue of health benefits related to wine, she has made herself a mini-expert through conducting research.
Does the statement ring true or false based on common sense?
It sounds kind of fishy. Four or more glasses of wine in one sitting doesn't seem right. In fact, it seems like it might be bordering on binge drinking.
Does the logic employed hold up to scrutiny?
Based on the little bit of Shonda's speech we see here, her logic does seem to be sound. As we will see later on, she actually commits a few fallacies.
What questions or objections are raised by the message?
In addition to the possibility of Shonda's proposal being binge drinking, it also raises the possibility of creating alcoholism or causing other long term health problems.
How will further information affect the message?
More information will probably contradict her claims. In fact, most medical research in this area contradicts the claim that drinking 4 or more glasses of wine a day is a good thing.
Will further information strengthen or weaken the claims?
Most likely Shonda's claims will be weakened.
What questions or objections are raised by the claims?
In addition to the objections we've already discussed, there is also the problem of the credibility of Shonda's expert "doctor."
A wise man proportions his belief to the evidence. ~ David Hume
Inference and Interpretation or Explanation
"Imply" or "Infer"?
For two relatively small words, imply and infer seem to generate an inordinately large amount of confusion. Understanding the difference between the two and knowing when to use the right one is not only a useful skill, but it also makes you sound a lot smarter!
Let's begin with imply. Imply means to suggest or convey an idea. A speaker or a piece of writing implies things. For example, in Shonda's speech, she implies it is better to drink more red wine. In other words, she never directly says that we need to drink more red wine, but she clearly hints at it when she suggests that drinking four or more glasses a day will provide us with health benefits.
Now let's consider infer. Infer means that something in a speaker's words or a piece of writing helps us to draw a conclusion outside of his/her words. We infer a conclusion. Returning to Shonda's speech, we can infer she would want us to drink more red wine rather than less. She never comes right out and says this. However, by considering her overall message, we can draw this conclusion.
Another way to think of the difference between imply and infer is: A speaker (or writer for that matter) implies. The audience infers.
Therefore, it would be incorrect to say that Shonda infers we should drink more rather than less wine. She implies this. To help you differentiate between the two, remember that an inference is something that comes from outside the spoken or written text.
The next step in critically examining a message is to interpret or explain the conclusions that we draw from it. At this phase we consider the evidence and the claims together. In effect we are reassembling the components that we parsed out during analysis. We are continuing our evaluation by looking at the evidence, alternatives, and possible conclusions.
Before we draw any inferences or attempt any explanations, we should look at the evidence provided. When we consider evidence we must first determine what, if any, kind of support is provided. Of the evidence we then ask:
Is the evidence sound?
Does the evidence say what thespeaker says it does?
Does contradictory evidenceexist?
Is the evidence from a validcredible source?
Seatbelt by M.Minderhoud, CC-BY-SA .
Even though these are set up as yes or no questions, you'll probably find in practice that your answers are a bit more complex. For example, let's say you're writing a speech on why we should wear our seatbelts at all times while driving. You've researched the topic and found solid, credible information setting forth the numerous reasons why wearing a seatbelt can help save your life and decrease the number of injuries experienced during a motor vehicle accident. Certainly, there exists contradictory evidence arguing seat belts can cause more injuries. For example, if you're in an accident where your car is partially submerged in water, wearing a seatbelt may impede your ability to quickly exit the vehicle. Does the fact that this evidence exists negate your claims? Probably not, but you need to be thorough in evaluating and considering how you use your evidence.
A man who does not think for himself does not think at all. ~ Oscar Wilde
Self-Regulation
The final step in critically examining a message is actually a skill we should exercise throughout the entire process. With self-regulation, we consider our pre-existing thoughts on the subject and any biases we may have. We examine how what we think on an issue may have influenced the way we understand (or think we understand) the message and any conclusions we have drawn. Just as contradictory evidence doesn't automatically negate our claims or invalidate our arguments, our biases don't necessarily make our conclusions wrong. The goal of practicing self-regulation is not to disavow or deny our opinions. The goal is to create distance between our opinions and the messages we evaluate.
Man thinking on bus , by IG8. CC-BY .
The Value of Critical Thinking
In public speaking, the value of being a critical thinker cannot be overstressed. Critical thinking helps us to determine the truth or validity of arguments. However, it also helps us to formulate strong arguments for our speeches. Exercising critical thinking at all steps of the speech writing and delivering process can help us avoid situations like Shonda found herself in. Critical thinking is not a magical panacea that will make us super speakers. However, it is another tool that we can add to our speech toolbox.
As we will learn in the following pages, we construct arguments based on logic. Understanding the ways logic can be used and possibly misused is a vital skill. To help stress the importance of it, the Foundation for Critical Thinking has set forth universal standards of reasoning. These standards can be found in Table 6.3.
When the mind is thinking, it is talking to itself. ~ Plato
Logic and the Role of Arguments
"Sharia Law Billboard" by Matt57. Public domain.
We use logic every day. Even if we have never formally studied logical reasoning and fallacies, we can often tell when a person's statement doesn't sound right. Think about the claims we see in many advertisements today—Buy product X, and you will be beautiful/thin/happy or have the carefree life depicted in the advertisement. With very little critical thought, we know intuitively that simply buying a product will not magically change our lives. Even if we can't identify the specific fallacy at work in the argument (non causa in this case), we know there is some flaw in the argument.
By studying logic and fallacies we can learn to formulate stronger and more cohesive arguments, avoiding problems like that mentioned above. The study of logic has a long history. We can trace the roots of modern logical study back to Aristotle in ancient Greece. Aristotle's simple definition of logic as the means by which we come to know anything still provides a concise understanding of logic. [3] Of the classical pillars of a core liberal arts education of logic, grammar, and rhetoric, logic has developed as a fairly independent branch of philosophical studies. We use logic everyday when we construct statements, argue our point of view, and in myriad other ways. Understanding how logic is used will help us communicate more efficiently and effectively.
Defining Arguments
When we think and speak logically, we pull together statements that combine reasoning with evidence to support an assertion, arguments. A logical argument should not be confused with the type of argument you have with your sister or brother or any other person. When you argue with your sibling, you participate in a conflict in which you disagree about something. You may, however, use a logical argument in the midst of the argument with your sibling. Consider this example:
"Man and Woman Arguing" by mzacha. morgueFile .
Brother and sister, Sydney and Harrison are arguing about whose turn it is to clean their bathroom. Harrison tells Sydney she should do it because she is a girl and girls are better at cleaning. Sydney responds that being a girl has nothing to do with whose turn it is. She reminds Harrison that according to their work chart, they are responsible for cleaning the bathroom on alternate weeks. She tells him she cleaned the bathroom last week; therefore, it is his turn this week. Harrison, still unconvinced, refuses to take responsibility for the chore. Sydney then points to the work chart and shows him where it specifically says it is his turn this week. Defeated, Harrison digs out the cleaning supplies.
Throughout their bathroom argument, both Harrison and Sydney use logical arguments to advance their point. You may ask why Sydney is successful and Harrison is not. This is a good question. Let's critically think about each of their arguments to see why one fails and one succeeds.
Let's start with Harrison's argument. We can summarize it into three points:
Girls are better at cleaning bathrooms than boys.
Sydney is a girl.
Therefore, Sydney should clean the bathroom.
Harrison's argument here is a form of deductive reasoning, specifically a syllogism. We will consider syllogisms in a few minutes. For our purposes here, let's just focus on why Harrison's argument fails to persuade Sydney. Assuming for the moment that we agree with Harrison's first two premises, then it would seem that his argument makes sense. We know that Sydney is a girl, so the second premise is true. This leaves the first premise that girls are better at cleaning bathrooms than boys. This is the exact point where Harrison's argument goes astray. The only way his entire argument will work is if we agree with the assumption girls are better at cleaning bathrooms than boys.
Let's now look at Sydney's argument and why it works. Her argument can be summarized as follows:
1. The bathroom responsibilities alternate weekly according to the work chart.
2. Sydney cleaned the bathroom last week.
3. The chart indicates it is Harrison's turn to clean the bathroom this week.
4. Therefore, Harrison should clean the bathroom.
"Decorative toilet seat" by Bartux~commonswikiv. Public domain.
Sydney's argument here is a form of inductive reasoning. We will look at inductive reasoning in depth below. For now, let's look at why Sydney's argument succeeds where Harrison's fails. Unlike Harrison's argument, which rests on assumption for its truth claims, Sydney's argument rests on evidence. We can define evidence as anything used to support the validity of an assertion. Evidence includes: testimony, scientific findings, statistics, physical objects, and many others. Sydney uses two primary pieces of evidence: the work chart and her statement that she cleaned the bathroom last week. Because Harrison has no contradictory evidence, he can't logically refute Sydney's assertion and is therefore stuck with scrubbing the toilet.
Defining Deduction
Deductive reasoning refers to an argument in which the truth of its premises guarantees the truth of its conclusions. Think back to Harrison's argument for Sydney cleaning the bathroom. In order for his final claim to be valid, we must accept the truth of his claims that girls are better at cleaning bathrooms than boys. The key focus in deductive arguments is that it must be impossible for the premises to be true and the conclusion to be false. The classic example is:
All men are mortal. Socrates is a man. Therefore, Socrates is mortal.
We can look at each of these statements individually and see each is true in its own right. It is virtually impossible for the first two propositions to be true and the conclusion to be false. Any argument which fails to meet this standard commits a logical error or fallacy. Even if we might accept the arguments as good and the conclusion as possible, the argument fails as a form of deductive reasoning.
A few observations and much reasoning lead to error; many observations and a little reasoning to truth. ~ Alexis Carrel
Another way to think of deductive reasoning is to think of it as moving from a general premise to a specific premise. The basic line of reasoning looks like this:
"Deductive Reasoning" CC-BY-NC-ND .
This form of deductive reasoning is called a syllogism. A syllogism need not have only three components to its argument, but it must have at least three. We have Aristotle to thank for identifying the syllogism and making the study of logic much easier. The focus on syllogisms dominated the field of philosophy for thousands of years. In fact, it wasn't until the early nineteenth century that we began to see the discussion of other types of logic and other forms of logical reasoning.
It is easy to fall prey to missteps in reasoning when we focus on syllogisms and deductive reasoning. Let's return to Harrison's argument and see what happens.
Logic: the art of thinking and reasoning in strict accordance with the limitations and incapacities of the human misunderstanding. ~ Ambrose Bierce
"Applied Deductive Reasoning" CC-BY-NC-ND .
Considered in this manner, it should be clear how the strength of the conclusion depends upon us accepting as true the first two statements. This need for truth sets up deductive reasoning as a very rigid form of reasoning. If either one of the first two premises isn't true, then the entire argument fails.
Let's turn to recent world events for another example.
"US Invasion Deductive Reasoning Example" CC-BY-NC-ND .
In the debates over whether the United States should take military action in Iraq, this was the basic line of reasoning used to justify an invasion. This logic was sufficient for the United States to invade Iraq; however, as we have since learned, this line of reasoning also shows how quickly logic can go bad. We subsequently learned that the "experts" weren't quite so confident, and their "evidence" wasn't quite as concrete as originally represented.
Defining Induction
Inductive reasoning is often though of as the opposite of deductive reasoning; however, this approach is not wholly accurate. Inductive reasoning does move from the specific to the general. However, this fact alone does not make it the opposite of deductive reasoning. An argument which fails in its deductive reasoning may still stand inductively.
Unlike deductive reasoning, there is no standard format inductive arguments must take, making them more flexible. We can define an inductive argument as one in which the truth of its propositions lends support to the conclusion. The difference here in deduction is the truth of the propositions establishes with absolute certainty the truth of the conclusion. When we analyze an inductive argument, we do not focus on the truth of its premises. Instead we analyze inductive arguments for their strength or soundness.
"Inductive Reasoning Model" CC-BY-NC-ND .
Another significant difference between deduction and induction is inductive arguments do not have a standard format. Let's return to Sydney's argument to see how induction develops in action:
Bathroom cleaning responsibilities alternate weekly according to the work chart.
Sydney cleaned the bathroom last week.
The chart indicates it is Harrison's turn to clean the bathroom this week.
Therefore, Harrison should clean the bathroom.
What Sydney does here is build to her conclusion that Harrison should clean the bathroom. She begins by stating the general house rule of alternate weeks for cleaning. She then adds in evidence before concluding her argument. While her argument is strong, we don't know if it is true. There could be other factors Sydney has left out. Sydney may have agreed to take Harrison's week of bathroom cleaning in exchange for him doing another one of her chores. Or there may be some extenuating circumstances preventing Harrison from bathroom cleaning this week.
You should carefully study the Art of Reasoning, as it is what most people are very deficient in, and I know few things more disagreeable than to argue, or even converse with a man who has no idea of inductive and deductive philosophy. ~ William John Wills
Let's return to the world stage for another example. After the 9/11 attacks on the World Trade Center, we heard variations of the following arguments:
The terrorists were Muslim (or Arab or Middle Eastern)
The terrorists hated America.
Therefore, all Muslims (or Arabs or Middle Easterners) hate America.
"1993 Word Trade Center bombing" by Bureau of ATF 1993 Explosives Incident Report. Public domain.
Clearly, we can see the problem in this line of reasoning. Beyond being a scary example of hyperbolic rhetoric, we can all probably think of at least one counter example to disprove the conclusion. However, individual passions and biases caused many otherwise rational people to say these things in the weeks following the attacks. This example also clearly illustrates how easy it is to get tripped up in your use of logic and the importance of practicing self-regulation.
Adapted from Facione, P. A. (1990). Critical Thinking: A Statement of Expert Consensus for Purposes of Educational Assessment and Instruction, The Delphi Report (Executive Summary) . Millbrae, CA: California Academic Press. ↵
Adapted from Facione, P. A. (1990). ↵
Aristotle. (1989). Prior Analytics (Trans. Robin Smith). Cambridge, MA: Hackett Publishing. ↵
Image of man and woman arguing. Authored by : mzacha. Provided by : MorgueFile. Located at : http://mrg.bz/ynkIUa . License : All Rights Reserved . License Terms : Free to remix, commercial use, no attribution required. http://www.morguefile.com/license/morguefile
Chapter 6 Logic and the Role of Arguments. Authored by : Terri Russ, J.D., Ph.D.. Provided by : Saint Mary's College, Notre Dame, IN. Located at : http://publicspeakingproject.org/psvirtualtext.html . Project : The Public Speaking Project. License : CC BY-NC-ND: Attribution-NonCommercial-NoDerivatives
Martha Stewart nrkbeta. Authored by : nrkbeta. Located at : http://commons.wikimedia.org/wiki/File:Martha_Stewart_nrkbeta.jpg . License : CC BY-SA: Attribution-ShareAlike
Seat belt BX. Authored by : M.Minderhoud. Located at : http://commons.wikimedia.org/wiki/File:Seat_belt_BX.jpg . License : CC BY-SA: Attribution-ShareAlike
Man thinking in a bus. Authored by : IG8. Located at : https://www.flickr.com/photos/ig8/4295549232/ . License : CC BY: Attribution
Sharia-Law-Billboard. Authored by : Matt57. Located at : http://commons.wikimedia.org/wiki/File:Sharia-law-Billboard.jpg . License : Public Domain: No Known Copyright
Decorative toilet seat. Authored by : Bartux. Located at : http://commons.wikimedia.org/wiki/File:Decorative_toilet_seat.jpg%20 . License : Public Domain: No Known Copyright
Image of 1993 World Trade Center bombing. Provided by : Bureau of ATF 1993 Explosives Incident Report. Located at : http://commons.wikimedia.org/wiki/File:WTC_1993_ATF_Commons.jpg . License : Public Domain: No Known Copyright
Privacy Policy