Log in or sign up for Rotten Tomatoes
Trouble logging in?
By continuing, you agree to the Privacy Policy and the Terms and Policies , and to receive email from Rotten Tomatoes.
By creating an account, you agree to the Privacy Policy and the Terms and Policies , and to receive email from Rotten Tomatoes and to receive email from the Fandango Media Brands .
By creating an account, you agree to the Privacy Policy and the Terms and Policies , and to receive email from Rotten Tomatoes.
Email not verified
Let's keep in touch.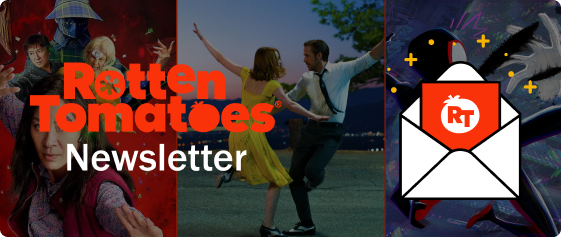 Sign up for the Rotten Tomatoes newsletter to get weekly updates on:
Upcoming Movies and TV shows
Trivia & Rotter Tomatoes Podcast
Media News + More
By clicking "Sign Me Up," you are agreeing to receive occasional emails and communications from Fandango Media (Fandango, Vudu, and Rotten Tomatoes) and consenting to Fandango's Privacy Policy and Terms and Policies . Please allow 10 business days for your account to reflect your preferences.
OK, got it!
Movies / TV
No results found.
What's the Tomatometer®?
Login/signup
Movies in theaters
Opening this week
Top box office
Coming soon to theaters
Certified fresh movies
Movies at home
Netflix streaming
Amazon prime
Most popular streaming movies
What to Watch New
Certified fresh picks
Wonka Link to Wonka
The Boy and the Heron Link to The Boy and the Heron
Leave the World Behind Link to Leave the World Behind
New TV Tonight
Doctor Who: Season 0
Culprits: Season 1
Archie: Season 1
My Life With the Walter Boys: Season 1
Murder in Boston: Roots, Rampage & Reckoning: Season 1
World War II: From the Frontlines: Season 1
Geddy Lee Asks: Are Bass Players Human Too?: Season 1
The Great British Baking Show: Holidays: Season 6
Most Popular TV on RT
Slow Horses: Season 3
A Murder at the End of the World: Season 1
Fargo: Season 5
Sex Education: Season 4
The Artful Dodger: Season 1
A Nearly Normal Family: Season 1
Monarch: Legacy of Monsters: Season 1
Blood Coast: Season 1
Squid Game: The Challenge: Season 1
Best TV Shows
Most Popular TV
TV & Streaming News
Prime Video
Certified fresh pick
Slow Horses: Season 3 Link to Slow Horses: Season 3
All-Time Lists
Binge Guide
Comics on TV
Five Favorite Films
Video Interviews
Weekend Box Office
Weekly Ketchup
What to Watch
All Hayao Miyazaki Movies, Ranked By Tomatometer
100 Best Anime Movies of All Time
Awards Tour
What to Watch: In Theaters and On Streaming
Oppenheimer , Barbie & Spider-man: Across the Spider-Verse named the best films of 2023 by AFI
Rotten Tomatoes Predicts the 2024 Golden Globe Nominations
Trending on RT
Shop Rotten Tomatoes
Godzilla Minus One
Killers of the Flower Moon
The Hobbit: An Unexpected Journey
2012, Fantasy/Adventure, 2h 49m
What to know
Critics Consensus
Peter Jackson's return to Middle-earth is an earnest, visually resplendent trip, but the film's deliberate pace robs the material of some of its majesty. Read critic reviews
You might also like
Where to watch the hobbit: an unexpected journey.
Watch The Hobbit: An Unexpected Journey with a subscription on Max, rent on Amazon Prime Video, Apple TV, or buy on Amazon Prime Video, Vudu.
Rate And Review
Super Reviewer
Rate this movie
Oof, that was Rotten.
Meh, it passed the time.
It's good – I'd recommend it.
So Fresh: Absolute Must See!
What did you think of the movie? (optional)
You're almost there! Just confirm how you got your ticket.
Step 2 of 2
How did you buy your ticket?
Let's get your review verified..
AMCTheatres.com or AMC App New
Cinemark Coming Soon
We won't be able to verify your ticket today, but it's great to know for the future.
Regal Coming Soon
Theater box office or somewhere else
By opting to have your ticket verified for this movie, you are allowing us to check the email address associated with your Rotten Tomatoes account against an email address associated with a Fandango ticket purchase for the same movie.
You're almost there! Just confirm how you got your ticket.
The hobbit: an unexpected journey videos, the hobbit: an unexpected journey photos.
Bilbo Baggins (Martin Freeman) lives a simple life with his fellow hobbits in the shire, until the wizard Gandalf (Ian McKellen) arrives and convinces him to join a group of dwarves on a quest to reclaim the kingdom of Erebor. The journey takes Bilbo on a path through treacherous lands swarming with orcs, goblins and other dangers, not the least of which is an encounter with Gollum (Andy Serkis) and a simple gold ring that is tied to the fate of Middle Earth in ways Bilbo cannot even fathom.
Rating: PG-13 (Intense Action Violence|Frightening Images|Intense Fantasy Violence)
Genre: Fantasy, Adventure
Original Language: English
Director: Peter Jackson
Producer: Carolynne Cunningham , Zane Weiner , Fran Walsh , Peter Jackson
Writer: Fran Walsh , Philippa Boyens , Peter Jackson , Guillermo del Toro
Release Date (Theaters): Dec 14, 2012 wide
Release Date (Streaming): Dec 11, 2015
Box Office (Gross USA): $303.0M
Runtime: 2h 49m
Distributor: Warner Bros. Pictures
Production Co: WingNut Films
Sound Mix: Dolby Digital, SDDS, Datasat
View the collection: Lord of The Rings
Cast & Crew
Ian McKellen
Martin Freeman
Bilbo Baggins
Richard Armitage
Thorin Oakenshield
Graham McTavish
William Kircher
James Nesbitt
Stephen Hunter
Dean O'Gorman
Aidan Turner
John Callen
Peter Hambleton
Mark Hadlow
Elijah Wood
Hugo Weaving
Cate Blanchett
Christopher Lee
Peter Jackson
Screenwriter
Philippa Boyens
Guillermo del Toro
Executive Producer
Toby Emmerich
Carolyn Blackwood
Carolynne Cunningham
Zane Weiner
Andrew Lesnie
Cinematographer
Production Design
Jabez Olssen
Film Editing
Amy Hubbard
John Hubbard
Victoria Burrows
Scot Boland
News & Interviews for The Hobbit: An Unexpected Journey
The 50 Highest-Grossing Movies of All Time: Your Top Box Office Earners Ever Worldwide
10 TV Shows You Should Binge-Watch This March
Know Your Critic: Bilge Ebiri, Movie Critic at Vulture
Critic Reviews for The Hobbit: An Unexpected Journey
Audience reviews for the hobbit: an unexpected journey.
having read the books a long time ago in a galaxy far away (inc. the silmarilion or whatever the F) and having seen the LOTR's films when they came out too but not really paying any attention to it all since then, this was a reminder of the imagination and creativity of J.R.R. Tolkien expertly put to screen once again by peter jackson. now fervently waiting to devour the desolation of smaug whenever it plays on TV.

Precious Gollumses!!
It's definitely no LOTR...But it's still a pretty cool movie. Sure, it took it's time to try to tell the story and dragged on for a little too long, but other than that, the special effects were great, and it was entertaining as hell. It's a good introduction to The Hobbit franchise.
The decision to split up The Hobbit, has in turn split audiences. Many decry it as a simple money making scheme (which in essence it is), others struggle to see how on book only a quarter the size of any LotR book is expected to stretch the same amount of cinema time as the whole Rings trilogy combined. I however, see it as a positive. I don't mind in the least paying an extra $15 out of my own pocket for an extra 6 hours of quality film like this. It's only when they expects people to pay actual money for shite like the Twilight franchise or the Death at a Funeral U.S. remake that I have a problem with Hollywood's greed. The Hobbit, on the other hand, is perfectly capable of backing up its ticket price. And then... Lots. And lots extra. Which is nice. It differs greatly from the book in many aspects, though it has been so damn long since I've read it that I'm not sure what's actually been changed, what's new, what's gone, and what I just don't have right in my head. Martin Freeman (Sherlock, Hot Fuzz, The Hitchhiker's Guide to the Galaxy, Shaun of the Dead, Love, Actually, Ali G Indahouse) is a fantastic Bilbo, he manages to sort of create this halfway point between Frodo and the Bilbo of the LotR trilogy. Which is really kind of perfect when you think about it. Gandalf's the same as ever, really nothing to recap (which is a solid move in my mind). Frodo's also back for some flashback/forward scenes (depending on how you look at it). Which totally makes sense, flaunt 'em if you got 'em. This isn't a line by line adaptation of The Hobbit, it's the first film of the Peter Jackson prequel to the Peter Jackson trilogy of the Rings, both of which are somewhat based on the books. So in his version of the world (which is still very loveable, just different) it makes perfect sense to have these great cameos. The Dwarves are where it all gets a bit confusing. Remembering names and faces, all that jazz. Before I continue though, let me get myself decapitated by all of Tumblr. Why the fuck is everyone going so goddamn schizoid over Kili (Played by Aidan Turner [Being Human, The Tudors]) when he's the one Dwarf without a motherhuggin' beard!? I may not be as beard-savy as L'alice (whose Tumblr is MainliningBeards) but I do appreciate the shit out of them (on that, how amazing is Thror's beard? All armoured and junk, goddamn). He's this skinny fucker with no beard, and does archery all over the place. I mean, yes it does seem like they somehow managed to fuse together Legolas and Aragon to create this dude, which is a nice touch, but he's not that babin' and he sure as shit isn't a Dwarf. Now the other two "sexy" members of the party (is sexy not heterosexual enough, should that be "eye-candy"... Nah, fuck it. Sexy) I can totally get behind. Thorin Oakenshield (Played by Richard Armitage [Captain America, Robin Hood, Strike Back, Spooks]) and Fili (Played by Dean O'Gorman[Xena, Young Hercules, Toy Love]) are not only very, very attractive, but I also totally buy them as fantasy creatures from Middle Earth. The actors playing Balin, Bifur, Bofur, Bombur, Oin, Gloin, Nori, Dori and Ori weren't overly familiar to me. Though Graham McTavish (Green Street Hooligans 2, Rambo, The Bill, Rome, King Arthur, Erik the Viking, Dante's Inferno, Call of Duty franchise, The Avengers: Earth's Mightiest Heroes, Dawn of War II) as Dwalin is clearly a fuckin' badass. I do have some qualms with changes made, not from novel to screen, but from LotR to The Hobbit. Given that both are Peter Jackson's work, and they're meant to be in his world, why was it necessary to change the appearance of firmly grounded canonical things? The Goblins of The Hobbit (above) are great, but look nothing like the original ones. The Wargs seem to have actually taken a backwards step in my eyes, and are also unfamiliar in this screen world. It's difficult to back up my statements about "It's okay to not be the same as the book, it's Jackson's world" if Jackson keeps changing his mind about what his world even looks like. Azog not looking like any other orc was fine by me though. He was an incredible looking bad guy, with a back story, a great actor behind him (Australian Manau Bennett [Bikie Wars: Brothers in Arms, Spartacus series, Sinbad and the Minotaur, 30 Days of Night, The Condemned]). Ultimately, the only killer for me about The Hobbit, is knowing that despite the fact that it's completely finished, it's still only being released at a rate of one film a year, and that hurts, because honestly, The Hobbit's great. Watch it as an adaptation of the book, watch it as a fantasy epic, watch it as the LotR prequel, watch it as a heart-warming tale of adventure from mediocrity, watch it as a cinematic marvel, or just plain watch it as Beard-Porn, whatever, it's maybe not life changing, but it's enjoyable as Hell. 79% -Gimly
Movie & TV guides
Discover What to Watch
Rotten Tomatoes: The Card Game
Rotten Tomatoes Podcasts
Australia edition
International edition
Europe edition
The Hobbit: An Unexpected Journey – review
"Unexpected" is right, for a couple of reasons. Peter Jackson , the man who brought Lord Of The Rings to the big screen to eardrum-shattering acclaim 10 years ago, is now taking just the same approach to Tolkien's much slighter, slimmer children's book The Hobbit. It's getting expanded into three movie episodes of which this whoppingly long film is the opener.
So Tolkien's gentle tale is going to be a triple box-office bonanza, occupying the same amount of space as the mighty Rings epic, an effect achieved by pumping up the confrontations, opening out the backstory and amplifying the ambient details, like zooming in on a Google Middle Earth.
The second unexpected point is the look of the thing. Jackson has pioneeringly shot The Hobbit in HFR, or High Frame Rate: 48 frames a second, as opposed to the traditional 24, giving a much higher definition and smoother "movement" effect. But it looks uncomfortably like telly, albeit telly shot with impossibly high production values and in immersive 3D. Before you grow accustomed to this, it feels as if there has been a terrible mistake in the projection room and they are showing us the video location report from the DVD "making of" featurette, rather than the actual film.
Reading on mobile? Click here to watch
There can be no doubt that Jackson has made The Hobbit with brio and fun, and Martin Freeman is just right as Bilbo Baggins: he plays it with understatement and charm. But I had the weird, residual sense that I was watching an exceptionally expensive, imaginative and starry BBC Television drama production, the sort that goes out on Christmas Day, with 10 pages of coverage in the seasonal Radio Times, and perhaps a break in the middle for the Queen's Speech.
Well, it grows on you. The HFR style has immediacy and glitter, particularly in the outdoor locations, where the New Zealand landscapes, in all their splendour, are revealed more sharply and clearly, and there is an almost documentary realism to the fable. Indoors though, it's not quite the same story.
We approach the drama via its mythic setup: the terrifying dragon Smaug appropriates the Dwarf Kingdom of Erebor. The older hobbit, played with maundering geniality by Ian Holm is presented to us; then it's back in time to meet our unlikely hero, the gentle Bilbo Baggins, younger but still a somewhat donnish, bookish bachelor figure like Tolkien and CS Lewis. He is contacted by the charismatic Wizard Gandalf The Grey — and it's a pleasure to see Ian McKellen back in the cloak, whiskers and pointy hat, bringing a sparkle of life and fun to the part, and stealing the scene with ruminative little smiles and eyebrow-raisings.
Under Gandalf's influence, Bilbo is forced to confront his destiny as a hobbit of action, and acquaints himself with the robust warrior class of dwarves. There's a nice performance from Ken Stott as Balin, with an outrageous big purple-ish nose, as if he's spent his time in exile drinking malt whisky. They are led by the mighty and taller warrior Thorin, played by Richard Armitage.
And so the quest begins, and the questers come across such familiar figures as Galadriel – a seraphic and almost immobile Cate Blanchett – and Saruman, played with impassive dignity and presence, of course, by Christopher Lee. But soon they must tackle the evil Orcs.
There are explosively dramatic battles, with a lot of 3D plunging from vertiginous heights. But the crux comes with Bilbo's meeting with the ineffably creepy Gollum, played in motion-capture once again by Andy Serkis. It is a terrific scene, a contest of nerves, a duel of wits, and the one moment in the film where the drama really comes alive and Freeman's (admirable) underplaying of the role works well against Serkis's animal paranoia.
There is also something quietly affecting in Gandalf's moral strategy in recruiting Bilbo: "I found it is the small things, everyday deeds of ordinary folk, that keeps the darkness at bay. Simple acts of kindness and love. Why Bilbo Baggins? Perhaps it is because I'm afraid, and he gives me courage."
And the rest of the film offers an enormous amount of fun, energy and a bold sense of purpose. But after 170 minutes I felt that I had had enough of a pretty good thing. The trilogy will test the stamina of the non-believers, and many might feel, in their secret heart of hearts, that the traditional filmic look of Lord of the Rings was better. But if anyone can make us love the new epically supercharged HFR Hobbit, it's Peter Jackson.
Peter Jackson
Science fiction and fantasy films
JRR Tolkien
Lord of the Rings
Action and adventure films
Martin Freeman
Ian McKellen
More on this story

What would you add to The Hobbit: The Battle of the Five Armies?

The Hobbit: The Desolation of Smaug - review

The Hobbit: An Unexpected Journey on course for $70m US opening
The hobbit, everything you need to know - infographic.

The Hobbit wins delay on release of 'mockbuster' Age of the Hobbits

Ian McKellen: 'Gandalf the Grey likes boogieing around Hobbiton and having a drink'

The Hobbit: The Desolation of Smaug – review

The Hobbit: An Unexpected Journey - video interviews

The Hobbit: An Unexpected Journey - video review
The hobbit: the desolation of smaug – review, comments (…), most viewed.
The Hobbit: An Unexpected Journey (2012)
User Reviews
The introduction is way too long.
Opening scene: Ian Holm just looks too dissimilar from his appearance in FOTR (especially his haircut), which is really distracting. The frame story doesn't blend in naturally and the history of Erebor has too much to show in too little time.
Radagast: He appears as suddenly as he disappears. His scene in Dol Guldur really threw me out of the movie.
The White Council: I know the screenwriters want to underline the growing dark powers (hence the - preposterous - finding of the Morgul blade), but the empty talk about things of which we all know how they've played out in the LOTR films isn't convincing at all.
Azog: An appallingly one-dimensional character, who feels most out of place (the fact that he looks like a creature from a cheap horror movie also doesn't help ...). His scenes have a strange "un-Tolkien" vibe, particularly the battle of Azanulbizar (the worst scene of the movie), which doesn't feel like a fierce and thrilling battle at all.
The 3D was good, no complaints about that. However, although I have no problems with watching movies in 3D, I start questioning its necessity.
I am bewildered many people claim that 48 fps creates a "TV-look" with "actors with clear make-up on a fake set". I didn't have that feeling at all, but on the other hand - and this was the most surprising - the difference with 24 fps isn't THAT spectacular. After 30 minutes, I even had to remind myself: "Oh, I'm watching 48 fps, right?". Yes, the images look very clear and it does smooth fast movements, but the latter (which is positive) only sticks out a couple of times (and no, the motion never comes across as "sped up", so I was never distracted by the higher frame rate). All in all, I consider 48 fps to be an improvement over 24 fps (without diminishing the "cinematic" look of a film), but I didn't have the feeling I had witnessed a "revolutionary new cinema experience".
Awards | FAQ | User Ratings | External Reviews | Metacritic Reviews
User Ratings
External Reviews
Metacritic Reviews
Full Cast and Crew
Release Dates
Official Sites
Company Credits
Filming & Production
Technical Specs
Plot Summary
Plot Keywords
Parents Guide
Did You Know?
Crazy Credits
Alternate Versions
Connections
Soundtracks
Photo & Video
Photo Gallery
Trailers and Videos
Related Items
Related lists from IMDb users
Recently Viewed
Movie Reviews
Tv/streaming, collections, great movies, chaz's journal, contributors, the hobbit: the battle of the five armies.
Now streaming on:
" So began a battle that none had expected; and it was called The Battle of the Five Armies, and it was very terrible. " -J.R.R. Tolkien, "The Hobbit"
The "very terrible" battle takes up only one chapter in Tolkien's novel and is the majority of the action in Peter Jackson 's final entry in "The Hobbit" trilogy. It's a stunner of a sequence, although it also illuminates the flawed logic of stretching out Tolkien's book into three installments. What is the real story? How do we get from A to B? And, crucially, why do we care? 
And where is Bilbo Baggins in all of it? The novel is concise, humorous, with a dark periphery, and even in the midst of extremely tense moments, we have Bilbo, a tut-tutting little homebody, wondering how the heck he got involved in all of this nonsense in the first place. There's not enough Bilbo in "The Battle of the Five Armies." The story misses his presence. The film's first mildly humorous moment, a line reading from Martin Freeman , comes almost 40 minutes in, and it's refreshing, but it highlights the humorlessness of the rest. There are some wonderful sequences in "Battle of the Five Armies", and the attention to detail is breathtaking (each different space rendered with thrilling complexity), but the film feels more like a long drawn-out closing paragraph rather than (like "The Desolation of Smaug") a vibrant stand-alone piece of the story.
"The Battle of the Five Armies" picks up where "Desolation of Smaug" left off: Smaug the dragon (voiced by Benedict Cumberbatch ) has burst free into the air, and descends onto the helpless people of Laketown in a blitzkrieg of fire. Bard ( Luke Evans ) becomes the natural leader of the traumatized refugees, who straggle around dazed at the destruction of their homes. An endless line of devastated people trail up the dizzying slopes towards the Lonely Mountain, where they hope to receive compensation for all they have lost. Meanwhile, the Dwarf contingency, along with Bilbo, hole themselves up in the Mountain, protecting the treasure, most of the dwarves uneasy about the increasingly paranoid leadership of Thorin ( Richard Armitage ).
Christopher Lee and Cate Blanchett return, briefly, for a psychedelic scene of mortal combat with the ring wraiths that doesn't seem to have much to do with anything (although it is clearly supposed to be important), and Gandalf (Ian McKellan) returns from imprisonment to the field of battle. Tauriel the elf ( Evangeline Lilly ) is not given much to do, except love a dwarf, a big no-no in her world. She speaks about love repeatedly, softly and wondrously, and every time she does the entire film deflates en masse. Romantic love has nothing to do with the story overall, and the love subplot feels so obligatory that it's practically condescending.
The real story is about greed, what Tolkien termed "dragon-sickness," and when Jackson focuses on that aspect, "Battle of the Five Armies" finds its footing. It's a strong theme, Shakespearean in scope, perfectly exemplified in one nightmare sequence in which Thorin, lost to "dragon-sickness," greedy and jumpy, finds himself sucked into a monstrous whirlpool of thick molten gold. Everyone who has read the book knows that Thorin loses it once he has the gold under his care, but Jackson imagined it in a way that is surreal and visceral.
When the battle finally comes, it is tremendous. Armies swoop towards one another across a vast plain, each group displaying their own intricate maneuvers and battle strategies, wielding their own specific weaponry, making one think it could be a deleted scene from John Woo's "Red Cliff," or that a fussy Middle Earth equivalent of John Keegan had been a consultant on the film, providing information on how the dwarf infantry worked, and how the elves moved in formation. The sequence is an enormous pantomime of carnage that somehow maintains its sense of spatial relations and emotional tension (there is a terrific standoff between Thorin and the head Orc on a sheet of ice near a treacherous frozen waterfall).
Peter Jackson has devoted an enormous part of his life to the creation of these films, and taken all together they are a major accomplishment. "The Hobbit" may have been better served by being a single film: by forcing the action to be condensed into a single through-line, the storytelling would have more urgency, there would be less room for any "fat" on the story, there would be no detraction from its overall themes. The world-building aspect of the films is thrilling, and there are spaces created in all three of "The Hobbit" films that are unforgettable. 
But that magic something is missing in "Battle." There are glimpses of it, glimpses of true poignancy and emotion: the friendship between Thorin and Bilbo, Bilbo turning back to look at the row of dwarves standing in the doorway, the last conversation with Gandalf, and the final moment of the film. These moments are lovely; these moments are presented concisely, strongly and openly. There, there is the story.
Tolkien understood the appeal of home, of a nice pipe and a cozy fire, of being surrounded by those who know you, where life is safe and your role is set. Bilbo Baggins is thrust out of his comfort zone, and must come up with the goods in extraordinary circumstances. Frodo had the same role in the "Lord of the Rings" trilogy. These journeys are epic, and yet they are grounded in those homey details that make us understand and sympathize. Hobbits are constantly underestimated. They underestimate themselves. Tolkien's work taps into a great universal anxiety: would I be up to a similar task? How would I fare if I were called? Would I be brave? Or would I cave? At its best, Jackson's films dig into those questions. "The Desolation of Smaug," part two in the trilogy, which this reviewer loved , is the strongest of the three films, because it never forgets that at the heart of it is a small creature who is overwhelmed by fear, and yet who must be brave anyway.
Sheila O'Malley
Sheila O'Malley received a BFA in Theatre from the University of Rhode Island and a Master's in Acting from the Actors Studio MFA Program. Read her answers to our Movie Love Questionnaire here .
Now playing
A Revolution on Canvas
Brian tallerico.
May December
Frybread Face and Me
Against the Tide
Glenn kenny.
Raging Grace
Monica castillo.
Fingernails
Robert daniels, film credits.
The Hobbit: The Battle of the Five Armies (2014)
Rated PG-13
144 minutes
Martin Freeman as Bilbo Baggins
Ian McKellen as Gandalf
Richard Armitage as Thorin Oakenshield
Aidan Turner as Kili
Orlando Bloom as Legolas
Evangeline Lilly as Tauriel
John Bell as Bain
Dean O'Gorman as Fili
Lee Pace as Thranduil
Benedict Cumberbatch as The Necromancer
Luke Evans as Bard
Cate Blanchett as Galadriel
Hugo Weaving as Elrond
Christopher Lee as Saruman
Billy Connolly as Dain
Ian Holm as Old Bilbo
James Nesbitt as Bofur
Peter Jackson
J.R.R. Tolkien
Cinematography
Latest blog posts
The Best Horror Films of 2023
Goodbye to a TV Pioneer: Norman Lear (1922-2023)
2024 Sundance Film Festival Announces 91 Projects Selected for the Feature Films, Episodic, and New Frontier Lineup for 40th Edition
R.I.P. Icon Norman Lear, Thank You for Your Century of Inspiration
For Parents
For Educators
Our Work and Impact
Or browse by category:
Movie Reviews
Best Movie Lists
Best Movies on Netflix, Disney+, and More
Common Sense Selections for Movies
50 Modern Movies All Kids Should Watch Before They're 12
Best TV Lists
Best TV Shows on Netflix, Disney+, and More
Common Sense Selections for TV
Video Reviews of TV Shows
Best Kids' Shows on Disney+
Best Kids' TV Shows on Netflix
Book Reviews
Best Book Lists
Common Sense Selections for Books
8 Tips for Getting Kids Hooked on Books
50 Books All Kids Should Read Before They're 12
Game Reviews
Best Game Lists
Common Sense Selections for Games
Nintendo Switch Games for Family Fun
Podcast Reviews
Best Podcast Lists
Common Sense Selections for Podcasts
Parents' Guide to Podcasts
App Reviews
Best App Lists
Social Networking for Teens
Gun-Free Action Game Apps
Reviews for AI Apps and Tools
YouTube Channel Reviews
YouTube Kids Channels by Topic
Parents' Ultimate Guide to YouTube Kids
YouTube Kids Channels for Gamers
Preschoolers (2-4)
Little Kids (5-7)
Big Kids (8-9)
Pre-Teens (10-12)
Teens (13+)
Screen Time
Social Media
Online Safety
Identity and Community
Explaining the News to Our Kids
Family Tech Planners
Digital Skills
All Articles
Latino Culture
Black Voices
Asian Stories
Native Narratives
LGBTQ+ Pride
Best of Diverse Representation List
Honoring Indigenous Heritage Month
Movies and TV Shows with Arab Leads
Celebrate Hip-Hop's 50th Anniversary
Family movie night? There's an app for that
Download our new mobile app on iOS and Android.
The Hobbit: An Unexpected Journey
Common sense media reviewers.
Tolkien tale isn't as great as LOTR, but better for tweens.
A Lot or a Little?
What you will—and won't—find in this movie.
As in The Lord of the Rings, the message of The Ho
No one except Gandalf thinks that Bilbo can be of
Less violent than The Lord of the Rings, but there
Slang use of "jaxie" (meaning "ass").
Although there are no product placements in Middle
The dwarves are a voracious lot -- even more than
Parents need to know that The Hobbit: An Unexpected Journey, director Peter Jackson's adaptation of J.R.R. Tolkien's stand-alone quest through Middle-earth, is less violent than the scarier Lord of the Rings trilogy. But there are definitely some frightening sequences, like the battle between the…
Positive Messages
As in The Lord of the Rings , the message of The Hobbit is that even the smallest person can make a huge difference. Gandalf even says "it's the small things that keep the darkness at bay" in reference to Bilbo's involvement in the dangerous mission. Gandalf advises Bilbo that it's not knowing how to take a life that takes courage but knowing when to spare one. The dwarves' quest reminds viewers of the importance of home, kinship, and belonging somewhere. Curiosity, perseverance, and teamwork are major themes.
Positive Role Models
No one except Gandalf thinks that Bilbo can be of much help, but Bilbo rises to the occasion by summoning his courage when the time calls for it -- except for the fact that he fulfills his destiny as a "burglar" by stealing Gollum's precious ring. Thorin is dedicated to his fellow dwarves, and they in return revere him as their faithful leader.
Violence & Scariness
Less violent than The Lord of the Rings , but there's still some carnage: a battle between the dwarves and the dragon leads to the dwarf king being decapitated, an orc leader's arm amputated, and a multitude of dwarves and their property destroyed. There are several close calls when Bilbo, Gandalf, and the dwarves are pursued or nearly die on their journey across Middle-earth, usually by orcs and their beasts. The orc leader is a frightening sight -- particularly with his claw-like prosthesis, and he's bloodthirsty. A group of goblins/orcs tries to kill the group as well.
Did you know you can flag iffy content? Adjust limits for Violence & Scariness in your kid's entertainment guide.
Did you know you can flag iffy content? Adjust limits for Language in your kid's entertainment guide.
Products & Purchases
Although there are no product placements in Middle-earth, the Tolkien books and Peter Jackson film adaptations have spawned a ton of merchandise: apparel, video games, LEGO toys and board games, role-playing games, special movie tie-in editions of the books, and more.
Drinking, Drugs & Smoking
The dwarves are a voracious lot -- even more than hobbits. They ransack Bilbo's pantry and consume large quantities of drink (and food). Gandalf and Bilbo smoke the mellowing pipeweed.
Did you know you can flag iffy content? Adjust limits for Drinking, Drugs & Smoking in your kid's entertainment guide.
Parents Need to Know
Parents need to know that The Hobbit: An Unexpected Journey, director Peter Jackson 's adaptation of J.R.R. Tolkien's stand-alone quest through Middle-earth, is less violent than the scarier Lord of the Rings trilogy. But there are definitely some frightening sequences, like the battle between the dragon and the dwarves of Erebor, during which one character is decapitated, another has an arm amputated, and there's mass destruction. The group of Bilbo, Gandalf, and 13 dwarves is often tracked and pursued and nearly killed several times, but they manage to avoid death -- at least in this installment. Bilbo (like Frodo and his friends in the LOTR movies) again shows that size doesn't matter when it comes to making a difference. To stay in the loop on more movies like this, you can sign up for weekly Family Movie Night emails .
Where to Watch
Videos and photos.
Community Reviews
Parents say (51)
Kids say (234)
Based on 51 parent reviews
Suitable for kids IMO.
Definitely not as good as the book..., what's the story.
Peter Jackson's first installment in his three-part adaptation of J. R. R. Tolkien 's THE HOBBIT: AN UNEXPECTED JOURNEY starts off with an eleventy-one-year-old Bilbo Baggins (played once again by Ian Holm ) narrating the tale of how he, a mellow hobbit from the Shire, ended up enmeshed in a dangerous quest. Sixty years before The Fellowship of the Ring is formed, a considerably younger Bilbo ( Martin Freeman ) sets off an the titular Unexpected Journey with his friend Gandalf the Grey ( Ian McKellen ) to help 13 dwarves reclaim their homeland -- the kingdom of Erebor, which was taken over by a killer, gold-seeking dragon that forced the dwarves into exile. The motley crew, led by Gandalf and the smoldering heir to the Erebor throne, Thorin Oakenshield (Richard Armitage), encounter two-and-a-half hours of conflict (most notably with the bloodthirsty orcs) with a brief respite found in the elven homeland of Rivendell, where Galadriel ( Cate Blanchett ) offers Gandalf her unconditional support.
Is It Any Good?
Despite issues with length and pacing, there's no denying this is a production worth seeing, especially with kids new to Tolkien's detailed universe. As a novel, The Hobbit skews younger than The Lord of the Rings , so it's only natural that the film is also more accessible for tweens -- just have them look the other way for a few of the darker battle sequences. The story is simple enough, and the visuals are dazzling (the 48 frames per second rate is neither as spectacular or headache-inducing as rumors would have you believe). The acting is admirable, including the return of our favorite wizard, Gandalf, Lady of Lorien Galadriel, and head elf Elrond ( Hugo Weaving ). Unfortunately, the dwarves all sort of blend together in a tangle of hair and mischief, with the notable exception of the broody Thorin and his swashbuckling nephews, Fili and Kili (Dean O'Gorman and Aidan Turner).
The main issue with Jackson's adaptation is that the run time is brutal, even for hardcore fans of Jackson's epic LOTR trilogy. Whereas that trilogy made sense as three separate movies -- considering it was the adaptation of three books -- The Hobbit isn't a substantive enough work to demand three movies, even with Jackson pulling extra material from Tolkien's indices. The fabulous visuals and impressive action sequences reminiscent of the trilogy are bogged down by an overlong and overly thorough first quarter that could have used a considerable edit job.
Talk to Your Kids About ...
Families can talk about how The Hobbit compares to The Lord of the Rings . How are the stories similar (a hobbit joins a dangerous quest), and how are they different? Which adventure do you prefer?
For those familiar with the book , how does the movie adaptation differ? If you haven't read the book yet, does the movie make you want to delve into Tolkien's classic? Why do you think Tolkien's fantasy tale has withstood the test of time?
What does Bilbo learn about himself throughout the journey?
How do the characters in The Hobbit: An Unexpected Journey demonstrate curiosity and courage ? What about perseverance and teamwork ? Why are these important character strengths ?
Movie Details
In theaters : December 14, 2012
On DVD or streaming : March 19, 2013
Cast : Ian McKellen , Martin Freeman , Richard Armitage
Director : Peter Jackson
Inclusion Information : Gay actors
Studio : New Line
Genre : Fantasy
Topics : Magic and Fantasy , Adventures , Book Characters
Character Strengths : Courage , Curiosity , Perseverance , Teamwork
Run time : 166 minutes
MPAA rating : PG-13
MPAA explanation : extended sequences of intense fantasy action violence, and frightening images
Last updated : October 26, 2023
Did we miss something on diversity?
Research shows a connection between kids' healthy self-esteem and positive portrayals in media. That's why we've added a new "Diverse Representations" section to our reviews that will be rolling out on an ongoing basis. You can help us help kids by suggesting a diversity update.
Suggest an Update
Our editors recommend.
The Lord of the Rings: The Fellowship of the Ring
The Lord of the Rings: The Two Towers
The Lord of the Rings: The Return of the King
The Hobbit (1977)
Best Fantasy Movies
Fantasy books for kids, related topics.
Perseverance
Magic and Fantasy
Book Characters
Want suggestions based on your streaming services? Get personalized recommendations
Common Sense Media's unbiased ratings are created by expert reviewers and aren't influenced by the product's creators or by any of our funders, affiliates, or partners.
Advertisement
Supported by
Movie Review
Bilbo Begins His Ring Cycle
By A.O. Scott
In "The Hobbit: An Unexpected Journey," Peter Jackson's adaptation of J. R. R. Tolkien's first Middle-earth fantasy novel, Bilbo Baggins (Martin Freeman) sets out with the wizard Gandalf (Ian McKellen) and a posse of dwarfs to battle a fearsome dragon. [Spoiler alert] they do not kill the dragon, although [spoiler alert] they eventually will, within the next 18 months or so, because [spoiler alert] this "Hobbit," which is [migraine alert] 170 minutes, is the first installment in [film critic suicide-watch alert] a trilogy .
What's that old saying so memorably garbled by a recent president? Fool me twice — won't get fooled again! This is not to say that Mr. Jackson is a con man. On the contrary: He is a visionary, an entrepreneur, a job creator in his native New Zealand. And his "Lord of the Rings" movies, the last of which opened nine years ago, remain a mighty modern gesamtkunstwerk , a grand Wagnerian blend of pop-culture mythology and digital magic now available for easy, endless viewing in your living room.
"The Lord of the Rings" was the work of a filmmaker perfectly in tune with his source material. Its too-muchness — the encyclopedic detail, the pseudoscholarly exposition, the soaring allegory, the punishing length — was as much a product of Tolkien's literary sensibility as of Mr. Jackson's commitment to cinematic maximalism. These were three films to rule them all, and they conjured an imaginary world of remarkable complexity and coherence. This voyage, which takes place 60 years before Frodo's great quest, is not nearly as captivating.
Part of this has to do with tone. The "Rings" trilogy, much of which was written during World War II, is a dark, monumental epic of Good and Evil in conflict, whereas "The Hobbit," first published in 1937 (and later revised), is a more lighthearted book, an adventure story whose comical and fairy-tale elements are very much in the foreground.
The comparative playfulness of the novel could have made this "Hobbit" movie a lot of fun, but over the years Mr. Jackson seems to have shed most of the exuberant, gleefully obnoxious whimsy that can be found in early films like "Meet the Feebles" and "Dead Alive." A trace of his impish old spirit survives in some of the creature designs in "The Hobbit" — notably a gelatinous and gigantic Great Goblin and an encampment of cretinous, Three-Stooges-like trolls — but Tolkien's inventive, episodic tale of a modest homebody on a dangerous journey has been turned into an overscale and plodding spectacle.
Also, not to be pedantic or anything, but "The Hobbit" is just one book, and its expansion into three movies feels arbitrary and mercenary. This installment takes Bilbo and his companions, led by the exiled dwarf king Thorin (Richard Armitage), son of Thrain, through a series of encounters with orcs, elves, trolls and other beings, some scarier or more charming than others. The only character who manages to be a bit of both is the incomparable Gollum, once again incarnated by Andy Serkis in what remains an unmatched feat of computer-assisted performance.
The meeting between Bilbo and Gollum, which takes place in a vast, watery subterranean cavern, is the one fully enchanted piece of "An Unexpected Journey." It's a funny, haunting and curiously touching moment that summons the audience to a state of quiet, eager attentiveness. Even if you aren't aware of the apocalyptic importance of Gollum's precious ring, you feel that a lot is at stake here: Bilbo's life and integrity; Gollum's corroded soul; the fate of Middle-earth itself.
If only some of that feeling animated the rest of the movie. There are, of course, plenty of shots of noble characters turning their eyes portentously toward the horizon, and much talk of honor, betrayal and the rightful sovereignty of dwarfs over their dragon-occupied mountain. But it all sounds remarkably hollow, perhaps because the post-"Lord of the Rings" decade has seen a flood of lavish and self-serious fantasy-movie franchises. We have heard so many weird proper names intoned in made-up tongues, witnessed so many embodiments of pure evil rise and fall and seen so many fine British actors in beards and flowing robes that we may be too jaded for "The Hobbit," in spite of its noble pedigree.
But I don't mean to blame the cultural situation for the specific failings of the movie, which rises to weary, belated mediocrity entirely on its own steam. Mr. Jackson has embraced what might be called theme-park-ride cinema, the default style of commercially anxious, creatively impoverished 3-D moviemaking. The action sequences are exercises in empty, hectic kineticism, with very little sense of peril or surprise. Characters go hurtling down chutes and crumbling mountainsides or else exert themselves in chaotic battles with masses of roaring, rampaging pixels.
It seems harder and harder to bring any real novelty or excitement to this kind of thing, though it is not clear how much Mr. Jackson really tries. ("Giants! Stone giants!" someone cries, and a couple of mountains dutifully slug it out.) When the initial rush of a chase or a skirmish dissipates, you are left with the slightly ripped-off feeling of having been here before, but with different costumes, in a "Pirates of the Caribbean" movie or "Clash of the Titans."
And near the end, when giant birds arrive to pull "The Hobbit" out of the squall and muck of tedious combat, your pleasure at this soaring aerial tour of New Zealand may be accompanied by a shrug of recognition, since the flight plan retraces the routes of "Avatar" and "How to Train Your Dragon."
"The Hobbit" is being released in both standard 3-D and in a new, 48-frames-per-second format, which brings the images to an almost hallucinatory level of clarity. This is most impressive and also most jarring at the beginning, when a jolly dwarf invasion of Bilbo's home turns into a riot of gluttonous garden gnomes.
Over all, though, the shiny hyper-reality robs Middle-earth of some of its misty, archaic atmosphere, turning it into a gaudy high-definition tourist attraction. But of course it will soon be overrun with eager travelers, many of whom are likely to find the journey less of an adventure than they had expected.
"The Hobbit: An Unexpected Journey" is rated PG-13 (Parents strongly cautioned). Mass slaughter of digital monsters.
Follow A. O. Scott on Twitter, @aoscott , and watch The Sweet Spot , with A. O. Scott and David Carr on culture and criticism.
Explore More in TV and Movies
Not sure what to watch next we can help..
​​The director Yorgos Lanthimos and the actress Emma Stone may be an unusual duo, but their artistic partnership just works. Here is what they said about working together .
​​For Elizabeth Debicki, who played Diana, Princess of Wales, in Seasons 5 and 6 of "The Crown," the scenes that anticipate her inexorable tragedy in a Paris tunnel were both easy and terrible to shoot .
​​The director John Woo spoke about building his career , giving Nicolas Cage creative freedom, managing Tom Cruise and missing star-driven films.
The long-running crime franchises "NCIS" and "Law & Order" continue to endure  — and even expand — after decades on the air.
If you are overwhelmed by the endless options, don't despair — we put together the best offerings   on Netflix , Max , Disney+ , Amazon Prime  and Hulu  to make choosing your next binge a little easier.
Sign up for our Watching newsletter  to get recommendations on the best films and TV shows to stream and watch, delivered to your inbox.
Summary The adventure follows the journey of title character Bilbo Baggins, who is swept into an epic quest to reclaim the lost Dwarf Kingdom of Erebor from the fearsome dragon Smaug. Approached out of the blue by the wizard Gandalf the Grey, Bilbo finds himself joining a company of thirteen dwarves led by the legendary warrior, Thorin Oakenshie ... Read More
Directed By : Peter Jackson
Written By : Fran Walsh, Philippa Boyens, Guillermo del Toro, J.R.R. Tolkien, Peter Jackson
Where to Watch
Martin Freeman
Ian McKellen
Richard Armitage
Andy Serkis
Graham McTavish
William kircher, bifur, tom troll.
James Nesbitt
Stephen Hunter
Dean o'gorman.
Aidan Turner
John Callen
Peter Hambleton
Gloin, william troll.
Mark Hadlow
Dori, bert troll.
Elijah Wood
Hugo Weaving
Cate Blanchett
Critic reviews.
All Reviews
Positive Reviews
Mixed Reviews
Negative Reviews
User Reviews
Related movies.
Lawrence of Arabia (re-release)
The Wild Bunch
The Treasure of the Sierra Madre
North by Northwest
Spirited Away
Ratatouille
Snow White and the Seven Dwarfs
The Searchers
Crouching Tiger, Hidden Dragon
The Lord of the Rings: The Return of the King
The Wizard of Oz
E.T. The Extra-Terrestrial
The Lord of the Rings: The Fellowship of the Ring
The Boy and the Heron
Toy Story 3
Related news.
Director Roxanne Benjamin Gender-Flips Gaslighting and Parental Tropes in Horror Film 'There's Something Wrong With the Children'
Danielle turchiano.
'To me, [the film] was more about the idea of family and what it's supposed to look like,' the director tells Metacritic. 'You might have to fight against that continually until you die.'
2023 Critics Choice Awards Winners: From 'Better Call Saul' to 'Everything Everywhere All at Once'
Find out who took home trophies at the 28th Annual Critics Choice Awards.
With 'The Drop,' Director Sarah Adina Smith Has Made Her Most Personal Movie Yet — And in a Genre She Never Expected to Work In
Sam rosenberg.
The comedy was born out of a conversation between Smith and her DP husband Shaheen Seth about the female equivalent of the protagonist's bad action in 'Force Majeure.'
2023 DGA Awards Theatrical Nominations: From Steven Spielberg to John Patton Ford
Find out who was nominated for theatrical film DGA Awards in 2023.
2023 SAG Awards Nominations: 'Everything Everywhere All at Once' and 'Ozark' Score Big, 'The White Lotus' Switches Categories
Find out which actors from film and television earned Screen Actors Guild Awards nominations at the 29th annual celebration.
The Hobbit: The Battle of the Five Armies : At Least It's Over Now
Not only does Peter Jackson's trilogy fail on its own terms, it retrospectively diminishes the Lord of the Rings' success.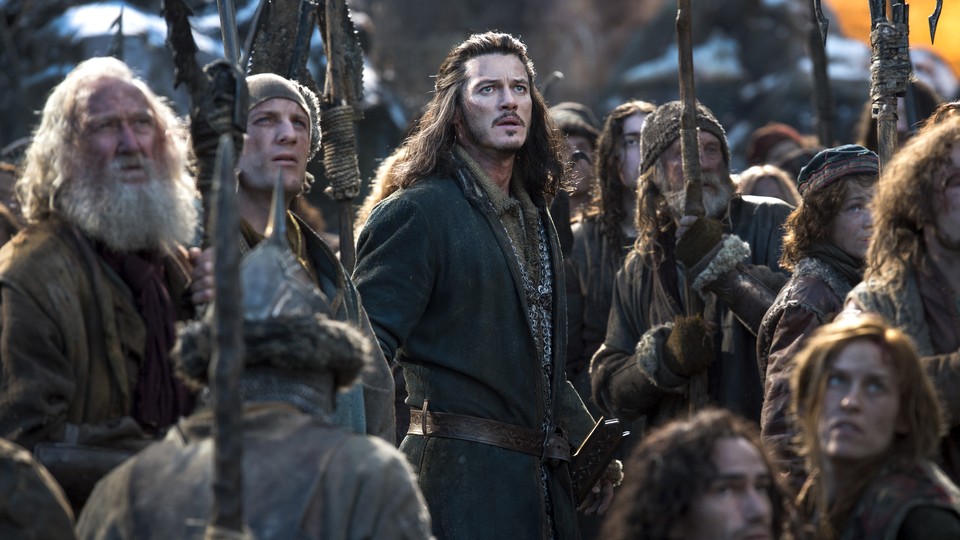 It's that time of year again: a time for giving and sharing, for seeing family and loved ones, and for the release of yet another installment of Peter Jackson's appallingly over-extended Hobbit franchise. (Alternative title: There and Back Again and Again and Again .) Two years ago, when the first film in the trilogy was released, I described it as a borderline remake of Jackson's Lord of the Rings films; last year, I called the second movie " bad fan-fiction ." Now that the third and final installment is upon us, The Hobbit: The Battle of the Five Armies , I can finally say something more upbeat: It's over.
Jackson's tumid trilogy has its defenders, who argue that much of what the director has added is in keeping with Tolkien's own timelines, and that more than once the author himself went back to make (minor) revisions to The Hobbit . Scroll down to the comments and you will no doubt find this case made in more persuasive detail.
For my part, I've found Jackson's Hobbit movies to be not only wildly unfaithful to the slender children's fable that inspired them, but unsatisfying even on their own terms: shapeless, tedious, and crammed with interminable scenes involving tertiary characters. Even the action sequences—of which Battle of the Five Armies , befitting its name, has plenty—suffer from a stultifying CGI sameness. And that's leaving aside the crass commercialism and franchise fetishism that seem to have fattened this particular monster.
Recommended Reading

Dear Therapist: I Can't Stand My Fiancée's Ex-Husband

Why Everyone Should Sleep Alone

Can Planet Earth Feed 10 Billion People?
As the latest chapter begins, Smaug the dragon (voiced by Benedict Cumberbatch) has been roused from his avaricious slumber by Thorin Oakenshield (Richard Armitage) and is seeking payback on the helpless population of Laketown. The great wyrm's incendiary devastation of the wooden hamlet makes for some striking visuals, though at times the sequence can't help but feel like the theme-park ride it will one day presumably become. A great deal of time is wasted establishing the greed of the town's Master (Stephen Fry, far too good for this material) and the endangerment of the children of noble Bard the Bowman (Luke Evans). Luckily, just as all hope appears lost, we discover that Smaug has a weakness for triumphal monologuing equal to that of any Bond villain ever to hit the screen. Arrow meets breast, and the dragon problem is solved.
Alas, a new problem quickly arises. The people of smoldering Laketown feel, reasonably enough, that they deserve some compensation from Smaug's hoard, given that it was the dwarves' poking that riled him up in the first place. But Thorin is not in a sharing mood. Balin—he's the dwarf with the long white beard played by Ken Stott, for those who have an understandable difficulty keeping track—has diagnosed his leader as coming down with "dragon sickness," an infirmity known to contemporary medicine as "acute Trumpism." In any case, he is committed to keeping every coin or trinket in the Lonely Mountain, and particularly obsessed with finding a wondrous gem called the "Arkenstone."
But as any lottery winner could tell you, the minute you luck into a vast fortune, friends and relations come out of the woodwork looking for a share. Following the men of Laketown, it's the elves of Mirkwood, then dwarves from the Iron Hills, and finally multiple divisions of orcs who are gravitationally attracted to the dragon's trove. Before you know it, the stage is set for the titular "battle of the five armies."
In Tolkien's novel, the entire affair was resolved in four short pages. But Jackson's ambitions for the material being rather grander—he would of course be remiss if he did not try to outdo last trilogy's Battle of Pelennor Fields—the fighting rages on for about an hour, featuring more last-second rescues and escapes than I could count, several of them involving the interspecies love triangle of Legolas (Orlando Bloom), Taurien (Evangeline Lilly), and Kili (Aidan Turner). The orc armies bring with them a variety of armored and amputeed trolls, some acting as battering rams and others as catapults, along with a flotilla of killer bats, a troop of goblin mercenaries, and some giant tunneling worms (the "Earth Eaters") that seem to have been flown in special delivery from Dune . I would describe it all as too much of a good thing, but the latter part of the phrase is far too generous. One villain even gets a not-dead-yet moment more ridiculous than any since Glenn Close popped back out of the bathtub in Fatal Attraction . And did I mention that there's a hobbit named Bilbo Baggins (Martin Freeman) at the center of it all? If I forget, it's only because the movie does the same for considerable stretches.
All of this, of course, is in addition to the heavy foreshadowing of The Lord of the Rings that has been Jackson's most explicit deviation from Tolkien's humble hobbit tale. We get to watch as Galadriel (Cate Blanchett) blows up orcs in Dol Guldur, where Sauron has imprisoned Gandalf (Ian McKellen). This is followed by the arrival of Elrond (Hugo Weaving) and Saruman (Christopher Lee) just in time to do battle with the Nazgul. It all quickly adopts the air of an aging rock band's ill-advised reunion tour. There's even a reference to a mysterious young ranger named "Strider"—though thankfully no repeat appearance by Viggo Mortensen who, if my calculations are correct, would have had to play himself as a 10-year-old boy.
Indeed, what is perhaps most depressing about Jackson's swollen Hobbit enterprise is the way it retrospectively diminishes his Lord of the Rings trilogy. The latter were genuinely good films—better, I think, than any Tolkien fan (and I count myself decidedly among them) had any reason to hope for. It seems a very long time ago now, but all three were nominated for Best Picture and the third film actually won.
With his Hobbit movies, Jackson has taken the epic style and themes of his Lord of the Rings pictures and placed them on the shoulders of a tale far too slight to support them. The echoes are constant, and not merely in the tacked-on backstory and returning cast. Thorin's lust for the Arkenstone is almost indistinguishable from Frodo's (and Boromir's, Gollum's, etc.) lust for the One Ring. Bard is presented as a kind of cut-rate Aragorn. In place of Wormtongue, we have a new cowardly sycophant named Alfrid Lickspittle (Ryan Gage). And rather than skiing oliphaunts, this installment finds Legolas (who did not, of course, appear in the Tolkien's Hobbit at all) surfing giant bats. It's as if Jackson took every element of the original tale and ran it through some kind of Rube Goldbergian Lord-of-the-Rings-ifier.
In my review of the second Hobbit installment, I suggested that Jackson had confirmed his standing as the new George Lucas. With this finale, he makes the comparison all the more depressingly concrete. It's one thing for a director to produce movies worse than the ones he made earlier in his career. But it requires a rare gift—and thank goodness—to produce movies that actually make that earlier work itself look worse.
Screen Rant
Do the hobbit movies deserve your hate debunking 3 criticisms 10 years on.
The Hobbit trilogy was released yearly starting in 2012 to middling reception from fans and critics. Here's why the movies deserve a second chance.
Peter Jackson's  The Hobbit trilogy was released between 2012 and 2014 to somewhat middling reception from fans and critics alike, but the series is actually more successful than may seem apparent. The trilogy began with  The Hobbit: An Unexpected Journey in 2012 which while being a box-office success, grossing over $1 billion worldwide, had elements criticized by fans of the franchise. The following sequels,  The Hobbit: The Desolation of Smaug and  The Hobbit: Battle of the Five Armies, performed similarly with both grossing over $900 million worldwide, yet were also subject to their fair share of fault-finding. Nevertheless, a decade on from their release, the time has now come to revisit the saga.
Most criticisms of The Hobbit  series  were geared towards very specific elements of the films, while the overall impression remained relatively positive. Review aggregate website Rotten Tomatoes, at the time of writing, have the first two films in the trilogy at 64% and 75% approval ratings from critic reviews, both indicating a "fresh" film. The third movie has a 59% critic rating, indicating a "rotten" rating, however with a rating of 60% or over labeling a movie as fresh, the third Hobbit movie is on the cusp. Fans reviews also are actually even more favorable, with the films sitting at 83%, 85%, and 74% respectively at the time of writing.
Related:  Where The Hobbit's Dwarves Are During Lord Of The Rings (Are Any Alive?)
However, over the years since the trilogy's release, the fan discourse surrounding the  Hobbit  films has grown worse  in response to the aforementioned criticisms levied against specific aspects of the film. Oftentimes, when concerning The Hobbit , fan criticisms tend to lean towards the decision for the source material to be adapted into a trilogy, the overreliance on CGI, and heavy comparisons to Jackson's former trilogy, The Lord of the Rings.  However, on reflection, these criticisms  may not hold much merit and could simply be a product of fan expectation putting the movies on an unattainable pedestal from even before release. Here are all the arguments as to why The Hobbit movies deserve another chance.
Why A Hobbit Trilogy Was Never A Bad Idea
When Jackson adapted  The Lord of the Rings for release in the early 2000s, to critical acclaim, he wisely chose to make each book into its own film as opposed to the original plan of two movies for three books. When his  Hobbit  trilogy was announced, it is safe to say fans didn't expect three movies, especially given Tolkien's  The Hobbit was a short children's novel rather than a three-part epic like  The Lord of the Rings . However, the early days of production on  The Hobbit movies began with two movies, before swiftly moving to be another trilogy. Jackson's reasoning behind this was, despite heavy fan criticism both before and after the trilogy's release, relatively sound. Jackson suggested expanding the project to three films, in order to give the story of  The Hobbit , but more specifically its in-universe time period, the attention it deserved. Jackson's decision to make a trilogy came hand-in-hand with his decision to include a lot from Tolkien's appendices over his many stories that are set around the time of  The Hobbit . These elements include Legolas, a character from  The Lord of the Rings , and extra plot elements featuring the character of Gandalf the Grey.
Just why Jackson chose to include these elements and stretch the series into a trilogy was explained by the man himself to Hypable :
"You want the narrative to be told either through the dialogue or the actions, so that's really why we ended up with the depth and exploring the character depth that we had done on The Lord of the Rings... I did want to have a unity. I didn't want to make The Hobbit feel any more simple. We wanted it to feel like it was the same."
As evident by this quote from Jackson, it's obvious the decision to make  The Hobbit a trilogy was made with the best interests of both the story and characters in mind, as opposed to simply a money-making ploy like often speculated by fans. Including elements like Gandalf's inquest into the potential return of Sauron , or Legolas' inclusion given the  Hobbit books involvement of Thranduil, Legolas' father, gives  The Hobbit movies a much more epic feel, while also allowing them to feel more like prequels to  The Lord of the Rings rather than simply a separate story in the same universe. While a decision to include more fan-favorite characters could be labeled fan-service, at the very least Jackson knew to make potential fan-service suit the story and characters, all while being derived from actual Tolkien material.
The Hobbit CGI Almost Always Looks Great
When fans criticize elements of CGI in big-budget films, they tend to overlook the elements that actually work well. While it is worth mentioning that gimmicks such as 48fps for  An Unexpected Journey , and other elements of the cinematography/editing make the film look very "soft" and almost video-game-like in certain scenes, in most instances the more prevalent CGI elements such as the creature designs and motion capture is almost flawless.  The Hobbit movies received criticism for focussing more on CGI creatures as opposed to the more practical effects-heavy production of  The Lord of the Rings . However, fans seem to ignore more significant parts of the film, like Azog the Defiler, Smaug the dragon, Gollum, and so on, that put stellar CGI and motion-capture on display. Smaug, for example, remains one of the very best full-CGI creations of recent cinema, despite concerns over his overall look, a feat made all the more impressive given  The Desolation of Smaug was released in 2013. Every element of that character was perfectly rendered, from his size, the detail of his creation, or the seamless motion-capture performed by MCU star Benedict Cumberbatch .
Related:  Peter Jackson's Lord of The Rings 4K Transfer Ruins The Original Look
While characters like Azog received criticism in comparison to practical characters like Lurtz or Gothmog from  The Lord of the Rings , fans often take no notice of how well integrated the CGI is for such characters. In fact, nearly all of the orc/goblin creations look seamless within the rest of the film, while also allowing for more outlandish designs than practical effects would have. Another significant improvement from  The Lord of the Rings  was the CGI of Gollum. While Gollum and his CGI/mo-cap were significantly praised for Lord of the Rings , the same often isn't said for The Hobbit , simply due to the inclusion of more CGI elements, leading to creatures like Gollum fading into obscurity despite the fantastic CGI enabling Gollum to have one of the best scenes in the entire trilogy.
The Hobbit Movies Were Never Going To Be As Good As LotR
Arguably the main thing  The Hobbit movies receive criticism for is the fact that they simply aren't as good as Jackson's original  Lord of the Rings trilogy. This however leans into the unrealistic fan expectations that set  The Hobbit up to fail before production even began.  The Lord of the Rings  films  are three of the most acclaimed, and often homaged, movies of all time. The third film in the series,  Return of the King , is, at the time of writing, tied with  Titanic  and  Ben-Hur  for the most Academy Award wins with eleven, while also being the only film in history to win every single award it was nominated for. With these films being derived from three of the most beloved, inventive, best-selling fantasy novels in history, it only makes sense for the films to be of such quality.
It should never have been expected for  The Hobbit movies to ever live up to this impossibly high standard. With  The Hobbit films being based on a 310-page children's book, the initial source material was similarly never intended to be as much of an epic, wide-reaching story as its sequels. Although Jackson's decision to expand into a trilogy is understandable and lends the Hobbit  series greater depth, the differences between the source material means that a straight comparison was never going to be a fair metric. Given all of this, fans' expectations that  The Hobbit would reach these similar highs, as opposed to simply being enjoyable high-fantasy films on a much lesser scale, ultimately led to much of the disappointment aimed at the trilogy. If viewers had simply checked their expectations before viewing each movie, and even now accept that  The Hobbit was never supposed to precisely mirror  The Lord of the Rings , it would've led to a much more rewarding, enjoyable experience and allowed fans to focus on the merits of the movies themselves, rather than endlessly compare them to the unobtainable heights of Jackson's original trilogy.
Following the release of  The Lord of the Rings: The Return of the King in 2003 , fan excitement behind a film adaptation of  The Hobbit exponentially grew until the release of  The Hobbit: An Unexpected Journey in 2012. Following the completion of the trilogy in 2014 with  The Hobbit: Battle of the Five Armies , fan response was somewhat divided over how good  The Hobbit trilogy actually was. From arguments such as an overreliance on CGI, an unnecessary slate of three films, and simply not being as good as  The Lord of the Rings amongst others, the fan discourse surrounding Jackson's trilogy was at a high. Given the volume of discussion, it would be easy for the regular audience or people unfamiliar with the franchise to take it as gospel, viewing  The Hobbit trilogy as simply not great and a pale imitation of  Lord of the Rings . However, while some criticisms levied against the films are certainly valid, the so-called " flaws " might not actually be flaws at all. With  The Hobbit movies featuring a whole lot of positives, it's clear that Peter Jackson's second Middle-earth trilogy deserves another chance.
Next:  Every Lord of the Rings & Hobbit Movie Ranked, Worst to Best
Film Review: The Hobbit: An Unexpected Journey
Simon Cocks
What Simon's Seen
In my recent review of The Lord of the Rings trilogy on Blu-ray, I talked about the wondrous sense of atmosphere and adventure that those films conjured up. When I finished rewatching the trilogy, I could hardly wait to return to Middle Earth. Reading early lukewarm reviews of The Hobbit: An Unexpected Journey made me worried, though, was it too much to hope that director Peter Jackson could recreate that atmosphere? I shouldn't have been so concerned. The first film in The Hobbit series is very enjoyable, confidently establishing a new quest to follow. Perhaps the most frequent criticism of An Unexpected Journey is that it is too long. I'd probably agree while arguing that, although it takes quite a while to get going in the first half, beyond that stage the pacing is rather good. Almost every mainstream movie these days could do with a bit of editing, and there are scenes at the beginning of this one that possibly weren't required. I'm talking particularly about the stuff with an older Bilbo and Frodo that seems included to help contextualise events. While enjoyable, this isn't necessary and could've been done without. Any concerns about the length of the film fade once the journey really begins. For those how somehow don't know what The Hobbit is about, it follows Bilbo Baggins (played by Martin Freeman) as he accompanies a group of dwarves on a quest to reclaim their homeland of Erebor from a deadly dragon. The wizard Gandalf (Ian McKellen) also accompanies them on this adventure. Once the travellers are out on the road and dealing with the various obstacles on their path, An Unexpected Journey becomes a significantly more entertaining film, it's more atmospheric, lively and fun.
Gandalf and Radagast the Brown (Sylvester McCoy) discuss wizarding matters It's hardly without its flaws, though, and I won't pretend that it taking a long while to get going is anything other than a problem. There are also issues in the script, which isn't able to build an emotional connection to the characters in the same way that The Lord of the Rings films did, not yet at least. Also, despite feeling like it gets through a lot, the promise of what is ahead is considerably more exciting than anything that happens here. When the end is reached, it feels like the real adventure is about to begin and all that happened before was simply setting it up. There is a lot that works, however, in An Unexpected Journey . Freeman does a great job as Bilbo, more than enough to keep me excited for what the next stage of his development holds. McKellen's Gandalf provides continuity and is probably the standout performance in the film, while Richard Armitage's portrayal of Thorin Oakenshield is excellent, with the potential to become something really special as this series goes on. The way that Gollum (Andy Serkis) is integrated into the story fits very well, and is also probably the most enjoyable portion of the film. Atmospherically, Jackson's vision of Middle Earth is as well realised here as it was in his earlier films, so it really feels like stepping back into a very familiar world.
The determined Thorin Oakenshield leads the group of twelve adventuring dwarves Howard Shore's score is very impressive, it's majestic and epic in a manner that really expresses the feel of this story. He's even managed to incorporate songs from J. R. R. Tolkien's book into the music really beautifully. There's one particular aspect of the technical approach that I feel has a really negative effect on things, though, and that is Jackson's decision to use a lot of CGI effects. Where The Lord of the Rings used prosthetics and makeup, this film opts for digital effects and motion capture. It works fantastically with Gollum (largely because Serkis does such great work), but it's far from being universally effective and it's very obvious to anybody watching. Unfortunately, I can't offer any opinion on the film being presented at 48 frames per second (fps) because I saw it at a regular 2D showing. I may check out the 48 fps another time, and I'll see what I think of it then (if I do, I'll add those thoughts to this review). I simply wasn't keen to see this in 3D first time around. At the end of The Hobbit: An Unexpected Journey , I found myself very much looking forward to the next film in the series. I think that this movie is a great adventure with a couple of glaring issues that may really ruin it for some viewers. Personally, I got swept up in things relatively easily after the slow beginning and enjoyed much of the rest of the film. It's exciting and very enjoyable, I think that Tolkien fans and fans of The Lord of the Rings trilogy will find a lot to like. The best that The Hobbit series has to offer, though, definitely remains ahead.
Written by Simon Cocks
Former film and TV reviewer for Frame Rated, CultBox, ScreenAnarchy, MSN and more. Read my latest reviews at simonc.me.uk . Follow me on Twitter at @simoncocks.
More from Simon Cocks and What Simon's Seen
TV review: Six Feet Under — Season 3
TV review: True Detective — Season 1
TV Review: Friday Night Lights — Season 5
TV Review: Six Feet Under — Season 1
Recommended from medium.
10 Seconds That Ended My 20 Year Marriage
It's august in northern virginia, hot and humid. i still haven't showered from my morning trail run. i'm wearing my stay-at-home mom….
To my Western leftist friends, from your leftist Israeli friend
The last two weeks (or almost three) have been the worst of many of our lives. i started writing this on october 7th, and i've been writing….
How to Boost Employee Experience With Career Conversations
The New Chatbots: ChatGPT, Bard, and Beyond
My Kind Of Medium (All-Time Faves)
Generative AI Recommended Reading
David Goudet
This is Why I Didn't Accept You as a Senior Software Engineer
An alarming trend in the software industry.
Maevyn Frey
Fourth Wave
My Disability Was Fetishized When I Was a Child
In april of 2022 i was diagnosed with a genetic condition. i'd had it my whole life and no one had ever paid me enough notice to give my….
TrueAlreadyHappenedStories
When I was a kid, my dad kept a second family in our basement.
Growing up, i thought everyone had a second family in their basement. in retrospect, i understand how ridiculous that sounds… but it was….
Daniela Dragas
ILLUMINATION
'People rarely bring flowers to a suicide' (JN)
Text to speech