How to Write a Reflection Paper
Why reflective writing, experiential reflection, reading reflection.
Reflection offers you the opportunity to consider how your personal experiences and observations shape your thinking and your acceptance of new ideas.  Professors often ask students to write reading reflections.  They do this to encourage you to explore your own ideas about a text, to express your opinion rather than summarize the opinions of others.  Reflective writing can help you to improve your analytical skills because it requires you to express what you think, and more significantly, how and why you think that way.  In addition, reflective analysis asks you to acknowledge that your thoughts are shaped by your assumptions and preconceived ideas; in doing so, you can appreciate the ideas of others, notice how their assumptions and preconceived ideas may have shaped their thoughts, and perhaps recognize how your ideas support or oppose what you read.
Types of Reflective Writing
Popular in professional programs, like business, nursing, social work, forensics and education, reflection is an important part of making connections between theory and practice.  When you are asked to reflect upon experience in a placement, you do not only describe your experience, but you evaluate it based on ideas from class.  You can assess a theory or approach based on your observations and practice and evaluate your own knowledge and skills within your professional field.   This opportunity to take the time to think about your choices, your actions, your successes and your failures is best done within a specific framework, like course themes or work placement objectives.  Abstract concepts can become concrete and real to you when considered within your own experiences, and reflection on your experiences allows you to make plans for improvement.
To encourage thoughtful and balanced assessment of readings, many interdisciplinary courses may ask you to submit a reading reflection.  Often instructors will indicate to students what they expect of a reflection, but the general purpose is to elicit your informed opinions about ideas presented in the text and to consider how they affect your interpretation.   Reading reflections offer an opportunity to recognize – and perhaps break down – your assumptions which may be challenged by the text(s). 
Approaches to Reflective Inquiry
You may wonder how your professors assess your reflective writing.  What are they looking for? How can my experiences or ideas be right or wrong?  Your instructors expect you to critically engage with concepts from your course by making connections between your observations, experiences, and opinions.   They expect you to explain and analyse these concepts from your own point of view, eliciting original ideas and encouraging active interest in the course material.
It can be difficult to know where to begin when writing a critical reflection.  First, know that – like any other academic piece of writing – a reflection requires a narrow focus and strong analysis.  The best approach for identifying a focus and for reflective analysis is interrogation.   The following offers suggestions for your line of inquiry when developing a reflective response.
It is best to discuss your experiences in a work placement or practicum within the context of personal or organizational goals; doing so provides important insights and perspective for your own growth in the profession. For reflective writing, it is important to balance reporting or descriptive writing with critical reflection and analysis.
Consider these questions:
Contextualize your reflection:  What are your learning goals? What are the objectives of the organization?  How do these goals fit with the themes or concepts from the course?
Provide important information: What is the name of the host organization? What is their mission? Who do they serve? What was your role? What did you do?
Analytical Reflection: What did you learn from this experience? About yourself? About working in the field? About society?
Lessons from reflection: Did your experience fit with the goals or concepts of the course or organization?  Why or why not? What are your lessons for the future? What was successful? Why? What would you do differently? Why? How will you prepare for a future experience in the field?
Consider the purpose of reflection: to demonstrate your learning in the course.  It is important to actively and directly connect concepts from class to your personal or experiential reflection.  The following example shows how a student's observations from a classroom can be analysed using a theoretical concept and how the experience can help a student to evaluate this concept.
For Example My observations from the classroom demonstrate that the hierarchical structure of Bloom's Taxonomy is problematic, a concept also explored by Paul (1993).  The students often combined activities like application and synthesis or analysis and evaluation to build their knowledge and comprehension of unfamiliar concepts.  This challenges my understanding of traditional teaching methods where knowledge is the basis for inquiry.  Perhaps higher-order learning strategies like inquiry and evaluation can also be the basis for knowledge and comprehension, which are classified as lower-order skills in Bloom's Taxonomy.
Critical reflection requires thoughtful and persistent inquiry.  Although basic questions like "what is the thesis?" and "what is the evidence?" are important to demonstrate your understanding, you need to interrogate your own assumptions and knowledge to deepen your analysis and focus your assessment of the text.
Assess the text(s):
What is the main point? How is it developed? Identify the purpose, impact and/or theoretical framework of the text.
What ideas stood out to me? Why? Were they new or in opposition to existing scholarship?
Develop your ideas:
What do I know about this topic? Where does my existing knowledge come from? What are the observations or experiences that shape my understanding?
Do I agree or disagree with this argument?  Why?
Make connections:
How does this text reinforce my existing ideas or assumptions? How does this text challenge my existing ideas or assumptions?
How does this text help me to better understand this topic or explore this field of study/discipline?
A Note on Mechanics
As with all written assignments or reports, it is important to have a clear focus for your writing.  You do not need to discuss every experience or element of your placement.  Pick a few that you can explore within the context of your learning.  For reflective responses, identify the main arguments or important elements of the text to develop a stronger analysis which integrates relevant ideas from course materials.
Furthermore, your writing must be organized.  Introduce your topic and the point you plan to make about your experience and learning.  Develop your point through body paragraph(s), and conclude your paper by exploring the meaning you derive from your reflection. You may find the questions listed above can help you to develop an outline before you write your paper.
You should maintain a formal tone, but it is acceptable to write in the first person and to use personal pronouns.  Note, however, that it is important that you maintain confidentiality and anonymity of clients, patients or students from work or volunteer placements by using pseudonyms and masking identifying factors. 
The value of reflection: Critical reflection is a meaningful exercise which can require as much time and work as traditional essays and reports because it asks students to be purposeful and engaged participants, readers, and thinkers.
PRO Courses Guides New Tech Help Pro Expert Videos About wikiHow Pro Upgrade Sign In
EDIT Edit this Article
EXPLORE Tech Help Pro About Us Random Article Quizzes Request a New Article Community Dashboard This Or That Game Popular Categories Arts and Entertainment Artwork Books Movies Computers and Electronics Computers Phone Skills Technology Hacks Health Men's Health Mental Health Women's Health Relationships Dating Love Relationship Issues Hobbies and Crafts Crafts Drawing Games Education & Communication Communication Skills Personal Development Studying Personal Care and Style Fashion Hair Care Personal Hygiene Youth Personal Care School Stuff Dating All Categories Arts and Entertainment Finance and Business Home and Garden Relationship Quizzes Cars & Other Vehicles Food and Entertaining Personal Care and Style Sports and Fitness Computers and Electronics Health Pets and Animals Travel Education & Communication Hobbies and Crafts Philosophy and Religion Work World Family Life Holidays and Traditions Relationships Youth
Browse Articles
Learn Something New
Quizzes Hot
This Or That Game New
Train Your Brain
Explore More
Support wikiHow
About wikiHow
Log in / Sign up
Education and Communications
College University and Postgraduate
Academic Writing
How to Write a Reflection Paper
Last Updated: July 8, 2023 Fact Checked
This article was co-authored by Alicia Cook . Alicia Cook is a Professional Writer based in Newark, New Jersey. With over 12 years of experience, Alicia specializes in poetry and uses her platform to advocate for families affected by addiction and to fight for breaking the stigma against addiction and mental illness. She holds a BA in English and Journalism from Georgian Court University and an MBA from Saint Peter's University. Alicia is a bestselling poet with Andrews McMeel Publishing and her work has been featured in numerous media outlets including the NY Post, CNN, USA Today, the HuffPost, the LA Times, American Songwriter Magazine, and Bustle. She was named by Teen Vogue as one of the 10 social media poets to know and her poetry mixtape, "Stuff I've Been Feeling Lately" was a finalist in the 2016 Goodreads Choice Awards. There are 8 references cited in this article, which can be found at the bottom of the page. This article has been fact-checked, ensuring the accuracy of any cited facts and confirming the authority of its sources. This article has been viewed 3,747,820 times.
Reflection papers allow you to communicate with your instructor about how a specific article, lesson, lecture, or experience shapes your understanding of class-related material. Reflection papers are personal and subjective [1] X Research source , but they must still maintain a somewhat academic tone and must still be thoroughly and cohesively organized. Here's what you need to know about writing an effective reflection.
Things You Should Know
Write an introduction that outlines the expectations you had and provide a thesis statement in the last sentence.
State your conclusions in the body paragraphs of the paper. Explain how you arrived at your conclusions using logic and concrete details.
Conclude the paper with a concise summary of your overall experience.
Sample Outline and Paper
Brainstorming
These sentences should be both descriptive yet straight to the point.
For lectures or readings, you can write down specific quotations or summarize passages.
For experiences, make a note of specific portions of your experience. You could even write a small summary or story of an event that happened during the experience that stands out. Images, sounds, or other sensory portions of your experience work, as well.
In the first column, list the main points or key experiences. These points can include anything that the author or speaker treated with importance as well as any specific details you found to be important. Divide each point into its own separate row.
In the second column, list your personal response to the points you brought up in the first column. Mention how your subjective values, experiences, and beliefs influence your response.
In the third and last column, describe how much of your personal response to share in your reflection paper.
Does the reading, lecture, or experience challenge you socially, culturally, emotionally, or theologically? If so, where and how? Why does it bother you or catch your attention?
Has the reading, lecture, or experience changed your way of thinking? Did it conflict with beliefs you held previously, and what evidence did it provide you with in order to change your thought process on the topic?
Does the reading, lecture, or experience leave you with any questions? Were these questions ones you had previously or ones you developed only after finishing?
Did the author, speaker, or those involved in the experience fail to address any important issues? Could a certain fact or idea have dramatically changed the impact or conclusion of the reading, lecture, or experience?
How do the issues or ideas brought up in this reading, lecture, or experience mesh with past experiences or readings? Do the ideas contradict or support each other?
Organizing a Reflection Paper
Verify whether or not your instructor specified a word count for the paper instead of merely following this average.
If your instructor demands a word count outside of this range, meet your instructor's requirements.
For a reading or lecture, indicate what you expected based on the title, abstract, or introduction.
For an experience, indicate what you expected based on prior knowledge provided by similar experiences or information from others.
This is essentially a brief explanation of whether or not your expectations were met.
A thesis provides focus and cohesion for your reflection paper.
You could structure a reflection thesis along the following lines: "From this reading/experience, I learned..."
Your conclusions must be explained. You should provide details on how you arrived at those conclusions using logic and concrete details.
The focus of the paper is not a summary of the text, but you still need to draw concrete, specific details from the text or experience in order to provide context for your conclusions.
Write a separate paragraph for each conclusion or idea you developed.
Each paragraph should have its own topic sentence. This topic sentence should clearly identify your major points, conclusions, or understandings.
The conclusions or understandings explained in your body paragraphs should support your overall conclusion. One or two may conflict, but the majority should support your final conclusion.
As You Write
If you feel uncomfortable about a personal issue that affects the conclusions you reached, it is wisest not to include personal details about it.
If a certain issue is unavoidable but you feel uncomfortable revealing your personal experiences or feelings regarding it, write about the issue in more general terms. Identify the issue itself and indicate concerns you have professionally or academically.
Avoid dragging someone else down in your writing. If a particular person made the experience you are reflecting on difficult, unpleasant, or uncomfortable, you must still maintain a level of detachment as you describe that person's influence. Instead of stating something like, "Bob was such a rude jerk," say something more along the lines of, "One man was abrupt and spoke harshly, making me feel as though I was not welcome there." Describe the actions, not the person, and frame those actions within the context of how they influenced your conclusions.
A reflection paper is one of the few pieces of academic writing in which you can get away with using the first person pronoun "I." That said, you should still relate your subjective feelings and opinions using specific evidence to explain them. [8] X Research source
Avoid slang and always use correct spelling and grammar. Internet abbreviations like "LOL" or "OMG" are fine to use personally among friends and family, but this is still an academic paper, so you need to treat it with the grammatical respect it deserves. Do not treat it as a personal journal entry.
Check and double-check your spelling and grammar after you finish your paper.
Keep your sentences focused. Avoid squeezing multiple ideas into one sentence.
Avoid sentence fragments. Make sure that each sentence has a subject and a verb.
Vary your sentence length. Include both simple sentences with a single subject and verb and complex sentences with multiple clauses. Doing so makes your paper sound more conversational and natural, and prevents the writing from becoming too wooden. [9] X Research source
Common transitional phrases include "for example," "for instance," "as a result," "an opposite view is," and "a different perspective is."
For instance, if reflecting on a piece of literary criticism, you could mention how your beliefs and ideas about the literary theory addressed in the article relate to what your instructor taught you about it or how it applies to prose and poetry read in class.
As another example, if reflecting on a new social experience for a sociology class, you could relate that experience to specific ideas or social patterns discussed in class.
Expert Q&A
You Might Also Like
↑ https://www.csuohio.edu/writing-center/reflection-papers
↑ https://libguides.usc.edu/writingguide/assignments/reflectionpaper
↑ Alicia Cook. Professional Writer. Expert Interview. 11 December 2020.
↑ https://www.trentu.ca/academicskills/how-guides/how-write-university/how-approach-any-assignment/how-write-reflection-paper
↑ https://writingcenter.unc.edu/tips-and-tools/thesis-statements/
↑ https://writingcenter.unc.edu/tips-and-tools/conclusions/
↑ https://www.anu.edu.au/students/academic-skills/writing-assessment/reflective-writing/reflective-essays
↑ https://academicguides.waldenu.edu/writingcenter/scholarlyvoice/sentencestructure
About This Article
To write a reflection paper, start with an introduction where you state any expectations you had for the reading, lesson, or experience you're reflecting on. At the end of your intro, include a thesis statement that explains how your views have changed. In the body of your essay, explain the conclusions you reached after the reading, lesson, or experience and discuss how you arrived at them. Finally, finish your paper with a succinct conclusion that explains what you've learned. To learn how to brainstorm for your paper, keep reading! Did this summary help you? Yes No
Reader Success Stories
Stella Cheboi
Jul 22, 2016
Did this article help you?
Luz Gisela Perez
Nov 19, 2017
Apr 27, 2016
Debra Cust Bramble
Mar 20, 2016
Courtney Fulmer
May 22, 2020
Featured Articles
Trending Articles
Watch Articles
Terms of Use
Privacy Policy
Do Not Sell or Share My Info
Not Selling Info
wikiHow Tech Help Pro:
Develop the tech skills you need for work and life
How to Write a Reflective Essay: Easy Guide with Pro Tips 2023
Defining What is a Reflective Essay: Purpose + Importance
Being present is a cornerstone of mindfulness and meditation. You must have often heard that staying in the moment helps you appreciate your surroundings, connects you with people and nature, and allows you to feel whatever emotions you must feel without anxiety. While this is helpful advice as you become more focused and avoid getting lost in thought, how can you truly appreciate the present without reflecting on your past experiences that have led you to the current moment?
We don't say that you should dwell on the past and get carried away with a constant thought process, but hey, hear us out - practice reflective thinking! Think back on your previous life events, paint a true picture of history, and make connections to your present self. This requires you to get a bit analytical and creative. So you might as well document your critical reflection on a piece of paper and give direction to your personal observations. That's when the need for reflective essays steps in!
In a reflective essay, you open up about your thoughts and emotions to uncover your mindset, personality, traits of character, and background. Your reflective essay should include a description of the experience/literature piece as well as explanations of your thoughts, feelings, and reactions. In this article, our essay writer service will share our ultimate guide on how to write a reflective essay with a clear format and reflective essay examples that will inspire you.
How to Write a Reflective Essay with a Proper Reflective Essay Outline
To give you a clear idea of structuring a reflective essay template, we broke down the essential steps below. Primarily, the organization of a reflective essay is very similar to other types of papers. However, our custom writers got more specific with the reflective essay outline to ease your writing process.
Reflective Essay Introduction
When wondering how to start a reflective essay, it is no surprise that you should begin writing your paper with an introductory paragraph. So, what's new and different with the reflection essay introduction? Let's dissect:
Open your intro with an attention-seizing hook that engages your audience into reflective thinking with you. It can be something like: 'As I was sitting on my bed with my notebook placed on my shaky lap waiting for the letter of acceptance, I could not help but reflect, was enrolling in college the path I wanted to take in the future?'
Provide context with a quick overview of the reflective essay topic. Don't reveal too much information at the start to prevent your audience from becoming discouraged to continue reading.
Make a claim with a strong reflective essay thesis statement. It should be a simple explanation of the essay's main point, in this example, a specific event that had a big impact on you.
Reflective Essay Body Paragraphs
The next step is to develop the body of your essay. This section of the paper may be the most challenging because it's simple to ramble and replicate yourself both in the outline and the actual writing. Planning the body properly requires a lot of time and work, and the following advice can assist you in doing this effectively:
Consider using a sequential strategy. This entails reviewing everything you wish to discuss in the order it occurred. This method ensures that your work is structured and cohesive.
Make sure the body paragraph is well-rounded and employs the right amount of analysis. The body should go into the effects of the event on your life and the insights you've gained as a consequence.
Prioritize reflecting rather than summarizing your points. In addition to giving readers insight into your personal experience, a reflective stance will also show off your personality and demonstrate your ability to handle certain challenges.
Reflective Essay Conclusion
The goal of your reflective essay conclusion should be to tie everything together by summarizing the key ideas raised throughout, as well as the lessons you were able to take away from experience.
Don't forget to include the reasons for and the methods used to improve your beliefs and actions. Think about how your personality and skills have changed as well.
What conclusions can you draw about your behavior in particular circumstances? What could you do differently if the conditions were the same in the future?
Remember that your instructor will be searching for clear signs of reflection.
Understanding a Reflection Paper Format
The format of reflective essay greatly differs from an argumentative or research paper. A reflective essay is more of a well-structured story or a diary entry rife with insight and reflection. You might be required to arrange your essay using the APA style or the MLA format.
And the typical reflection paper length varies between 300 and 700 words, but ask your instructor about the word length if it was assigned to you. Even though this essay is about you, try to avoid too much informal language.
If your instructor asks you to use an APA or MLA style format for reflective essay, here are a few shortcuts:
Reflective Essay in MLA Format
Times New Roman 12pt font double spaced;
1" margins;
The top right includes the last name and page number on every page;
Titles are centered;
The header should include your name, your professor's name, course number, and the date (dd/mm/yy);
The last page includes a Works Cited.
Reflective Essay in APA Style
Include a page header on the top of every page;
Insert page number on the right;
Your reflective essay should be divided into four parts: Title Page, Abstract, Main Body, and References.
Reflective Essay Writing Tips
You may think we've armed you with enough tips and pointers for reflective writing, but it doesn't stop here. Below we gathered some expert-approved tips for constructing uncontested reflection papers.
Be as detailed as possible while writing. To make your reflective essay writing come to life, you should employ several tactics such as symbolism, sentence patterns, etc.
Keep your audience in mind. The reader will become frustrated if you continue writing in the first person without taking a moment to convey something more important, even though you will likely speak about something from your own perspective.
Put forth the effort to allow the reader to feel the situation or emotion you are attempting to explain.
Don't preach; demonstrate. Instead of just reporting what happened, use description appropriately to paint a clear picture of the event or sensation.
Plan the wording and structure of your reflective essay around a central emotion or subject, such as joy, pleasure, fear, or grief.
Avoid adding dull elements that can lessen the effect of your work. Why include it if it won't enhance the emotion or understanding you wish to convey?
There must be a constant sense of progression. Consider whether the event has transformed you or others around you.
Remember to double-check your grammar, syntax, and spelling.
Ready to Shine a Light on Your Innermost Thoughts?
Order your reflection essays now and let a wider audience hear your unique story
Reflective Essay Topic Ideas
As a reflective essay should be about your own views and experiences, you generally can't use someone else's ideas. But to help you get started, here are some suggestions for writing topics:
An experience you will never forget.
The moment you overcame a fear.
The most difficult choice you had to make.
A time your beliefs were challenged.
A time something changed your life.
The happiest or most frightening moment of your life so far.
Ways you think you or people can make the world a better place.
A time you felt lost.
An introspective look at your choices or a time you made the wrong choice.
A moment in your life you would like to relive.
You may find it convenient to create a chart or table to keep track of your ideas. Split your chart into three parts:
In the first column, write key experiences or your main points. You can arrange them from most important to least important.
In the second column, list your response to the points you stated in the first column.
In the third column, write what, from your response, you would like to share in the essay.
Meanwhile, if you're about to enroll in your dream university and your mind is constantly occupied with - 'how to write my college admissions essay?', order an academic essay on our platform to free you of unnecessary anxiety.
Reflective Essay Sample
Referring to reflective essay examples can help you a lot. A reflective essay sample can provide you with useful insight into how your essay should look like. You can also buy an essay online if you need one customized to your specific requirements.
How to Conclude a Reflective Essay
As we come to an end, it's only logical to reflect on the main points discussed above in the article. By now, you should clearly understand what is a reflective essay and that the key to writing a reflective essay is demonstrating what lessons you have taken away from your experiences and why and how these lessons have shaped you. It should also have a clear reflective essay format, with an opening, development of ideas, and resolution.
Now that you have the tools to create a thorough and accurate reflective paper, you might want to hand over other tasks like writing definition essay examples to our experienced writers. In this case, feel free to buy an essay online on our platform and reflect on your past events without worrying about future assignments!
Want to Easily Impress Your Professors?
Count on the support of our professional writers for a top-notch academic paper
Related Articles
You are using an outdated browser. Please upgrade your browser to improve your experience.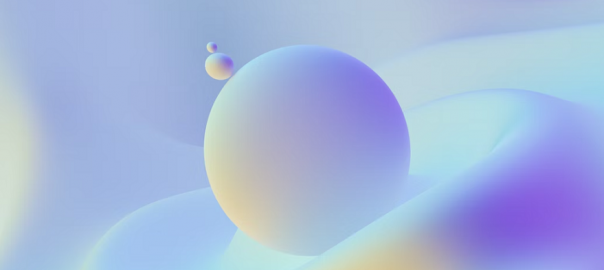 How to Write a Reflection Paper to Impress the Audience
In today's article, we'll tell you exactly how to write a reflection paper.
This type of writing is among those most often our writers help with: Students ask to explain the difference between reflection paper types, their structure, and formatting details.
Let's dive right in.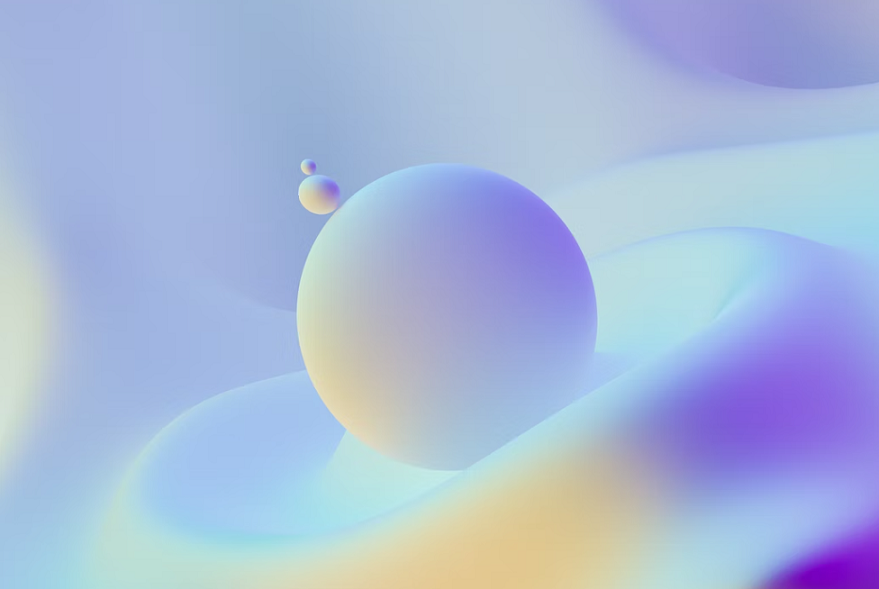 Table of Contents:
What is a reflection paper?
Types of reflection papers: the difference
Brainstorm and analyze ideas
Organize ideas
Follow the structure
Write an introduction
Craft the main body
Write a conclusion
Proofread and edit
Need help with reflection paper writing?
What is a Reflection Paper?
Reflection papers are more about demonstrating your critical rather than summarizing skills:
To write a reflection, you connect theoretical knowledge (topic) with your personal experience and analyze/evaluate your emotions concerning it.
Topics can be different:
A teacher can ask you to reflect on some article, book, or movie.
You can write a reflective essay on your impressions from a class, speech, or experience that has influenced your worldview.
It can be an analysis and evaluation of your previous work, steps to improve your grades, etc.
Types of Reflection Papers: The Difference
Before you start writing a reflective essay, let's reveal and describe several different types of this paper.
Below are three types of reflection papers , depending on the content, manner, and time you need to cover:
1 – Educational reflection papers
It's the most common one to deal with in school or college. In educational reflective essays, you write feedback about a lesson, seminar, book, movie, etc.
The writing manner here is reading: You connect the knowledge you've got from the original and your interpretations (analysis and evaluation) to show your reflection.
You can write an educational paper as an essay diary (when writing an annotated bibliography and analyzing the sources, for example). It can also be a review (when you need to provide feedback on someone's work).
2 – Professional reflection papers
You'll hardly write this type in school or college because professional reflection papers are those from experts in education, psychology, sociology, business, and nursing.
Such essays are experimental: An author makes a hypothesis , conducts an experiment to connect theory and practice, and then shares reflections on their learnings.
Often, it's a reflection on behavior in the form of a journal (to analyze the learning in the experiment or the course) or a learning diary (to evaluate group work).
3 – Personal reflection papers
It's the most intimate type of reflective writing because you share and explore personal emotions, attitudes, and experiences here.
Personal reflection papers can take a form of a note (when expressing your attitude towards some issue) or a self-reflection essay (when you examine and evaluate your work). You can also write it as a logbook where you reflect on your deeds, analyze your actions, and plan future ones.
Depending on the time, a personal reflection paper can be:
In-action: You write about the situation you are in right now (Observe and analyze what's happening to you).
On-action: You write about the situation that has already happened. (Describe, analyze, and evaluate what's happened to you).
How to Write a Reflection Paper
Organize ideas to make connections
Write a reflection paper intro
Proofread and edit if necessary
And now, to practice. Let's learn and remember how to write a reflection paper once and for all!
All you need to do is follow these steps:
1 – Brainstorm and Analyze Ideas
As a rule, teachers provide topics for reflection papers. They assign an item you'll reflect on: a book, a lesson, an article, or a particular experience that happened to you. If you haven't got any topic from a teacher, feel free to choose yours:
Brainstorm ideas that would be interesting for you to cover. What experience and thoughts would you like to share with the audience?
You'll need to decide on the ideas related to your topic and analyze how and why they influenced your attitude toward it. Write a short summary of your experience:
What have you learned from your experience with the topic?
What has influenced you most? (Write down quotes, arguments , or anything memorable to analyze further in your essay.)
Please remember that it's not an essay (yet! ) but notes you'll later organize into a paper. The goal is to brainstorm and reflect on your thoughts and feelings concerning the topic. There are no right or wrong reactions here: Be honest and personal, and describe how you felt and what conclusions you made.
2 – Organize Ideas
Now it's time to organize all the ideas you've gathered on the topic. Connect them into a cohesive picture with the following components.
A reflection paper should include all five: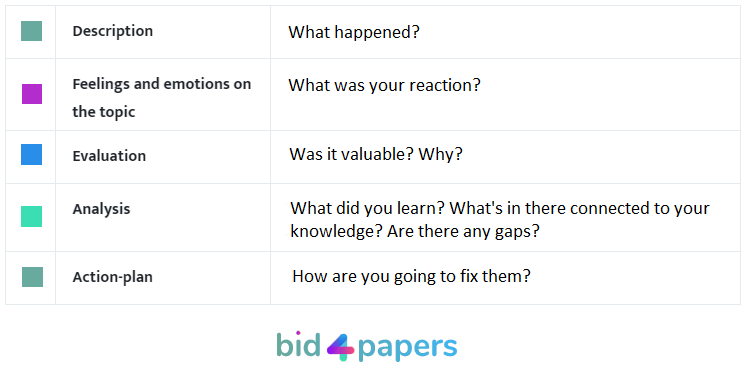 your critical thinking skills in analyzing your feelings, thoughts, and attitudes;
your opportunity to reflect on a subject and explore it even further.
3 – Follow the Structure
Before writing, it would help to know how to structure and format a reflection paper, agree? Below are the answers to the most frequently asked questions about that:
What are the 3 basic parts of reflection papers?
As well as any other college paper, a reflection essay consists of three parts: an introduction, a body (2-4 paragraphs), and a conclusion.
In an introductory paragraph , you provide an overview of the topic and write a thesis statement .
The body of your reflection paper explains, analyzes, and evaluates your experiences to support the thesis statement.
In conclusion, you summarize your experience and the points of your essay and write how it may affect your future actions. Here's an approximate outline you can use to structure a reflection paper: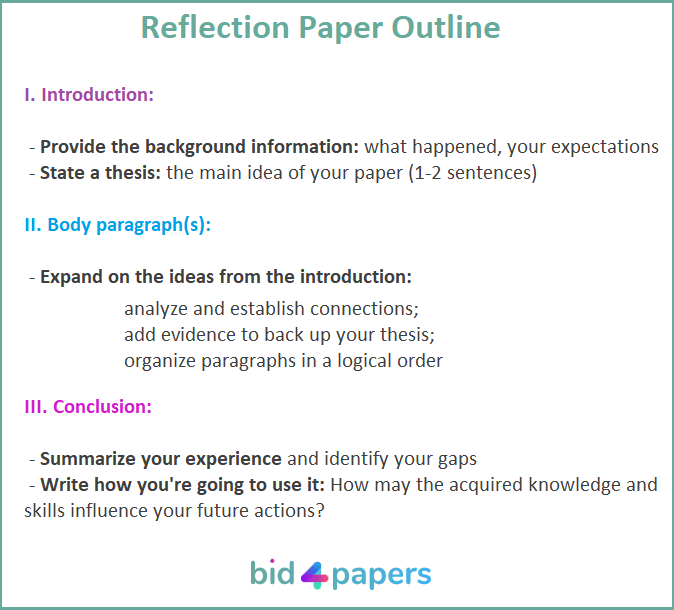 How long should a reflection paper be?
A reflection paper is between 250 and 500 words long, but sometimes it can be longer – up to 750 words. The length depends on the topic and the criteria set by your teacher.
How many paragraphs does a reflection paper have?
The standard essay structure is one paragraph for introductions + three paragraphs for bodies + one paragraph for conclusions . However, the number of paragraphs in essay bodies may vary and depends on how many ideas (arguments and counterarguments) you introduce. You can have two to four to connect ideas and build a logical structure for your essay.
How to format a reflective essay?
As a rule, reflection papers don't have any specific or super strict format because they are about personal thoughts and experiences. A teacher may provide guidelines with the criteria, so just do your best to follow them.
If you are welcome to write your paper the way you want, a sign of good manners would be to format it as a standard academic paper:
APA or Chicago citation style
Times New Roman, Arial, or any other readable font
12-point font size
Double space between the lines
1-inch margins on each side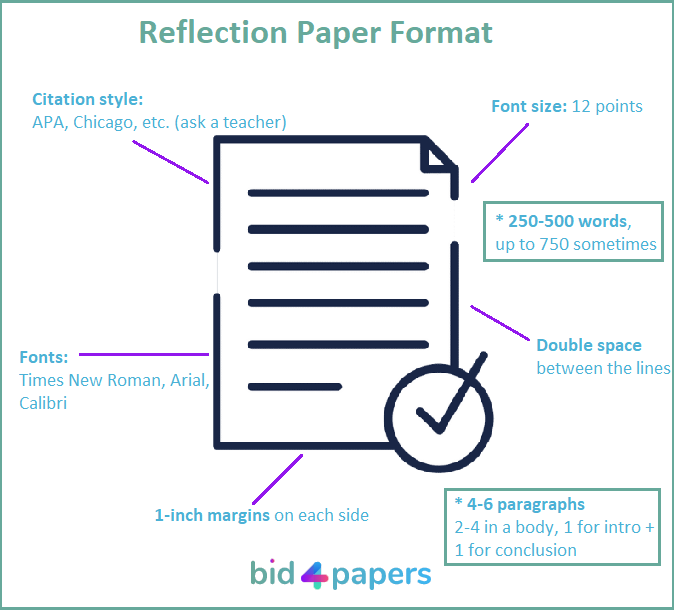 4 – How to Start a Reflection Paper
The introductory paragraph of your reflective essay should be catchy yet informative. Here you grab readers' attention to get them interested in the topic and introduce your thesis statement to support later throughout the essay body.
Here's how to start a reflection paper:
Write an informative sentence with a hook for readers . Avoid general or well-known facts; try a question, an unexpected fact or statistics, a misconception, etc.
Share some background information on your topic. It can be a couple of sentences with details related to the issue, your expectations or challenges, some aspects you'll discuss in your work, etc.
Finally, write a sentence with your thesis statement. It should reveal your clear position on the issue and a plan on how you'll defend it throughout your reflection paper.

A definite guide: How to Start a College Essay Like a Boss
5 – How to Write the Main Body
Once you've stated a thesis with your position in the introduction, it's time to prove and expand on it in the body paragraphs. The rule to follow here:
Cover one point (argument) per paragraph, providing the supporting evidence: 2-4 arguments and counterarguments are enough for your essay's body to have.
What to mention in your reflection paper's body:
Evaluate your experience. What did you like or dislike about it? ( Compare and contrast writing can help here.)
Analyze what you've learned. If writing a reflection paper on a book, movie, or article, use direct quotes or paraphrase to support your points.
Criticize if you disagree with some theory or opinion from the source you reflect on. There's no right or wrong position in reflective essays: It's about your thoughts and experience, but ensure to provide evidence to support it.
Explain the causes and effects that led you to your conclusions. Also, mention how it may influence you in the future.
6 – How to Write a Reflection Paper Conclusion
The final paragraph of your reflection essay should summarize the points you covered in the main body. For that, start with restating your thesis and mentioning the core aspects of each paragraph.
Then, write several sentences reflecting on your knowledge gaps:
What you still don't know about the topic you covered;
What your ideas are on how to change that.
Finally, finish a reflection paper with a sentence presenting your action plan: What steps regarding the topic and your knowledge gap will you take in the future?

A definite guide: How to Write a Strong Conclusion for Your Essay
7 – Proofread and Edit
So, now that you have a complete draft of your research paper, it's time to proofread it, find gaps (if any), and edit it accordingly before submitting it to a teacher.
First, read it aloud to check the reading flow and possible spelling, grammar, and punctuation mistakes. Bid4Papers' free tool, Read My Essay , can do that for you.
Then, read the draft one more time to check the logical flow of the arguments and evidence you used throughout the essay.
Finally, check it the third time to see the structure and formatting. Ensure your reflection paper looks great and follows the guidelines a teacher provided when assigned this task to you.
A definite guide: How to Proofread an Essay
Need Help With Reflection Paper Writing?
Now that you've got a better idea of how to write a reflection paper, it's time to choose s topic and try crafting one that'll impress a teacher and other readers. Sure thing, practice makes perfect: As well as any other academic paper, reflection essays require some skills and attention to detail.
If you still have questions on reflective writing or need help with any other academic assignment , our team of professional writers is ready to assist . Choose essay maker – and get a high grade for your essay .
Show me the writers !
Our Writing Guides
Leave a reply cancel reply.
Your email address will not be published. Required fields are marked *