Law Office of David M. Garten, Esq.
Intelligent Advocacy | Personal Attention
Verification Based On "To The Best Of My Knowledge And Belief" May Be No Verification At All
The term "to the best of my knowledge and belief" is used in affidavits and court documents to indicate that statements being made are not knowingly false. Assuming your client signs a document under "knowledge and belief", does he have a duty to verify the truth or accuracy of his statements?  Is your knowledge and belief of the facts and law imputed to your client? Can a fiduciary avoid liability by signing under "knowledge and belief"?
"Knowledge" and "belief" and are not synonymous. Knowledge is a "justified true belief" ( Plato ) – i.e., you believe it and there is sufficient evidence or justification to support it. A belief can be true or false, knowledge is neither, but belief is a necessary condition for knowledge. Bencivegna, 1999.
Sec. 92.525, F.S. reads in relevant part:
92.525 Verification of documents; perjury by false written declaration, penalty.—
(1) If authorized or required by law, by rule of an administrative agency, or by rule or order of court that a document be verified by a person, the verification may be accomplished in the following manner:
(c) By the signing of the written declaration prescribed in subsection (2).
(2) A written declaration means the following statement: "Under penalties of perjury, I declare that I have read the foregoing [document] and that the facts stated in it are true," followed by the signature of the person making the declaration, except when a verification on information or belief is permitted by law, in which case the words "to the best of my knowledge and belief" may be added. The written declaration shall be printed or typed at the end of or immediately below the document being verified and above the signature of the person making the declaration.
(3) A person who knowingly makes a false declaration under subsection (2) is guilty of the crime of perjury by false written declaration, a felony of the third degree, punishable as provided in s. 775.082, s. 775.083, or s. 775.084….[Emphasis added]
In addition, Fla. Prob. R. 5.020(e) reads: "Verification. –When verification of a document is required, the document filed shall include an oath, affirmation, or the following statement: "Under penalties of perjury, I declare that I have read the foregoing, and the facts alleged are true, to the best of my knowledge and belief ." [Emphasis added]
PERSONAL KNOWLEDGE IS NOT SYNONYMOUS WITH "MY KNOWLEDGE AND BELIEF".
"Personal knowledge" is defined by Black's Law Dictionary (10th ed. 2014) as "[k]nowledge gained through firsthand observation or experience, as distinguished from a belief based on what someone else has said."
If a verification of a complaint is based on knowledge and belief and fails to show that the affiant had personal knowledge of the matters stated in the complaint, the trial court cannot consider the verified complaint as a basis for the entry of summary judgment. See Houk v. PennyMac Corp ., 210 So. 3d 726 (Fla. 2nd DCA 2017), citing Ballinger v. Bay Gulf Credit Union , 51 So. 3d 528 (Fla. 2d DCA 2010); Colon v. JP Morgan Chase Bank, N.A., 162 So. 3d 195 (Fla. 5th DCA 2015); Lindgren v. Deutsche Bank Nat'l Trust Co., 115 So. 3d 1076 (Fla. 4th DCA 2013) (finding a verification based on "information and belief" to be insufficient for purposes of summary judgment), accord Morales v. ICI Paints (Puerto Rico), Inc., 383 F. Supp. 2d 304 (D.P.R. 2005) (the phrase "to the best of his knowledge" is not sufficient to represent personal knowledge as required by Fed. R. Civ. Proc. 56(e).)
A number of cases have held that the phrase "to the best of my knowledge" when used in affidavits suggests a level of uncertainty . See Pelayo v. J.J. Lee Mgmt Co., Inc ., 94 Cal. Rptr. 3d 502 (Ct. App. 2009); Katelaris v. County of Orange , 112 Cal. Rptr. 2d 556 (Ct. App. 2001). The Supreme Court of Alabama stated in Board of Water and Sewer Commissioners v. Spriggs, 146 So. 2d 872 (Ala. 1962), that when an affiant uses the phrase "true to the best of his knowledge, information and belief," the statement "means nothing 'more than the affiant believes the allegations of the bill to be true, though he has neither knowledge nor information of their truth,' and 'an affidavit of belief in their truth simply amounts to nothing.'"
The words "within my knowledge,"…imply that the affiant has sufficient knowledge of the facts to verify his statement as to the truth and justness of the account. On the other hand, the words "to the best of my knowledge" do not necessarily connote a knowledge of the facts by the affiant sufficient to support the verity of such a statement. As appellant's counter-affidavit is based upon the "best of his knowledge" only, it is equivocal and inadequate.
Gayne v. Dual-Air, Inc., 600 S.W.2d 373 (Tex. Civ. App. 1980).
IS THERE A DUTY TO VERIFY THE TRUTH OR ACCURACY OF YOUR STATEMENTS?
In Applefield v. Commercial Standard Ins. Co., 176 So. 2d 366 (Fla. 2nd DCA 1965), the court held: "It is the rule of this jurisdiction that whatever is sufficient to put a person on inquiry amounts in point of law to notice, provided there is a duty to make the inquiry and such inquiry could lead to a knowledge of facts which, under the circumstances of the particular case, calls for application of the rule in order to do equity….Means of knowledge, with the duty of using them, are in equity equivalent to knowledge itself….Where there is a duty of finding out and knowing, ignorance resulting from a negligent failure to perform the duty has the same effect in law as actual knowledge…. "A person has no right to shut his eyes or ears to information, and then say that he has no notice. The law will not permit him to remain wilfully ignorant of a thing readily ascertainable by whatever party puts him on inquiry, when the means of knowledge is at hand. If he has either actual or constructive information and notice sufficient to put him on inquiry, he is bound, for his own protection, to make that inquiry which such information or notice appears to direct should be made. If he disregards that information or notice which is sufficient to put him on inquiry and fails to inquire and to learn that which he might reasonably be expected to learn upon making such inquiry, then he must suffer the consequence of his neglect."… [citations omitted]; f ollowed Sutton Enters. Ltd. v. Santa Clara Constr. Co., 767 So. 2d 547 (Fla. 3rd DCA 2000); See also In re Estate of Donner , 364 So. 2d 742 (Fla. 3rd DCA 1978).
Insurance Applications: Under §627.409, F.S., an insurer can void a policy for misstatements or omissions on an application without regard to whether they are intentional or accidental. However, an insurer who includes the modifier "to the best of his knowledge and belief" in an insurance application has agreed to a lesser knowledge standard. See Green v. Life & Health of America , 704 So. 2d 1386 (Fla. 1998) (an application based on "to the best of his knowledge and belief" is not a basis to void an insurance policy so long as there were no knowing misstatements on the application); Casamassina v. United States Life Ins. Co. , 958 So. 2d 1093 (Fla. 4th DCA 2007) (an omission or misrepresentation in an insurance application, when the application is completed to the best of the applicant's knowledge and belief, is not a basis for rescission of a policy); Accord Ocean's 11 Bar & Grill, Inc. v. Indemnity Insurance Corp. of DC , 522 F. App'x 696 (11th Cir. 2013). See also Sterling Insurance Co. v. Dansey , 81 S.E.2d 446 (Va. 1954), where the insured sued an insurance company for denial of disability benefits. The Supreme Court of Appeals of Virginia determined that the "best knowledge" language on the application excused any prevailing duty (statutory or otherwise) to investigate the accuracy of the warranty and that an incorrect statement, innocently made, will not void the policy.
Foreclosures: Fla. R. Civ. P. 1.115 contains a verification requirement for residential mortgage foreclosures. The complaint must include an oath, affirmation, or the following statement: "Under penalties of perjury, I declare that I have read the foregoing, and the facts alleged therein are true and correct to the best of my knowledge and belief." One of the primary purposes of this amendment was to "provide incentive for the plaintiff to appropriately investigate and verify its ownership of the note or right to enforce the note and insure that the allegations in the complaint are accurate". [Emphasis added] See In re Amendments to the Fla. Rules of Civil Procedure , 44 So.3d 555 (Fla. 2010).
IMPUTED/CONSTRUCTIVE KNOWLEDGE: Black's Law Dictionary (10th Ed. 2014) defines "constructive knowledge" as "[k]nowledge that one using reasonable care or diligence should have, and therefore that is attributed by law to a given person."  "Imputed knowledge" means knowledge of one person attributed to another person. Knowledge may be imputed from one person to another based on their legal relationship.
The knowledge of an employee or officer in an organization may be imputed to the person making a representation or rendering an opinion on behalf of the organization. For example, in Specialized Tours, Inc. v. Hagen , 392 N.W.2d 520 (Minn. 1986), the sole shareholder of a corporation warranted "[t]hat to the best of Seller's knowledge, the Corporation has complied with all applicable laws, rules, and regulations of the city, county, state, and federal governments," the Supreme Court of Minnesota held that the warranty was not breached even though the corporation was in violation of Civil Aeronautics Board regulations regarding escrow accounts and the office manager of the corporation knew of this. The court reached this conclusion because the "best knowledge" warranty only extended to the shareholder's personal knowledge, and although the knowledge of the agent may be imputed to the corporation, it may not be imputed to the individual shareholder.
It is well established that the attorney-client relationship is an agent-principal relationship. Accordingly, information an attorney receives during the scope of his representation of a client will be imputed onto his client even if the client does not have actual knowledge of that information. See Gordon C. Brydger, P.A. v. Wolfe, 847 So. 2d 1074 (Fla. 4th DCA 2003), citing In re Brugh's Estate , 306 So. 2d 599, 600 (Fla. 2d DCA 1975); Applefield, supra ; State v. C.R.S., 584 So. 2d 172 (Fla. 3rd DCA 1991); State v. White , 794 So. 2d 682 (Fla. 2nd DCA 2001); Starling v. State, 799 So. 2d 425 (Fla. 5th DCA 2001); State v. Martinez, 790 So. 2d 520 (Fla. 2nd DCA 2001).   But see Stueve Bros. Farms, LLC v. Berger Kahn, 166 Cal. Rptr. 3d 116, 222 Cal.App.4th 303 (Cal. App. 2013) (a client's imputed knowledge may not apply where the standard is "knew or should have known").
Interrogatories: Interrogatories must be answered under oath. Fla. R. Civ. P. 1.340. A party cannot refuse to answer interrogatories on the ground that the information sought is solely within the knowledge of his or her attorney. See Surf Drugs, Inc. v. Vermette , 236 So. 2d 108 (Fla. 1970), citing Hickman v. Taylor , 329 U.S. 495 (U.S. Supreme Ct. 1947). See also Comments to Fla. R. Civ. P. 1.340 which read in relevant part: " The fact that the information needed to answer an interrogatory is within the sole knowledge of the attorney for the party is not a valid objection…."
The attorney is the conduit of the internal inquiry which assembles the corporate knowledge, but that knowledge is not immunized by its passage through an attorney's briefcase. If the rule were otherwise, a party operating through an attorney would never have it provide discovery; by leaving the gathering of the party's knowledge to the attorney, the party would preclude discovery of the facts evermore.
United States v. Kramer, 1992 U.S. Dist. LEXIS 7651 (US Dist. Ct. NJ 1992).   
FIDUCIARY LIABILITY: A fiduciary may not be able to absolve himself from liability based on reliance on a professional irrespective of whether the document at issue was signed on "knowledge and belief". See Harrell v. Badger , 171 So. 3d 764 (Fla. 5th DCA 2015) (Reliance on counsel did not absolve a trustee from liability as his misconduct resulted from his failure to comply with clear and unambiguous statutory requirements); Laramore et al. v. Laramore et al., 64 So. 2d 662 (Fla. 1953) (A trustee may not surrender or delegate to the attorney all the functions and duties of the trust, or acquiesce in the complete management and control of the trust by the attorney without becoming liable for losses sustained thereby.)  In Gurdschinsky v. Hartill , 815 P.2d 851 (Alaska 1991), the personal representative was surcharged for penalties and interest incurred by the estate for filing the estate tax return late.   On appeal, the personal representative defended on the basis that she reasonably relied on the advice of her accountant who, she claims, informed her that the returns had been timely filed.   The Alaska Supreme Court, in affirming the judgment of surcharge against the PR, reasoned in part: "Gudschinsky makes several arguments to escape all or part of this surcharge. First, she argues that she reasonably relied on the advice of her accountant who, she claims, informed her that the returns had been timely filed. We have found no cases which absolve from liability a personal representative who took no steps to assure that the estate's tax return had been filed on time…. In Gudschinsky's case, she apparently left all tax matters to the accountant. Gudschinsky does not point to any evidence in the record which shows that she tried to find out when the taxes were due. She merely claims that she interpreted a conversation with her accountant to mean that the estate's tax returns had been filed on time. We find that Gudschinsky's mere passive acceptance of an interpretation of a conversation with her accountant does not relieve her of liability for penalties and interest."
More from M-W
To save this word, you'll need to log in. Log In
Definition of testify
intransitive verb
transitive verb
Examples of testify in a Sentence
These examples are programmatically compiled from various online sources to illustrate current usage of the word 'testify.' Any opinions expressed in the examples do not represent those of Merriam-Webster or its editors. Send us feedback about these examples.
Word History
Middle English testifien , from Anglo-French testifier , from Latin testificari , from testis witness
14th century, in the meaning defined at intransitive sense 2a
Phrases Containing testify
testify for the defense / prosecution
Articles Related to testify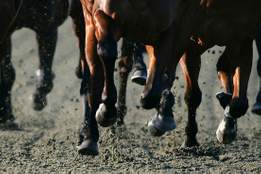 The Words of the Week - Oct. 28
Dictionary lookups from Congress, elections, and product recalls
Dictionary Entries Near testify
testiculate
testify for the defense/prosecution
Cite this Entry
"Testify." Merriam-Webster.com Dictionary , Merriam-Webster, https://www.merriam-webster.com/dictionary/testify. Accessed 20 Nov. 2023.
Kids Definition
Kids definition of testify, legal definition, legal definition of testify.
Latin testificari , from testis witness
More from Merriam-Webster on testify
Nglish: Translation of testify for Spanish Speakers
Britannica English: Translation of testify for Arabic Speakers
Subscribe to America's largest dictionary and get thousands more definitions and advanced search—ad free!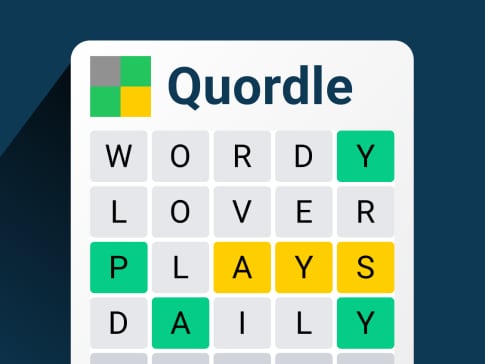 Can you solve 4 words at once?
Word of the day, laissez-faire.
See Definitions and Examples »
Get Word of the Day daily email!
Games & Quizzes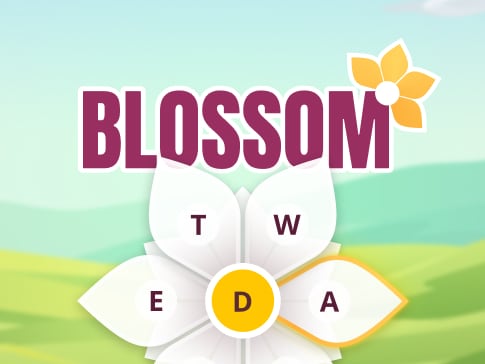 Hall Ellis Solicitors
Preparing your Witness Statement for Court: step by step (with template)

When you have to make a witness statement for court, you can avoid slip-ups.
Slip ups in witness statements make your life harder. They force you to take steps to defend what you say in court.
That might be avoidable.
Getting it right the first time has other advantages.
Avoiding mistakes gets you into a position to focus on advancing your own case. Structure your witness statements properly and cover what needs to be covered.
Below, we give some suggestions on how to prepare witness statements. We also give the low down on some of the processes that courts are likely to go through to assess and verify what you say in your witness statement.
We've also included a template witness statement below to get you started.
What are witness statements?
Witness statements are formal court documents.
They're made by witnesses to:
set out evidence to prove the facts alleged by a party in the particulars of claim , defence or other statement of case
in civil disputes, satisfy the burden of proof , which is on the balance of probabilities .  
Witness statements:
are the main way courts receive evidence
may be made for the purposes of supporting an application for interim relief (such as an injunction) or relied on at the trial in court disputes
have the same general form in civil proceedings in England, whether they are used in disputes relating to contracts, work, car accidents, or disciplinary proceedings.
It's important to get right the first time (or as right as possible), because when they are signed, they're supported by a statement of truth .
First, the basics.
Then we show how witness statements are tested and challenged.
Contents of witness statements
If you are making a witness statements it should:
be written in your own words, in the first person
state facts within your personal knowledge, and if not
specify the source of the information or belief is not within your direct knowledge
not give opinions, unless you're an expert
exhibit documentary evidence to support the statements made
follow the chronological order of events
use numbered paragraphs so that different parts of it can be referred to quickly and easily.
It should include all the evidence that you are able to give to assist the court decide the case. More on this later under the heading, "Testing your Witness Statement".
Format wise, statements should be printed on a single side of A4 paper, and have a left margin of 35 mm. (We've been using 20 mm margins for years, and have never been criticised for it).
The conclusions and opinions that I come to below is sourced from a wide variety of disputes in civil proceedings. I don't pretend that there is only one way to draft a witness statement. Each witness statement will depend upon the circumstances in which is it is required.
What is clear is that you need to think through what you say your witness statement, and the corroboration that you can use to support what you say. It will give you more credibility and make it harder to criticise what you say in your witness statement.
There are at least two ways that you can prove what you say. You can:
produce evidence that directly supports what you say. For instance, if you say a company exists, you would exhibit a page from the relevant Register of Companies in your statement, from here; or
produce evidence which tends to show what you say is true. Let's say you wanted to prove that you were in a particular place at particular time. You could produce credit card statements showing that you bought something from a shop near the venue, or a WhatsApp conversation which shows communications with the person you were about to meet, that you were running late.
When are witness statements used?
Witness statements are a fundamental tool in the civil justice system.
There are only 3 ways to for the court to receive evidence. Witness statements (and affidavits with them), oral evidence (in cross-examination and re-examination) and by judicial notice.
Courts use the evidence filed to decide issues:
at the trial: The trial takes place after all of the preparation been completed. All of the parties, their witnesses, their experts (if any) come to court for the dispute to be heard and decided by the judge. At the trial, the witness statements prepared for the trial will almost always include "lay witness statements" (lay evidence). Lay evidence is just evidence which is not expert evidence. Expert evidence is given in the form of witness statements by people specially qualified to assist the court decide technical issues. Experts in a case could include IT experts, doctors, engineers, quantity surveyors or mechanics. They are qualified to give opinions in the areas of their expertise.
Freezing Orders: preserve property pending the trial
Search Orders: preserve evidence pending the trial
Quia Timet Injunctions: prevent continuation of unlawful conduct pending the trial
strike out applications
summary judgment applications
setting aside default judgment
The form of witness statements
First page: case title.
Witness statements have a prescribed form. Witness statement should set this information out on the first page:
the title of the proceedings
the name of the person making the statement
the party to the proceedings on whose behalf the statement was made
the exhibits made in conjunction with the witness statement
the date it was made
the number of witness statement of the witness making the witness statement.
The case title makes it clear on the first page the legal proceedings witness statement is made for, and who made it.
Section: Identifying yourself
Following the case title comes a statement identifying the deponent - the person signing the witness statement.
It has a prescribed form:
"I, [name], [occupation], of [address] will say as follows:"
If the witness statement is made in a business capacity, the address should be your work address. Otherwise it is your home address.
If you are unemployed or retired, those words replace the space provided for the "occupation" of the person.
Why does it say, " will say as follows"? Aren't I saying it now, when I sign it?
Good question.
Court procedure in England changed in about 2000. Prior to that, witness statements were not prepared before the trial. The witnesses just showed up and gave oral testimony in person. That would be the first the other party ever heard what the witness would say.
Each party had their own witnesses which they would call to court to give evidence in their favour. Their oral testimony for the party that calls them is known as their "evidence in chief". After they gave their evidence in chief, the opposing party would then have an opportunity to cross-examine them.
After cross-examination, the party that called them would have another opportunity to ask them questions. This was done to clarify anything that came up during cross-examination. This is known as re-examination.
This process still applies but witness statements replace evidence in chief given by oral testimony. Witnesses now give their evidence in chief in witness statements. When you appear at court, you are called for cross-examination.
Section: Preliminaries
Source of evidence.
Well drafted witness statements commence with a statement confirming the source of the evidence given. And then stand by it.
It usually has words like:
The facts set out in this statement are within my own knowledge save where I state otherwise. Where I refer to facts that are not within my own knowledge I will give the source of my knowledge of those facts.
Except where I indicate to the contrary, the facts and matters contained in this witness statement are within my own knowledge. Where the facts are not within my own knowledge, I have identified my sources of information or belief.
Different words, same effect and message. You'll want to make sure you stand by it in your statement.
It serves as a reminder what of evidence should be given, and what shouldn't - or can't - be given.
It may sound trivial. It's not. 
In one case, words similar to those above were used in witness statements. But the witness statements didn't stand true to the statement.  In Starbucks  v British Sky Broadcasting Group , the Judge said:
Despite [using words similar to the words in blue above], some of [the] statements contained information that, as she readily acknowledged during cross-examination, was not within her own knowledge, but without making this clear or stating the source of the information. This is a breach of CPR PD32 18.2 [...]. [I]t inevitably causes unnecessary difficulties for the witness when cross-examined .
[...] The fault lies with the solicitors who drafted the witness statements. [...] This slipshod approach to the preparation of witness statements must cease. 
Those "difficulties" translate to being asked in cross-examination:
whether the witness statement as a whole contains the whole truth
whether there are any other parts of the witness statement which aren't true
getting you on the back foot, and unsure of yourself when you're under pressure.
Where the source of the information or belief is not provided, it's likely to lead to the evidence given being (at least) heavily discounted and perhaps excluded from evidence which the court is prepared to consider altogether. 
If it's not within your direct knowledge: you didn't see it or experience it, it's hearsay evidence, and of little weight at all.
The purpose of using the wording at the beginning of a witness statement is, in a way, to remind witnesses of the limits of the evidence they can give, and:
protect you from one of the harsh technicalities of the law, and
preserve your credibility in the witness box.
Introducing the Deponent - You
Next, introduce yourself, in brief – in one or two sentences. Say who you are, and your background. Some people like to start the narrative (see below) to introduce themselves. Making a brief statement here, and then expanding on it in the narrative section (if necessary) might work better.
Also, this preliminaries section is:
a good place to say you are related to any of the parties, such as "I am an employee of the Claimant" or "I am the brother of a director of the defendant", if you are, and
a handy place to define terms and abbreviations that will be used throughout the witness statement, if there are any.
Section: This Witness Statement
It's a good idea to explain why the statement is being made, or the purpose the witness statement is being made early on. This is the place to do it.
Although it may be obvious, your witness statement may be one of many in the legal proceedings.  State why the witness statement has been prepared. You will also save the judge some aggravation by having to work it out for themselves.
This may be a statement that it is made in support of an application notice, in response to an application, or for the trial.
Section: Exhibits
You will often need to refer to documents upon which you rely to state the facts that you state.
If documents are exhibited, it is a good idea to introduce them at this stage.
Also, it is usually a good idea to group exhibits by categories and make separate exhibits for each category.  If they are dated, put them in date order within each exhibit.
See also the heading "Exhibits" below for guidance to arrange them.
If there is one exhibit, it could be introduced with words like:
There is now produced and shown to me a paginated bundle of relevant documents marked [exhibit reference] which I will refer to in the course of this statement in the format "[exhibit reference] / page number".
Where there is more than one exhibit, it is a good idea introduce the contents of each exhibit with a summary of its contents.
More on that further down.
Section: The Narrative
This is the business end of the witness statement. Having set out the context of your witness statement, the reason why it was written, the documents that will be referred to, it is time to tell your story.
Everyone drafts witness statements differently. To make it easy to read:
Use short sentences and paragraphs, where possible
Keep it as concise and to the point as possible
Use correct capitalisation and punctuation
Avoid huge blocks of text
It's OK to introduce documents and explain them if they need it, but don't provide extensive commentaries or opinions. That is for arguments to be put to the judge at the hearing.
In this narrative, you're telling your story.
You can only give evidence of what is in your personal knowledge. It helps to have documents which back it up. The exceptions include when someone has told you something, and you believe it. Again, preferably with documents, such as emails or instant message transcripts, if they exist.
It really is difficult to overemphasise the importance of making it clear that facts of information and belief (and not within your own personal knowledge), indicating the source for any matters of information and belief. It's an important distinction to make, because one is direct evidence, the other is not.
Other things to bear in mind:
If you refer to someone, introduce them by giving their full name and position or role with their employer, or some other description to explain why you are mentioning them
If you refer to a company or incorporated legal entity, state its full name, address and the sort of business it is engaged in (software developers, mechanics, consultants or suppliers as the case may be)
If you have any doubts or reservations about what you say, state them. You don't want to be accused of misleading the court by leaving a false impression.
If possible, include answers to questions that you are likely to be asked by someone reading your statement. You're likely to be asked in cross-examination anyway in due course.
Section: The Ending – The Statement of Truth
Witness statements have to be signed with a statement of truth . The statement of truth for witness statements is:
I believe that the facts stated in this witness statement are true. I understand that proceedings for contempt of court may be brought against anyone who makes, or causes to be made, a false statement in a document verified by a statement of truth without an honest belief in its truth.
Statements of truth verify that you believe the facts stated in the  document to be true and accurate: you have an honest belief in the truth of what you say.
You sign and date the witness statement under the statement of truth.
The capacity of the person making the witness statement should be made clear.
For instance, where the claimant is an individual and signs the statement of truth, it might appear like this:
I believe that the facts stated in this witness statement are true. I understand that proceedings for contempt of court may be brought against anyone who makes, or causes to be made, a false statement in a document verified by a statement of truth without an honest belief in its truth. ........................................ Ralph Rogers The Claimant [date]
If the witness statement is made for a company which is say the second defendant in the case, it would read like this:
I believe that the facts stated in this witness statement are true. I understand that proceedings for contempt of court may be brought against anyone who makes, or causes to be made, a false statement in a document verified by a statement of truth without an honest belief in its truth. [signed] ........................................ Ralph Rogers [Director] [Chief Operating Officer] for the [Second] Defendant [date]
The exhibits should be completed, printed and in front of you, with the witness statement at the time that you sign it. Sure you can do it electronically.
But you'll want the exhibits to be in a single document (usually a PDF), paginated and with the exhibit coversheet so that there can be no confusion about what the exhibits contain. We prefer to print everything and then scan everything after it's all signed. It's a safer approach to avoid muddling the order of documents. 
Nothing should be changed in the document after you sign it. If you want to make changes, you should re-prepare another version for signing and sign it all over again.
Before you serve it. 
The consequences of signing a witness statement or other document verified by a statement of truth -  without a genuine belief in the truth of what is said in it  - are well, serious. 
Changing your witness statement
After you finish and sign your statement, your recollection may change. You need to consider whether you need to put in another witness statement to avoid the other party – and the court – being misled by your witness statement. The changed evidence should be part of a further witness statement, which is served on the other parties.
Statements of truth used for expert evidence differ. The reason is that experts owe an overriding duty to the court. More on that below.
Preparing Exhibits to Witness Statements
Documents which are referred to in a witness statement are organised into one or more exhibits. They are part of the witness statement, although the exhibits may not be attached to it. When you sign the witness statement, each exhibit should be:
have numbered pages (bottom right-hand corner; "1", "2", "3" and so on), or even better [Exhibit Reference] / [page number], and
have an exhibit cover-sheet.
The numbered pages allow you to refer to page numbers of the exhibit in your witness statement. You can find the page to the exhibit in your witness statement at hearings quickly.  It is better for both you and the judge (which is the person you're trying to impress). An index to exhibits really helps as well when they contain many documents, because it helps locate individual documents in large exhibits.
If there are many documents and they can be categorised, they really should be split up into different exhibits. 
Suppose a person named Ralph Rogers makes a witness statement. It has 3 exhibits. Let's say it's his second witness statement. His first witness statement had two exhibits, "RR01" and "RR02".
The exhibits to his second statement would be marked "RR03", "RR04" and "RR05". Each would be stapled separately or put into a folder where there are lots of pages which are too big to be stapled.
Check out the template exhibit cover sheet below.
It is a good idea to exhibit documents in this way because:
the documents support your case
it serves as a reminder to you of why you said something in your witness statement
it's more difficult to criticise your witness statement for lack of documentary support
you protect yourself by ensuring that what you say is referable to a specific document 
when you refer to a document, you are able to refer to different parts of it, with the context of what you say in your statement
if there is anything unusual about the document, you are able to comment on it
the judge will be able to see what you are talking about, rather than have to work it out or guess what you are talking about (and then seek clarification at the hearing)
your cross-examination will be either be harder or more focused, because you've kept yourself what you can say, without sounding like a removed strange person that draws wild and baseless conclusions.
if any of the pages are illegible because the printing is faint, you should type up a copy and exhibit it with the best copy you are able to make of the poor quality document No point putting in evidence that the judge and the other parties can't read
bundles of letters, emails and messages (such as WhatsApp and text messages) should be in chronological order, so that the earliest letter is at the top and the most recent at the bottom.
Finally, at the same time you sign the statement of truth, you must verify that each exhibit is authentic. You do so by signing (or writing and signing) a statement on the exhibit cover sheet.
The statement usually says:
I verify that this is the exhibit marked '[exhibit reference]' to my [number] witness statement dated [date].
By the way, it's a good idea to spell out the date, rather than use the format "04/05/[year]". You'd use "4 May [year]". 
Writing a Good Witness Statement
The importance of context.
When preparing your witness statement it's a good rule of thumb to exhibit documents to the witness statement which support the facts you state. 
For instance, suppose you are in a case where the other party alleges that you misappropriated their confidential information , and then used it to make a copy their invention.
In this hypothetical, you didn't. You made it yourself, independently of the other party over a period of months or years.
To make out your defence, you need a witness statement for trial. The court will be interested to find out how you developed your own invention. It would make sense to cover the development process, step-by-step over time.
Turn of Events
You could just tell the story that:
In one month you were doing research, then you created the proof of concept in the next month. After that might come the internal testing and analysis of results. Then you released the minimum viable product and did marketing, testing and received some feedback. And it was after that was the first you heard of the claimant: when they wrote to you claiming that you'd copied their invention.
Bare statements of fact setting out a chronology of events is, well, better than nothing. But it has little weight. There is no independent evidence to support what you say.
Documentary Support for Witness Statements
Let's say that after you prepare that basic chronology, you go off to your archives. You start looking for documents and materials which support what you say.
Like emails and notes that show the timing of events in the development.
Here's what you mind find:
notes of your observations of testing, results of failed tests, notes for improvements
performance results from proofs of concepts
versions of the invention
email communications with potential suppliers
discussions with others in the market
social media posts
photographs of materials used in your research
contracts with suppliers engaged
photographs from trade shows
This sort of evidence is "relevant" because it shows – or tends to show – that you were developing and did develop the invention independently of the person who says you didn't.
Think about it.
If evidence of this sort is included, your witness statement moves from being an unsupported story, to one backed by evidence which holds its own weight. And a good arguable defence.
The documents you have found add credibility and believability to the witness statement.
And it's the same with causes of action other than breach of confidentiality , such as the common claims encountered in commercial litigation such as:
breach of contract
civil fraud
negligent misrepresentation
conversion , or
conspiracy .
Often a story can be told and details are left out for brevity or impact. Witness statements are not the place to do this. If you know anything and it is left out, which leaves what is said in the witness statement untrue or misleading, you really do need to include the extra information.
You need to be able to stand by the statement and tell the truth, the whole truth and nothing but the truth. Crime dramas might have made this sound a bit stale, tied or a bit worn.
You need to re-sensitise yourself to the truth when you are preparing your witness statement.
To get a sense of how courts treat misleading information, check out this article on clean hands .
Self-contained
Ideally, the reader of your witness statement shouldn't have to refer to any other document to understand your witness statement.
This doesn't mean duplicating copies of documents across multiple witness statements. For instance, it's usually quite OK to refer to documents exhibited to someone else's witness statement.
If any jargon or industry specific language needs to be used, it should be explained succinctly.
So if you need to refer to say, software-as-a-service, you might add that it is services delivered by software from a central server in a web browser, where the user does not have a locally installed copy of the software.
Proofing your Statement
Hopefully, you will not find yourself in a position where you need to sign your witness statement on the same day that you have to file and/or serve it. You're better off if you plan to have a final version ready for proofing 7 days before it needs to be filed and/or served. 
When you are reading over your statement, try to spot ambiguities and gaps in reasoning or the flow of the statement. If there are gaps, fill them in so that each step follows logically and sensibly from the previous statement (or heading). 
If you've told the story - the narrative - in the sequence that they took place (ie chronological order), they'll be obvious.
Don't think that if you mix up the order of events that the other party won't spend time finding the gaps and inconsistencies. Assume that effort will be made, because cross-examination is truly devastating to a witnesses' credibility: ie "believability".
Opinion Evidence
Some straight-talking.
Court decide facts based on the evidence, on the balance of probabilities . Witness statements are used to prove facts which are alleged in statements of case. 
It is not for witnesses to express opinions or arguments. Sure explain the evidence presented if it does not make sense.
One of the unique features of courts is that the judges form their own view from the evidence, and decide the facts. The advocate - usually a barrister if the other party is legally represented - present arguments to the judge based on the evidence before the court. They also make submissions on glaring omissions and inconsistencies in witnesses' evidence.
You really do devalue your witness statement when you state opinions.
If a court needs an opinion, it will make orders in case management directions for the parties to have a qualified expert to receive relevant evidence from the parties and prepare a formal expert report. In that report, the expert may express a reasoned opinion based on the evidence set out in the report.
Otherwise, some courts have some tolerance for opinions. You'll want to make sure the opinion is supported by what you say in your witness statement. This is so that opinion can be proved - or at least demonstrated - objectively.
So your witness statement is not the place for:
personal opinions
prejudicial comments criticising others
opinions on the issues in dispute in the court proceedings, which the court needs to decide.
Try to avoid giving opinions unless you are formally qualified to give one, and it is objectively provable.
The Trial: Some Context
The more important witness statements in legal proceedings are used at the trial. There's a lot to think through and do if you're representing yourself in court.
When you are to appear at the trial as a witness though, you're usually invited to sit in court and listen to the evidence of the other witnesses.
If however some unfair advantage might be obtained – or perceived to be obtained – you might be asked wait outside court until you are called to give evidence.
Above, we mentioned the old procedure of giving evidence in chief orally.
You are at court to be asked questions about what you have said in your statement to assist the court arrive at the truth.
The Truth in Witness Statements
Even if you're a party to the proceedings, it's your overriding duty to tell the unvarnished truth, politely and respectfully. If you start to advocate your own case or take a side, everyone notices.
All witnesses are still sworn in today. Part of the oath or affirmation are the words, that the evidence you will give will be "the truth, the whole truth, and nothing but the truth".
Let's break this down:
the truth: Simple. Tell the truth.
the whole truth: Don't leave anything out that would make your evidence misleading. For instance, if you were told that something happened and didn't see it yourself, say so.
nothing but the truth: Don't twist anything to give the wrong impression.
And so it should be with your witness statement.
Witness statements are taken as the evidence in chief of the witness at the trial unless the court orders otherwise. Evidence in chief is the evidence that the witness gives in support of the case of the litigant for whom the statement was made.
At the trial, witnesses are usually limited to speaking to matters referred to in their witness statement, unless there is a good reason to expand upon those matters.
Witnesses are required to attend court for cross-examination by the opposing parties in the litigation if required to do so by the court or the opposing parties. Where witnesses do not appear for cross-examination, the evidence is treated as hearsay evidence and of no value or weight.
Cross-examination may relate any matter that the witness is able to deal with in respect to the issues in dispute in the litigation and your credibility.
As such, cross-examination is not limited to matters referred to in the witness statement – including statements made outside court which are inconsistent with the evidence given in the witness statement.
When you are questioned in court
The dynamic in court is this.
Barristers ask you questions.
The barrister is really asking questions on behalf of the judge. So when the barrister asks you questions, you look at them.
When you answer the question, you look at the judge.
Once you've completed answering the question, you look back at the person asking you the questions.
Can you be forced to give a witness statement? 
What can happen if you do not go to court?
Are witness statements confidential?
Are Witness Statements on the Public Record?  
Who gets to see witness statements?  
What if a witness statement is not signed?
Differences: Affidavits vs Witness Statements
Can a witness statement be signed electronically?
Can you withdraw or retract a witness statement?  
What is a Lay Witness Statement?  
What is Expert Evidence?  
What is the Statement of Truth that experts have to sign?  
Is a Witness Statement a Statement of Case?
How Witness Statements (and witnesses) are tested
You may wonder how courts assess witness statements and your performance in court.
There are a few established and fundamental principles on how courts go about testing witness statements and the evidence given by witnesses.
Credibility of Witnesses
One of the central concepts here is credibility.
Where a witness maintains their credibility, they are more likely to be believed. Witnesses are assessed in the same way the evidence presented in their witness statement (ie scrutinised to the nth degree) and their performance in the witness box under cross-examination.
Again, the court's overall job is to decide the truth.
Courts have long recognised that it is difficult to tell whether a witness is telling the truth or not. Courts can take into account any material before the court, and the behaviour of the witness in court.
Judges do this for a living. They are good at it.
Common-sense also plays a large part when assessing a witness, especially where there is a conflict in the evidence. A witness's motives and overall probabilities of what they say also plays a large part: Robert Goff LJ in  The Ocean Frost ( Armagas Ltd v Mundogas SA [1985] UKHL 11) .
And then, the barristers will be able to make comments on any witness's performance in the witness box in closing submissions, long after the witness has left court.
Basic methods of checking evidence which are likely to take place include:
independently provable facts: What you say against will be checked against facts and events which are provable independently of what you say. You can bet that what you say in a witness statement will be checked against all other documentation available, some of which you may not have seen or even know about.
considering the overall probabilities of what you say: The more unreal and far-fetched your statement of fact, the better your evidence needs to be to prove it. The test here is the balance of probabilities . The balance of probabilities means that the court is satisfied an event occurred if the court considers that, on the evidence, the occurrence of the event was more likely than not. Is it more likely that your story (or part of it) took place, or another person's version of events on the evidence available? Or none of them?
supporting evidence for serious allegations: This is an extension of what is said above, or a special case. Courts will assess the inherent probability or improbability of an event. It of itself is a matter to be taken into account when weighing the likelihood of what you say against the other evidence available. This does not mean that serious allegations require a higher standard of proof. Basically, the more improbable the event, the stronger must be the evidence to prove it.  Much depends on the context within which the events are said to have happened. In the case of In Re Dellow's Will Trusts [1964] 1 WLR 451 it was said, "The more serious the allegation the more cogent is the evidence required to overcome the unlikelihood of what is alleged and thus to prove it".
whether the witness has lied in respect of a particular part of the case or all of the evidence given
it may be that the entire case is a lie
witnesses may lie in "a stupid attempt" to bolster a case.
cross-examination: Witnesses must be challenged with the other side's case the other side disagrees with the evidence given. This involves putting the case positively, such as "you knew that the traffic light was red, and not green as you say here, don't you?". Questions like this are an ordinary part of cross-examination. The court is testing your version of events. First it gives you the opportunity to deal with an opposing view or inconsistency. It gives the judge an opportunity to assess your performance on critical issues in dispute, and your demeanour and in the overall context of the litigation.
For these reasons, if your view is inconsistent or at odds with documents before the court, you are likely to be asked questions about it.
This is probably the most important part of cross-examination.
The more serious or outlandish the allegation, the better the evidence needs to be. Trivial or inconsequential statements in evidence are less likely to require documentary support.
If a fact or event is in issue (ie the parties disagree), documentation is likely to be essential. Then documentation created at the time of the event is almost invariably more valuable than documentation created after the event.
Template Downloads:
Template: Witness Statement
Template: Exhibit cover sheet 
Make sure you check out this to make sure you have got it right here before you sign off on the statement.
Disputes & Litigation Solicitors
We are experienced civil and commercial civil disputes solicitors , that have been tasked with preparing witness statements and affidavits for applications for interim injunctions and trials in business disputes.
We've seen - and orchestrated - destabilising witness evidence, and picking apart the credibility of witnesses in civil matters. 
As a commercial litigation law firm, we've advised clients on civil lawsuits in many areas of law, including intellectual property, commercial contract disputes, trademarks, trade secrets & fraud claims.
If you're headed for the trial as a witness in a civil dispute or an expert asked to give evidence, or are likely to receive unwelcome questions about what is said in your witness statement, contact us on +44 20 7036 9282 or [email protected] for support to sort out your witness statement to:
help check it over before you sign it
minimise the potential of harsh cross-examination
assess the credibility of your evidence, and how it can be improved 
check whether you've gone too far in what you've said, or
need to recover from a position that you'd prefer not to be in. 
It may be that you'd prefer to talk through giving evidence, what to look out for and the tricks of the trade in cross-examination that can catch you out. 
Although we can't tell you what you should say or not say to a court, a better informed witness is usually a better witness for the party you give evidence for.
1.      Can you be forced to give a witness statement?
The simple answer is no.
However with most things in law, it's not that simple.
A party can ask the court to issue witness summons.
These used to be called subpoenas. A witness summons compels the witness to attend court to either:
give oral evidence, or
produce documents to the court.
2.      What can happen if you do not go to court?
It would be a contempt of court not to appear on the date specified in a witness summons.
Also, if you still do not appear, you may be ordered to pay the costs wasted by the parties for your failure to appear. Where the parties are legally represented, sum is likely to be significant.
3.      Are witness statements confidential? 
Once your witness statement is served , it may only be used for the legal proceedings for which it is produced.
That rule applies unless or until:
you give your permission (in writing) for your statement to be used for another purpose, other than in the proceedings for which it was made
the court gives permission for it to be used for another purpose, or
the witness statement has been put into evidence at a hearing to be held in public, ie in open court. At that stage any confidentiality which once existed in the document is lost.
4. Are Witness Statements on the Public Record?
The short answer is: almost. 
Witness statements are accessible by parties to proceedings by making an application to the court to inspect the Court's file. In the High Court, these sorts of applications are heard by a Master.
The situation is different with persons who are not parties to the specific proceedings. This includes interested third-parties, newspapers, reporters and journalists.
However, restrictions apply to documents which can be obtained from the Court file.
The following are usually able to be obtained without much trouble, by anyone:
Statements of Case , which includes the Claim Forms, Particulars of Claim, Defence, Reply to the Defence, Counterclaims, Defence to Counterclaim, Reply to Defence to the Counterclaim and Further Information and Clarification
Judgments and Orders made in public are usually able to be obtained without much trouble.
Witness statements, communications between the parties, and the parties and third parties are available for production from the public record provided the court gives permission.
An application notice must be filed to obtain that permission. A hearing is likely to be required.
A party and/or any person named in a witness statement may apply for an order that production of the witness statement is:
not available to person who is not a party to the proceedings
restricted to specified classes of person or named persons  
subject to removal, redaction or otherwise edited in accordance with the order of the court prior to production
In every case, the court will want to know why the application is made, and most likely what uses to which the witness statement will be put, if access is granted. 
5.      Who gets to see witness statements?
Firstly, the party that asked you to prepare the statement will have a copy. If they are legally represented, their solicitors will see it. If they have a barrister, they will see it too.
If there are other witnesses, it may be that they shown your witness statement. Then the party that asked you to prepare it will see it.
It may be that your witness statement is relevant to an expert report which an expert needs to prepare for the trial. The expert would also receive a copy.
As part of the preparation for trial, case management directions are made early in the case.
These case management directions set the timetable for different stages, usually up to the trial. The trial is when the solicitors, witnesses and expert witnesses appear before a judge so that the case heard and the judge can decide the case.
The case management directions will require the parties to exchange witness statements. A date is fixed for exchange in the case management directions. At that stage the other side will receive a copy. If the other side is represented their solicitors, barrister and perhaps an expert may also see it.
When you appear at the trial for cross-examination, the judge will also have a copy. 
The Civil Procedure Rules also provide that a party must have copies of witness statements available for members of the public. This is so that the public are able to follow what happens in court. So, members of the public may also receive a copy.
6.      What if a witness statement is not signed?
In our language, the witness statement:
would carry "no weight" because it is not endorsed - or verified - by a statement of truth
may be excluded from evidence which the party is able to rely on altogether at the trial.
That means that the statements made in the witness statement could not be relied upon for the truth of what is said in the witness statement.
Courts also have the power to order the witness to verify the document with a statement of truth.
7.      Differences: Affidavits vs Witness Statements
There are several differences between witness statements and affidavits.
The main ones are:
The form of an affidavit is slightly different to a witness statement. An affidavit commences with the words "I, [name], [occupation], say on oath: ...". In witness statements, the witness starts with, "I, [name], [occupation], will say as follows: ...".
Affidavits must be sworn before a solicitor, legal executive or public notary
Affidavits contain a jurat, whereas witness statements are endorsed with a statement of truth.
Affidavits are used in applications for Freezing Orders and Search orders:
Freezing Orders are court orders that prevent a person from disposing or dissipating their assets.
Search Orders effectively permit a litigant to search someone's premises for evidence relevant to proceedings.
In all other proceedings, witness statements are perfectly acceptable, unless a judge directs that affidavits be filed (with the court) and served (on the other parties). 
8.      Can a witness statement be signed electronically?
The short answer is yes. Or at least: we've never had a problem with electronic signatures.
However, a proper procedure should be adopted so that if anyone questions whether the witness statement was signed properly.
The process should be verifiable – to show that the witness signed the statement (rather than somebody else). An email trail which shows that process of signing helps.
It goes without saying that if the witness statement was signed, no changes should be made to it after it is signed. It should be re-made, although there is a procedure to hand-mark edits. It's not a recommended course.
We've seen witnesses cross-examined on witness statements which have been changed, or revised in further witness statements after they've had a "re-think".
It's not pretty, if you're on the opposing side.
9.      Can you withdraw or retract a witness statement?
Once a witness statement is approved by signing the statement of truth, it is your witness statement. It is your responsibility as deponent to ensure that your evidence is truthful.
Keeping to the suggestions above can help steer clear from problems preparing it in the first place, but in the final analysis the witness is responsible for what they endorse with a statement of truth.
If you have any reservations about your witness statement it should be revised before you sign it. This also applies when there is anything misleading in your witness statement.
It's the court's job to arrive at the truth.
If you have made a witness statement and no longer wish to give evidence, see the comments above on witness summonses.
10.      What is a Lay Witness Statement?
These are sometimes referred to witnesses of fact.
Although it sounds silly, "lay evidence" and "lay witness statements" is evidence given by a person who is not appointed as an expert witness in the proceedings. To tell the difference between expert evidence and lay evidence, here's the terminology:
"expert evidence" is given by an expert appointed by the court under CPR 35 . The evidence is almost invariably given by witness statement (rather by affidavit). The appointment of the expert will take place with the permission of the court. The permission is given in case management directions - these directions are usually made at the first case management conference .
"lay evidence" is given by a person who is not an expert for the purposes of the proceedings. A "lay witness statement" is a witness statement made by a person who is not an expert.
Suppose you are:
a fully qualified and experienced civil engineer; and
the claimant in your own legal case.
You can't be an expert in your own case involving work which is the subject of the legal proceedings. That's because you would be perceived to be biased (even if you aren't).
Suppose you have a friend who is a civil engineer.
Your friend wants you to give evidence as an expert in his case. You can't (or at least shouldn't accept the appointment), because you wouldn't be seen to be independent of your friend, because of your prior relationship.
11.      What is Expert Evidence?
Lay witnesses have a limited ability to give opinions in their evidence. For the most part opinion evidence is inadmissible. It is likely be challenged by the other party, simply because lay witnesses are not qualified to give opinions in court.
While there may be some leeway on the general rule, sometimes it's best just to leave it out. The facts stated in your statement should speak for itself. Let the qualified experts give their opinion if the court wants it.
Experts have greater and overriding responsibilities to the court when they give evidence.
Although they give evidence for party that briefs them, experts owe an overriding duty to the court, and should confirm that they have done what they are meant to, in addition to the statement of truth .
Those responsibilities transcend any perceived obligations to the party for which they give evidence.  See Phillips v Symes (2004). 
12. Is a Witness Statement a Statement of Case?
Statements of case are prepared by parties to allege facts of the case on which they rely to succeed in their legal claim: their cause of action . 
Witness statements are there to proof the facts of alleged in the statement of case .
When a statement of case is signed - endorsed with a statement of truth - the statement of case can be used as evidence of any of the matters set out in it.
If you've worked through what is set out above, you may realise that:
witness statements and statements of case serve fundamentally different purposes
the role of a statement of case as evidence is limited. There is very little to decide a fact on the balance of probabilities based on a statement of case, because there will be little evidence of the allegation in the statement of case (which would appear in a witness statement)
The court rules allow statements of case (such as particulars of claim or a defence) to be used as a matter of convenience. If an issue is dispute between the parties, a judge will be looking to receive independent evidence from the party to satisfy the burden of proof.  Not rely on what is said in a statement of case.
London Litigation Lawyers
Want to say the right thing, the right way in a litigation case?
Have an urgent hearing coming up, and need a hand with a witness statement?
We've acted for, advised and assisted litigants and witnesses in commercial litigation to:
prepare and firm up their evidence prior to hearings
check over witness statements to iron out weaknesses that will prompt criticism
avoid catastrophic mistakes in litigation that lead to averse costs orders required to be paid within 14 days
advised on the legal requirements to be successful at hearings
culled bad arguments which almost certainly hold no sway with courts
default judgment
summary judgment and strike out applications
security for costs
specific disclosure
We know both sides of the story, and how your opponent is likely to come at you.
helped witnesses prepare to maintain their credibility in the witness box in cross-examination
prepared witness statements for trial
appeared at case management conferences and pre-trial reviews for clients.
We're local to the Rolls Building on Fetter Lane and the Royal Courts of Justice on the Strand in London, and the Central London County Court. They're a 5 minute walk for us. You don't end up paying solicitors' travelling costs to Court.
Call to speak with one of our London litigation lawyers for help with your case on +44 20 7036 9282 or email us at [email protected] .
Terms of Use
Privacy Statement
Cookie Policy
Legal Advice
Software Legal Advice
Business Contracts
Intellectual Property Advice
Contact Information
89 Fleet Street London EC4Y 1DH
+44 20 7036 9282
eSignatures
Product updates
Document templates
Make affidavits quick and painless with this easy guide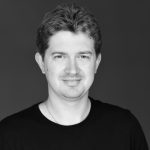 Yauhen Zaremba Director of Demand Generation at PandaDoc
In any court or legal proceeding, establishing truthful facts is paramount.
After all, how can justice be done or legal processes carried out properly if the information provided is unreliable or, even worse, altogether false?
Affidavits are all about verifying information.
They allow for the facilitation of a fair and honest verdict and play a crucial part in the American legal system.
But what does affidavit mean? When are they used? And what kinds of things are typically included in them?
This article will cover all of that and more so that by the end, you will have a firm grasp of affidavits and their place in law.
Key takeaways:
Affidavits are a crucial part of the legal system that verify the information submitted to an authority is accurate and truthful.
There are several different types of affidavits. Examples include; an affidavit of heirship, an affidavit of residence, and a financial affidavit.
Despite the different types, the components of any affidavit are very similar.
PandaDoc can you help you draft your own affidavit + we've got templates for countless other documents too.
What exactly is an affidavit?
An affidavit is a written testimony intended to show a court or other agency that specific information is truthful.
These legal documents have become the standard when an authority (think judge, government agency, or insurance agency) needs to verify the information they're receiving is accurate.
What is the purpose of an affidavit?
So, what does an affidavit do? Affidavits come into play when someone is unable to appear in court in person. When someone provides testimony before a judge in person, they are under oath – meaning they cannot lie.
If they do lie, they'll face punishments for committing what's known as perjury.
However, if someone cannot come to the courthouse, they can instead file an affidavit.
The affidavit will hold the person to the same standards as if they were actually under oath in front of the judge.
Beyond the courthouse, affidavits are useful for personal or business transactions .
For instance, you'll likely need to create and sign an affidavit if you are transferring legal rights to a power of attorney .
You'll also need to file an affidavit for a loved one if they pass away in order to validate they are deceased, and they can be a crucial tool when it comes to what makes a will legal .
In addition, you'll need to provide some sort of affidavit reflecting the accuracy of your financial status when applying for loans with the bank.
For business transactions, affidavits can confirm a future partner or investor is telling the truth about their financial abilities.
This is a general due diligence step that every business needs to take before joining forces with a new partner or investor.
So, what does drafting an affidavit entail? It's not as difficult to understand as you may think, but there are a number of important details that you'll need to be aware of.
What's included in a typical affidavit format?
Affidavits contain a number of components , all of which are similar regardless of the situation that an affidavit is used for.
Below are a few key terms you'll find in any affidavit and what they mean.
The affiant is the person who needs to demonstrate factual evidence.
This is the same person who will sign the affidavit.
For example, a person who needs to prove their financial status would be the affiant in a Financial Affidavit.
When drafting your affidavit, you should clearly list the affiant's print name and signature block.
2. Affirmation
Here's where the substance of the affidavit can be found. The affirmation section dutifully lists all events, facts, and details that need to be verified. You'll want to make sure the affirmation section is easy to follow.
If you need to list several details that make the affirmation difficult to read, consider putting some details in the attachments section.
3. Witnesses
The witness (or witnesses) are the individuals who were present when the affiant signed the affidavit. This could be a notary of the public or another neutral third party.
Be sure to review your state and local laws to ensure a notary can serve as a witness on your affidavit.
4. Penalty of Perjury
This section outlines the penalties the affiant may face for misrepresenting the facts in the affirmation section.
The penalty section is necessary so the affiant understands the potential punishments for falsifying the affidavit.
Remember to only provide facts in the affirmation section to avoid penalties such as fines and even arrests.
5. Notary Public Certification
This section is intended to be left blank until you find a notary.
A notary public is an official who is appointed by the Secretary of State as an impartial witness.
Notaries are in charge of deterring fraud when individuals sign important legal documents.
Affidavits must be authenticated by a notary to be properly executed.
6. Attachments
At the end of your affidavit, you'll include attachments that provide details on the affirmations section.
Generally, the attachments can be any document that helps support the facts you already provided.
The type of attachment you include will depend on the type of affidavit you're looking to file.
For Financial Affidavits, which prove your financial health, you may include bank statements, tax returns, or other financial reports as attachments.
For an Affidavit of Residence, which proves that you live somewhere, you would need to include documents such as a copy of a driver's license, paycheck stub, or utility bill in the attachments section.
The attachments can be as robust as you'd like. In most cases, though, the more credible information you include in your attachments, the stronger your affidavit will be.
If you forget to include important attachments in your affidavit, you may need to redraft and refile a new affidavit entirely.
Now that we have the basics of the affidavit down, let's discuss the varying types of affidavits and why you may need them.
Types of affidavits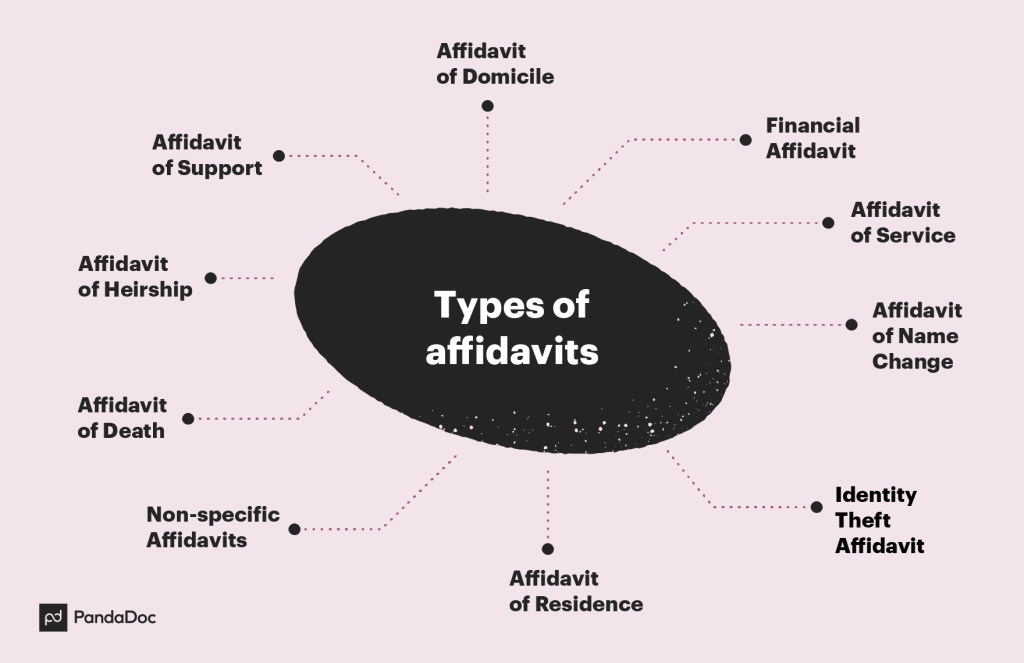 While most affidavits follow a similar structure, you may need to draft a specialty affidavit depending on your situation.
Here are a few types of affidavits we've run into here at PandaDoc and how you may need to use them for any given situation.
1. Affidavit of Heirship
An Affidavit of Heirship is used to transfer the ownership of property left by a deceased person to a member of their family.
This type of affidavit is usually required when a person dies without finalizing a Last Will and Testament.
An Affidavit of Heirship can be used to skip probate court proceedings when the deceased person leaves minimal cash, property, or real estate property behind.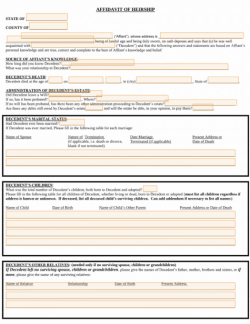 Affidavit of Heirship Form
Used 4872 times
An Affidavit of Heirship lists the deceased person's heirs, attests to their legal right to receive the estate's assets, and establishes their familial connection to the deceased.
2. Affidavit of Domicile
This affidavit is required to prove where a deceased individual lived at the time they passed away.
In most cases, Affidavits of Domicile are required during the probate process in order to transfer assets such as stocks and bonds to the deceased person's beneficiary or heir.
3. Affidavit of Residence
Also known as a proof of residency letter, an Affidavit of Residence proves a person lives in a certain state or at a specific mailing address.
This type of affidavit may be required when individuals apply for a job within a government agency or request insurance coverage from an insurance agency.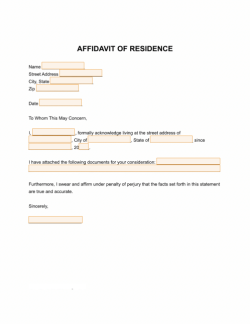 Affidavit of Residency Form
A notarized Affidavit of Residency serves as proof of residency for any individual; it can be used to establish the applicant's address or the address of anyone who resides with him.
4. Affidavit of Support
An Affidavit of Support , also referred to as Form I-864, is a document an individual will sign when they are providing financial assistance to an immigrant coming to live in the United States.
The individual signing the affidavit, also known as the sponsor, must demonstrate the financial ability to support the person coming to the United States.
Any individual applying to be a permanent resident of the United States must have their sponsor fill out an Affidavit of Support.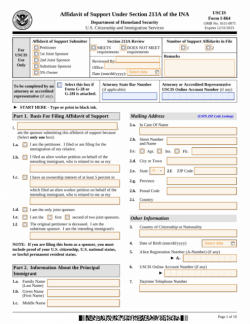 Affidavit of Support Form
An individual who agrees to bear financial responsibility for the applicant's immigration to the United States must sign an Affidavit of Support Form.
5. Affidavit of Name Change
An Affidavit of Name Change is used by individuals who have had their name changed in the past. Essentially, this type of affidavit confirms your identity.
An Affidavit of Name Change is used to verify the name of individuals who have been married, divorced, or otherwise formally changed their name.
6. Financial Affidavit
The Financial Affidavit is a form that outlines someone's financial status.
The affidavit is provided to explain someone's income, debts, and assets, among other financial details.
These affidavits are often used in court proceedings where child support, spousal support, or attorney fees are owed to an individual.
Financial affidavits may also be required when applying for a loan, before entering a business partnership, or prior to investing in a company.
7. Affidavit of Death
This affidavit is used to swear that a person is now deceased.
Although this may sound grim, an Affidavit of Death helps inform authorities such as banks and insurance companies that a person has died.
These affidavits are usually required to trigger a Last Will and Testament and life insurance policies.
The affiant in an Affidavit of Death would be a family member who personally knows the deceased individual to vouch that they have, in fact, passed on.
8. Identity Theft Affidavit
This type of affidavit is exclusively used by those who have been subject to identity theft .
The Identity Theft Affidavit proves to businesses and other authorities that a person's personal information was fraudulently used to open an account.
Once this affidavit is finalized and submitted, the business will know that you were a victim of fraud and did not actually open an account with them.
9. Affidavit of Service
These affidavits help prove that someone was notified of potential legal actions.
Process servers will fill out this form, including the time, date, mode of service, and identification of the person served with official papers.
10. Non-specific Affidavits
Finally, Non-specific Affidavits can be used for a variety of purposes.
If you haven't found an affidavit that fits your needs, you'll likely need to draft a Non-specific Affidavit.
These affidavits can be used to provide background information in court proceedings, clearly define a business' financial status during contract negotiations or any other situation where facts need to be validated under oath.
No matter which type of affidavit you need, these are legal documents that are binding in nature and need to be developed and finalized appropriately.
Does an affidavit have to be notarized?
Yes, an affidavit must be notarized in order to make it legally binding .
But they must also be executed properly. Proper execution makes the document air-tight and something that can be sustained in a court of law.
This level of proper execution requires a few key components .
First , the individual who created the affidavit must be of sound mind.
This means that the drafter must have the adequate mental capacity to understand their own actions.
If someone was hospitalized and under a heavy sedative, for instance, they could have difficulties with memory recall and understanding paperwork.
This is a prime example of someone who would not have been of sound mind when they signed or drafted a legal document.
Next , the affidavit must be signed by a witness who confirms the accuracy of the facts within the affidavit. The witness needs to be an individual who has first-hand knowledge of the information in the affidavit.
Finally , the affidavit must be authenticated by a notary of the public, also known as a notarization.
To get your affidavit notarized, the signers of the affidavit must bring their government-issued photo IDs and a completed copy of the affidavit to a notary.
The notary will confirm the signers' identities, ensure the document is complete, and officially witness the parties sign the affidavit.
Finally, the notary will stamp the document with their official seal.
Because affidavits are legally binding, there are punishments for falsifying them.
This action is considered perjury.
Perjury happens when a person knowingly lies after taking an oath to tell the truth.
Affidavits are also sworn to truth, so you could easily commit perjury if you lie on an affidavit.
Legal punishments for perjury may include arrest, detainment, fees, and even jail time for repeat offenders.
To avoid perjury and other issues with your affidavit, we've developed a quick but complete list of tips for drafting your very own affidavit.
How to write an affidavit: Step-by-step guide
We've already established how to make an affidavit in terms of what we need to include.
So let's put that into practice by explaining the process of writing an affidavit in stages.
Write a heading and title
Begin with the word "AFFIDAVIT" centered at the top of the page.
Below this, provide a title that reflects the content of the affidavit (e.g., "Affidavit of John Doe Regarding Car Accident").
Fill out your personal information
Start the main text with your full legal name, address, and contact details. If applicable, mention your occupation or profession.
Make an oath or affirmation
State that you are making the affidavit under oath. You can use phrases like "I solemnly swear" or "I affirm."
Provide the background and purpose
Provide a brief introduction explaining your relationship to the case, such as being a witness or party involved.
Explain the purpose of the affidavit (e.g., to provide evidence in a legal proceeding).
Provide facts and statements
Present your statements in a clear and organized manner. Use numbered paragraphs for each specific fact or point you want to make.
Make sure to keep each paragraph focused on one topic, event, or detail.
Arrange your statements in chronological order, if applicable, describing events as they occurred.
Use simple, straightforward language to ensure clarity and avoid confusion.
Finally, be specific and avoid vague or ambiguous terms.
Resolve that your statements are accurate and truthful
Affirm the accuracy and truthfulness of the statements you're making.
Mention that the information provided is based on your personal knowledge or belief.
Include supporting documents
If you have any documents or evidence that support your statements, reference them in the affidavit.
If possible, attach copies of these documents to the affidavit.
Sign and date
Leave space at the bottom for your signature.
Sign your full legal name exactly as it appears at the beginning. Add the date when you sign the affidavit.
Just like a notarized letter , include a section at the end for the notary's seal and signature, along with the date of notarization.
Affidavit do's and don'ts
PandaDoc handles legal documents for thousands of clients every single day.
We've garnered expertise in a wide variety of industries, gleaning valuable information on how affidavits should be executed.
Here are a few tips to remember when drafting and finalizing your affidavit.
Do: Get your affidavit notarized.
Remember, your affidavit must be notarized in order to be properly executed.
The notary's purpose in the affidavit process is to credibly ensure the affidavit is properly drafted and the affiant, or signee, is who they say they are.
Today, getting an affidavit notarized is easier than ever.
Notarization services are often offered at UPS stores, private notary businesses, and even online .
Don't: Provide details you aren't aware of firsthand
When drafting your affidavit, do not, under any circumstances, include information you do not know firsthand.
Firsthand knowledge is information you know to be true because you directly experienced it.
Any information you are aware of through others' experience should not appear in the affidavit, as this is considered hearsay evidence.
You may specify that you know something based on information and belief, which may protect you from perjury penalties if you did not experience an event directly.
Do: Closely review the affidavit before signing
Once you believe your affidavit is final, review it closely for clerical and content errors.
You won't want your affidavit to lose credibility and effectiveness due to misspellings or typographical errors.
You'll also need to review all the facts and ensure their accuracy to avoid providing hearsay evidence and potential perjury accusations.
Don't: Include untrue or misleading facts in the affidavit
Remember, lying on your affidavit is considered perjury, which comes with serious consequences.
Even if the facts listed in your affidavit are slightly misleading, you could face legal punishments for including these in the affidavit.
Once you've reviewed your affidavit for clerical errors, review it once again from a content perspective to make sure all of your facts are credible.
Do: Include attachments in your affidavit.
Always include attachments in your affidavit when it covers more than a few simple details.
Attachments help streamline the affidavit, as you can easily reference each attachment for further information on a specific detail listed in the affirmation section.
Otherwise, your legal affidavit may be cumbersome to read and understand.
If you're drafting a financial affidavit, for instance, list the most pertinent information regarding your finances in the affirmation section.
For example, list your total income in the affirmation section and include your tax returns as attachments if you need to provide more detailed information about your income.
Overall, attachments help strengthen the credibility of your affidavit, especially when the attachments are official, legal documents.
Getting started on your affidavit
Now that you know all of the components that go into drafting an affidavit and the many types of affidavits used today, you should be well on your way to drafting your very own legal affidavit.
Be sure to follow PandaDoc's do's and don'ts listed above to ensure your affidavit is accurate and properly executed.
As you'll see, drafting an affidavit doesn't have to be complicated.
If you're in a situation where you find that you need you're needing one, don't be put off by the process. Instead, realize that we have the knowledge and experience to help make it as easy as possible.
If you're still intimidated about drafting your own affidavit, let PandaDoc help.
Connect with us here to discuss your affidavit needs and we'll promptly get back to you with expert advice.
Frequently asked questions
What is the difference between an affidavit and a declaration.
An affidavit and a declaration are both written statements made under oath, but they serve different purposes. An affidavit is typically used as evidence in court proceedings, while a declaration is often used for non-legal purposes, like affirming facts. Both require signing before a notary or authorized official.
What is the difference between an affidavit and a sworn statement?
An affidavit and a sworn statement are similar in that they involve making statements under oath. However, an affidavit is a specific legal document with a standardized format and is often used in legal proceedings. A sworn statement is a broader term encompassing any statement made under oath, whether in a formal affidavit format or not.
Is an affidavit a legal document?
Yes, an affidavit is a legally recognized document. It is a written statement made under oath, typically used as evidence in court proceedings. The person making the affidavit (the affiant) swears that the information provided is true and accurate to the best of their knowledge. Affidavits are subject to legal consequences for providing false information, making them an important tool in legal proceedings.
PandDoc is not a law firm, or a substitute for an attorney or law firm. This page is not intended to and does not provide legal advice. Should you have legal questions on the validity of e-signatures or digital signatures and the enforceability thereof, please consult with an attorney or law firm. Use of PandaDocs services are governed by our Terms of Use and Privacy Policy.
Originally published January 24, 2021, updated October 10, 2023
Related articles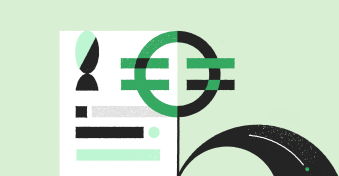 Document templates 12 min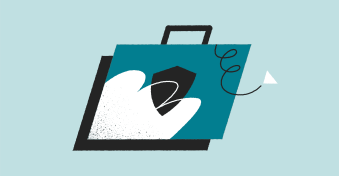 Contracts 10 min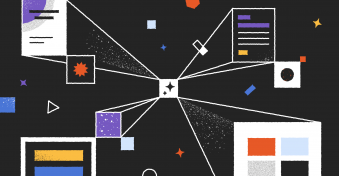 Document templates 9 min
information and belief
Primary tabs.
"Information and Belief" is a phrase that is normally used in legal pleadings such as complaints and answers during a lawsuit . It is also sometimes used during affidavits under oath , declarations under penalty of perjury . In these instances, the individual stating the phrase or statement qualifies it. Thus, what the individual is really stating is "I am only stating what I have been told, and I believe it." The purpose of this phrase is to show which statements the individual is sure about and distinguish from statements that the individual is unsure about or lacks personal knowledge (such as if it's hearsay ). The point of stating this phrase is to protect the individual making the statement from claims of perjury or outright falsehood. The typical phrasing of "information and belief" is: " Plaintiff is informed and believes, and upon such information and belief, alleges that defendant diverted the funds to his own use." See Vertex Inv. Co. v. Schwabacher in which this phrase is specifically used.
[Last updated in June of 2020 by the Wex Definitions Team ]
courts and procedure
wex definitions
A Guide on How to Write an Affidavit
By Chyanne Sharma , Articled Student, Vancouver
What is an Affidavit?
An affidavit is a document that outlines your statement of facts and supports your evidence. It basically tells your story in relation to the family law matter that you would want a judge to know about. To support statements made in affidavits, we attach exhibits, which are documents such as letters, text messages, emails, photos, that can verify your claims. At the bottom of your affidavit, you swear or affirm with a commissioner or notary that the contents you have written about in the document are true.
What should you include?
When drafting your affidavit, you must tell the truth and include only relevant facts. This means that you should leave all opinions out of it and don't cite the law or any other authorities. When focusing on what is relevant, think about facts that you know happened first-hand. Everything that you state is based off your own personal knowledge – what you saw, heard, did, etc. If you are responding to an affidavit, you'd take the same approach. You can respond to the statements in the affidavit made against you and provide your version of the story, supporting it with your evidence as exhibits. If you need to rely on second-hand information, it's best that you ask that person to swear their own affidavit to help support your claim. Sometimes there are friends, families, support workers, teachers, counsellors, and neighbours who have witnessed interactions or have an involvement that would be able to provide you with reliable information. However, this isn't always possible which means you can include relevant information that a second-hand source told you such as your children to a certain extent. When referencing information from a third-party be sure to include the name of the person, time and date, and whatever the information you are quoting must be true. At the end of each sentence where you are quote a third-party, you can state "and I verily believe this to be true" to show the courts that you do not have personal knowledge of this fact, but you believe what your source is saying is true.
Formatting your Affidavit
Remember, an affidavit is providing information that you want the judge to know about. That's why it's important to have proper formatting and have it read in an organized fashion. Typically, affidavits are formatted as such: 1. Chronological Order Each paragraph and page should be numbered so that you can easily reference the judge to certain parts in your affidavit. When organizing your facts, tell your story in the order the event happened and try not to jump between timelines. 2. Knowledge Statement This will be your first paragraph. You state who you are in the matter (usually either the Claimant or Respondent), and you state that you have personal knowledge of the facts that are in the affidavit. Here is an example of what you should write: I am the Respondent/Claimant within this family law proceedings and as such have personal knowledge of the facts and matters herein referred to by me except where indicated to be on information and belief, and where so stated I verily believe them to be true. 3. Body of the Affidavit This is going to be the most important part of your affidavit, be sure that you are organized and to the point. Avoid long paragraphs and run on sentences. As mentioned above, you want to only include facts that are relevant and avoid any opinions. For example, a fact is "On June 1, 2020, I emailed the Respondent to confirm our upcoming parenting plan. Attached hereto and marked as Exhibit "A" is a true copy of the email that I sent." An opinion is "I think that the Respondent is a horrible father to the children." In some circumstances we do want expert opinions from doctors or counsellors to give their opinions in courts, but generally the Courts do not want the opinion of the parties. Staying organized with important headings and/or subheadings will help you avoid opinionated statements. Some common headings include:
Background of the parties
Procedural history
Any important/relevant incidents that occurred
Communication
Parenting time/arrangements
Support payments
Before filing your affidavit, have a friend or a legal coach or navigator review and edit your affidavit for grammatic errors and to check for consistency throughout the document. Your last paragraph will typically be a statement stating that you are swearing your affidavit for no improper purpose. On the last page, before the exhibits start, you will sign the affidavit with a commissioner or notary. Clerks at the registry are commissioners and can assist you with swearing or affirming the document before filing. If you have any exhibits, be sure that they are organized according to how you listed them in your affidavit, page numbering them is important as well. The commissioner will stamp and sign each exhibit. Lastly, you're ready to file and serve your affidavit.
What Will a Judge Look for?
Judges rely on affidavits for evidence and credibility of a party. If there are inconsistencies, misleading or dishonest facts, it will impact your case and will likely lead you to having negative consequences. Judges often will read materials before hearing your matter; therefore, you want them to have a good understanding of your case by staying structured and factual. If a judge is not understanding your statement of facts or does not believe that you have sufficiently supported your claim with evidence, they will likely overwhelm you with questions for clarity or to probe your credibility. Affidavits are heavily relied on in most court proceedings and it is important that you draft such documents accordingly. To ensure that you have a strong affidavit, schedule a consultation with one of our Vancouver or Calgary legal coaches today to get assistance on preparing your own affidavit. If you have prepared all your materials and are looking for tips in how to conduct yourself in court, read our blog on Courtroom Etiquette 101 .
Need Family Law Help in BC or Alberta?
Call or book an appointment online now
Book Your Free Strategy Session
Free Child Support Calculator
As featured in

We are members of

Voices at Temple
The "personal knowledge" rule: an evidence principle worth considering.
Rare is the case [excepting expert testimony] where a witness is not describing what s/he claims to have seen, heard, smelled, touched or tasted. Without that sensory connection to the item at issue, there would be no relevance; and most lawyers abstain from calling a witness to testify to what was behind a closed door or occurring in a far-away location. So what's the "personal knowledge" fuss?
Perhaps the answer comes, first, from acknowledging that for some reason the drafters of the Federal Rules [and corresponding state codes of evidence] felt the need to include it in addition to the foundational requirement that only relevant evidence be admitted. Indeed, the comment to the personal knowledge rule – Rule 602 – makes clear that it is merely "a specialized application of the provisions of Rule 104(b) on conditional relevancy." Yet the Rule is there – so it must have some meaning.
For the advocate, the reason for the 'fuss' derives directly from the existence of the rule – it is now a tool available to a litigator to seek exclusion of evidence – and if that fails, as a credibility argument going to the weight of witness testimony.
But there are more than just the Rule and a litigator's argument. Some decisional law has resurrected this rule as an important consideration for evidentiary admissibility; and a too-often ignored issue is the application of this principle to hearsay declarations. So if courts are receptive to this issue then lawyers should 'tune in' to whether a witness has personal knowledge, first by learning the rule and its rationale and then by screening all evidence – and especially hearsay – to see whether the threshold has been met.
The rule itself is simple in wording:
A witness may testify to a matter only if evidence is introduced sufficient to support a finding that the witness has personal knowledge of the matter. Evidence to prove personal knowledge may consist of the witness's own testimony. This rule does not apply to a witness's expert testimony under Rule 703.
The threshold for admissibility is low. "A judge should admit witness testimony "if the jury could reasonably find that the witness perceived the event." United States v. Finley , 2014 U.S. Dist. LEXIS 123808, *5 (W.D. Pa. Sept. 5, 2014). As another court explained, "[t]estimony should not be excluded for lack of personal knowledge unless no reasonable juror could believe that the witness had the ability and opportunity to perceive the event that he testifies about." United States v. Hickey , 917 F.2d 901, 904(6th Cir. 1990).
So why argue the Rule? Because even with that low threshold courts are applying it. In State v. Lawson , 291 P.3d 673, 692 (Or. 2012), in the context of eyewitness testimony and the risk of a mistaken identification, it was held that Oregon's personal knowledge rule of evidence was to be applied in determining admissibility and that it must be shown "both that the witness had an adequate opportunity to observe or otherwise personally perceive the facts to which the witness will testify, and did, in fact, observe or perceive them…" Although narrowed in a subsequent holding, the Oregon rule still requires evidence that "would permit a reasonable juror to find that the eyewitness observed the facts necessary to make the identification." State v. Hickman , 330 P.3d 551, 561 (Or. 2014). A rule largely dormant is now an admissibility prerequisite for eyewitnesses. See also State v. Chen , 27 A.3d 930, 937 (N.J. 2011)("eyewitnesses cannot testify unless they have personal knowledge…and their opinions and inferences must be rationally based on the[ir] perception…").
The Rule has also been applied to scrutinize civil pleadings.   Where a plaintiff averred that no one reviewed a document, but his assertion did not "indicate that he would have had the opportunity to observe any type of review of the form…" the Court concluded that "therefore the statement is not within his personal knowledge." Ripple v. Marble Falls Indep. Sch. Dist. , 2015 U.S. Dist. LEXIS 39078, *21 (W.D. Tex. Mar. 27, 2015). See also , Adams v. CDM Media, USA, Inc ., 346 P.3d 70, 97 (Haw. 2015)(" Affidavits in support of a summary judgment motion are scrutinized to determine whether…[they] are made on the personal knowledge of the affiant…").
The same is true with other categories of opinion testimony. A Texas appellate court applied the personal knowledge test to preclude testimony as to whether an individual was a good prospect for probation because the opining witness lacked "personal knowledge." Patterson v. State, 2015 Tex. App. LEXIS 4930, *5 (Tex. App. Fort Worth May 14, 2015). See also PAS Communs. Inc. v. Sprint Corp. , 139 F. Supp. 2d 1149, 1182 (D. Kan. 2001)(excluding conclusory opinion testimony based on a lack of personal knowledge).
These cases involve the in-court witness' knowledge and perception. An even more powerful, but more often overlooked, application of the Rule comes into play when the evidence is in the form of hearsay. Consider the following:
Q: Mr. Jones, did you see the murder?
A: No, but two minutes after the gunshot my friend Samantha ran in, crying, and yelled "Tony shot Jack."
In this circumstance, too many lawyers [and judges] focus on whether the elements of the Present Sense Impression of Excited Utterance rules have been met without asking the foundational question – did Samantha see the shooting?
The law is clear: except for admissions of a party opponent, no hearsay is admissible without some proof sufficient to show by a preponderance that the original declarant had personal knowledge. Gainer v. Wal-Mart Stores East, L.P., 933 F. Supp. 2d 920, 928-929 ( E.D. Mich. 2013)(collecting cases); In re Estate of Maggio, 2012 VT 99, P26, 193 Vt. 1, 12, 71 A.3d 1130, 1137-1138, 2012 Vt. LEXIS 96, *16-18, 2012 WL 5992162 (Vt. 2012)(" the personal knowledge foundation requirement of Rule 602 should apply to hearsay statements admissible as exceptions under Rules 803 and 804 but not to admissions…").
In the hypothetical examination reprinted above, had Samantha's words been "I just saw Tony shoot Jack" or had she been covered in blood the preponderance standard would have been met. Without such proof, however, the hearsay must be excluded.
Two lessons become apparent. In any case, scrutinize testimony to ensure personal knowledge; and in assessing hearsay admissibility, avoid the tunnel vision of whether the type of hearsay satisfies the elements of an exception and expand the view to whether the declarant has personal knowledge.
Questions about this post? Drop us a line at [email protected] .
Share this:
Click to print (Opens in new window)
Click to share on Facebook (Opens in new window)
Click to share on Twitter (Opens in new window)
Click to share on LinkedIn (Opens in new window)
Click to share on Reddit (Opens in new window)
Click to share on Pocket (Opens in new window)
© 2023 Temple University Beasley School of Law.
705.2 Personal Knowledge [Rule 602]
Key concepts.
A witness must have personal knowledge about a matter in order to testify about it.
"Personal knowledge" includes what the witness saw or heard, as well as his or her thoughts, reactions, and inferences derived from that observation.
Rule 602 contains an exception for expert opinion testimony, which is governed by Rule 703.
The Basic Rule
Rule 602 – Lack of Personal Knowledge
G.S. 8C-602 .
Legal Overview
Rule 602 requires that a lay witness's testimony be based on his or her "personal knowledge of the matter." G.S. 8C-602 . This means that "a witness who testifies to a fact which can be perceived by the senses must have had an opportunity to observe and must have actually observed the facts." G.S. 8C-602 , Official Commentary.
In other words, the witness must have seen, heard, or otherwise personally experienced or learned about the matter about which he or she is now giving testimony. See, e.g., State v. Riddick , 315 N.C. 749 (1986) (witness's statement about what she heard defendant say was based on personal knowledge); State v. Redd , 144 N.C. App. 248 (2001) ("As an eyewitness to the undercover buys, Dixon had personal knowledge. He was therefore competent to testify regarding the undercover buys as a lay witness"); see also State v. Watson , 179 N.C. App. 228 (2006) (trial court did not err in allowing detective's testimony that he concluded defendant "had no living brothers," based on detective's personal knowledge acquired through research and investigation).
Proof of the witness's personal knowledge of the matter can come from other evidence in the case, or from the testimony itself. See G.S. 8C-602 , Official Commentary ("Preliminary determination of personal knowledge need not be explicit but may be implied from the witness' testimony").
Other Types of Personal Knowledge
In addition to the occurrences or events that were directly observed or experienced by the witness, "personal knowledge" encompasses several other important types of information.
Thoughts, Feelings, and Conclusions
Personal knowledge of a matter also includes the witness's feelings, reactions, inferences, or conclusions about what the witness observed, as long as those thoughts are rationally based on the witness's personal perception. See G.S. 8C-602 , Official Commentary ("personal knowledge is not an absolute but may consist of what the witness thinks he knows from personal perception"). See, e.g., State v. Sharpless , 221 N.C. App. 132 (2012) ("Dowd merely gave his understanding and interpretation of what went on at the door based on his sitting in the next room and being able to hear the whole situation"); State v. Elkins , 210 N.C. App. 110 (2011) ("A witness is testifying from personal knowledge when she describes her own state of mind and explains the thoughts motivating her own behavior"), quoting State v. Wilkerson , 363 N.C. 382 (2009) (witness's inference that a firearms sale had taken place, even though she did not directly witness it, was a permissible lay opinion under Rule 701 based on her observations that "her husband had procured firearms after speaking with defendant; that when defendant and Malanowski arrived, Mr. Davis showed the weapons to defendant; that she heard defendant explain his need for a firearm; that she noticed that weapons were missing from the house after defendant departed; and that afterwards she saw that her husband had a substantial amount of cash"); State v. Walston , 193 N.C. App. 134 (2008) (officer was speaking from personal knowledge when he described how tracking was done by a canine and what resulted from it); State v. Wright , 151 N.C. App. 493 (2002) ("[A]t the time of the shooting, Wright was positioned to hear the circumstances surrounding the shooting and observe events immediately thereafter. Accordingly, his personal knowledge was such that he could rationally infer that defendant had shot the victim"); State v. Lloyd , 354 N.C. 76 (2001) ("The instantaneous conclusions of the mind as to the appearance, condition, or mental or physical state of persons, animals, and things, derived from observation of a variety of facts presented to the senses at one and the same time, are, legally speaking, matters of fact, and are admissible in evidence."); State v. Jones , 98 N.C. App. 342 (1990) (no error in allowing officer to testify that informant knew where defendant lived: "Sgt. Bell and other local officers coordinated this undercover operation, including the use of this informant. It can therefore be implied that Sgt. Bell had personal knowledge concerning the informant's awareness of where defendant lived.").
Regular Practices
Additionally, a witness is testifying based on personal knowledge when he or she describes the regular manner in which an act is done, even if the witness did not personally observe the acts taking place on a particular occasion. See, e.g., State v. Warren , 225 N.C. App. 791 (2013) (hotel owner was testifying based on personal knowledge during embezzlement trial when he testified that deposits "were all put together by the defendant," even though owner did not personally witness the defendant do so in this case, since the owner had "knowledge of the duties of the defendant in the position of general manager" and had assigned those duties to defendant); State v. Anthony, 354 N.C. 372 (2001) (court clerk had personal knowledge to testify about the normal procedures for obtaining domestic violence protective orders, even if she was not directly involved with the order issued in defendant's case).
For more information, see the related Evidence entries on Lay Opinion [Rule 701] and Habit or Routine Practice [Rule 406] .
Expert Knowledge
Finally, Rule 602 states that the personal knowledge requirement for witness testimony is "subject to the provisions of Rule 703 ." The latter rule permits an expert witness to testify in the form of an opinion based on personal knowledge as well as other facts or data "made known to him," as long as foundational requirements for the opinion are satisfied. G.S. 8C-602 .
For more information, see the related Evidence entry on expert testimony, Basis of Opinion [Rule 703] .
Prosecutors Login