Safety Symbols and Their Meanings
Table of contents, why use safety symbols, 4 key types of safety symbols, hazardous chemicals communication standard, which signs and symbols are appropriate for your workplace.
Every worker should know these safety symbols.
Safety signs can be a tricky business. Some have words and a clear message, while many rely on visual symbols to warn of potential danger. This is also an effective way to communicate potential hazards – as long as workers understand what the symbols mean.
There are two different types of safety symbols: one refers to general safety protocols, while the other is used specifically for labeling chemicals that may be hazardous.
Since most workplaces have a combination of both, it's important to understand each of them.
These pictures may not say a thousand words, but they are universally recognized symbols that transcend language. No matter where you're working, you'll be able to understand the potential hazards you face simply by looking at the posted symbols.
The best occupational health and safety programs use a series of signs and symbols to convey a complete message.
For example, a hazardous gas symbol may alert workers to the potential presence of a harmful gas. But an accompanying sign mandating the use of a gas mask takes it a step further by telling workers how to handle the hazard.
Signs and symbols are no substitute for training, but they do serve as important reminders. They can be particularly helpful for workers who are not familiar with a specific area or process. A simple sign with a safety symbol allows workers to efficiently identify the potential hazard and make an immediate decision.
Most safety signs and symbols fall into one of four categories:
Each category has its own specific colour and sign shape that remains consistent around the world as per safety regulations.
By getting to know the key characteristics of each type of symbol, you'll be able to easily identify whether a sign is asking you to stop doing something, start doing something, take precautions, or advising you of emergency equipment or facilities.
Canada's Workplace Hazardous Materials Information System (WHMIS) and OSHA's Hazard Communication Standard (HCS) align with and draw on the Globally Harmonized System of Classification and Labeling of Chemicals (GHS). Using this international system helps ensure consistency in the classification of chemicals and the communication of hazard information on labels and safety data sheets .
The system uses pictograms on labels to alert users of the chemical hazards they may be exposed to. Every symbol consists of a black pictogram on a white background, framed by a red border. There are nine different pictograms , each representing a different chemical hazard classification.
Health Hazard
Mutagenicity
Reproductive toxicity
Respiratory sensitizer
Target organ toxicity
Aspiration toxicity
Pyrophorics
Self-heating
Emits flammable gas
Self-reactives
Organic peroxides
Exclamation Mark
Irritant (skin and eye)
Skin sensitizer
Acute toxicity (harmful)
Narcotic effects
Respiratory tract irritant
Hazardous to ozone layer
Gas Cylinder
Skin corrosion/burns
Corrosive to metals
Exploding Bomb
Flame Over Circle
Environment
Skull and Crossbones
Acute toxicity (fatal or toxic)
To know what symbols should be in your workplace, you'll need to perform a comprehensive risk assessment . Assessments should be conducted for each activity and at each designated workspace to make sure you identify all potential hazards. Once you have that information, you'll know where workers will need safety reminders.
Note, however, that you might want to make sure the signs can be moved. After a while, workers become so familiar with the safety signs that they start to just be part of the background. To avoid this "sign blindness," safety experts recommend switching up the location of your signs every so often to keep the safety message top of mind (learn more in In Sight, In Mind: Reinforcing Safety Policies and Procedures ).
Safety signs and symbols exist to make identifying potential hazards easier. Keep things simple by spreading signs out within an area to avoid clustering them. Too many signs crammed together overwhelms workers with information and makes it less likely that they pay careful attention.
And remember that safety signs only work if everyone understands them. Conduct regular refresher training to ensure that every worker is familiar with the symbols and their meanings.
Related Terms
Globally Harmonized System
Safety Symbols
Interactive Safety Signs
First Aid Sign
Sign Blindness
Noise Reduction Rating
Short-Term Exposure Limit
Share This Article
Presented By
Written by Jessica Barrett
Jessica is a freelance writer and editor from Toronto, Canada. She specializes in creating content for nonprofits and has written for organizations working in human rights, conservation, education, and health care. She loves traveling and food, speaks Spanish, and has two dogs, one of whom she rescued while living in Mexico.
More from AD Safety Network
4 Solutions to Eliminate Arc Flash Hazards in the Workplace
4 Steps to Calculating Fall Arrest Distance
Safety Talks #16 - Mask Safety: Vetting Your Distributors and Suppliers!
3 Risks Your Fall Arrest Planning May Overlook
AEDs in the Workplace
Protecting Your Hearing on the Job: The 5 Principles of Hearing Protection
Related questions.
When should you consider using custom molded earplugs?
At what height do falls become deadly?
Who should be responsible for rescuing fallen workers?
What kind of training do loading dock workers need?
How often should I inspect a loading dock?
How is wind chill calculated?
What is the difference between occupational safety and process safety?
Why should rubber insulating gloves be tested?
What happens if I tie off at the foot level with a personal SRL?
Why is testing with a NAIL4PET accredited lab important?
What kind of face protection do I need when using a chainsaw?
What is the permissible exposure limit (PEL) for silica?
What is silica and why is it hazardous?
Video Q&A - What is a safety policy?
What kind of fire extinguisher is best for your work site?
How do I choose the right respirator and mask for working with silica?
Can I wear fall protection equipment over my rainwear or winter gear?
When do I need a cage ladder?
What types of gloves protect your hands from hazardous chemicals?
How come I still got hurt while wearing flame-resistant clothing?
How do I win over my most reluctant employees?
What kinds of jobs should use disposable safety gloves?
Is it true that safety shouldn't be a top priority?
When are employers allowed to conduct drug and alcohol tests on their employees?
How can I get employees more involved in the risk assessment plan?
What are some of the indirect costs of workplace accidents?
How often do fire extinguishers need to be inspected?
What is the best way to store rubber safety gloves?
How much voltage protection is needed for safety gloves used in electrical work?
What is the difference between a safety valve and a release valve?
When do workers have the right to refuse to work?
What is the most overlooked item when designing Lockout/Tagout (LOTO) procedures?
What are some of the misconceptions about heat stress and what should we do to address them?
What tools should I tether when working at heights?
What types of gas should I watch out for when working in a confined space?
How do you create a culture of safety in your workplace?
What is the difference between industrial safety and industrial hygiene?
Is it important to get PPE assessments by trained professionals?
What is a fault tree analysis?
What kind of respirator cartridge should I use?
What are the safety benefits of a whistleblower program?
What type of safety record-keeping and recording should we be doing?
What makes a hi-vis safety vest ANSI compliant?
Why is it important to have air sampling done to determine my PELs?
What is the life expectancy of fall protection equipment?
What are some basic fall protection rules that each of my workers need to understand?
How much clearance do I need to safely use a Leading Edge SRL?
What is the difference between an acute hazard and a chronic hazard?
What's the difference between a bump test, a calibration check, and a full calibration?
Is there any legislation regulating lone worker safety I should know about before hiring?
What kind of fire extinguisher and accessories should be kept on hand on a factory floor?
What can companies do to reduce their lost time injury frequency rates?
Video Q&A - What's your safety network like?
Video Q&A - What are the 3 levels of safety?
Video Q&A - How do you treat a near miss?
Does body weight affect falls differently?
What ages are most affected by falls?
Why do workers take risks?
What Is the Difference Between OHSAS 18001 and 18002?
What is the difference between lost time injury and medical treatment case?
What is the difference between occupational health and safety and workplace health and safety?
What is the difference between occupational health and occupational safety?
What is the difference between a lost time injury and a disabling injury?
Let's Make Workplaces Safer!
Subscribe to the Safeopedia newsletter to stay on top of current industry trends and up-to-date know-how from subject matter authorities. Our comprehensive online resources are dedicated to safety professionals and decision makers like you.
Latest Articles
Emergency Response Plans for Electric Shock Incidents
By: Steven John Cumper
7 Leading Indicators of Safety Worth Tracking
By: Karoly Ban Matei | HR and Safety Manager
You Produced Your First Sustainability Report. Now What?
By: Daniel Clark | Safety and Quality Management System Specialist
The Importance of Effective Communication in Workplace Safety
By: Rick Farrell | President
1-866-777-1360 M-F 6am - 4pm PST
Get Catalog | Get Free Samples
Safety Signs
Ansi/osha-compliant signs for any facility..
Free Label Samples See the quality of labels you can expect from a LabelTac ® label printer.
Get Samples
Free OSHA Safety Signs E-Book A guide to marking your facility according to OSHA and ANSI requirements.
Custom Safety Signs
Get signs that meet your specifications. .
Make modifications to a sign in our library or design a sign from scratch. Customizations can include logos, colors, text, images, or changes to layout. Tell us what you need, and we'll work with you to create your sign.
High-quality standard signs.
Search our large selection of OSHA-compliant walls signs. They're an effective way to add necessary information to your facility and they'll last a long time. Signs have pre-drilled holes for easy mounting, and they're resistant to chemicals, water, and weather.
Caution Signs
Caution signs are used to warn about possible hazards or unsafe practices. .
Caution signs indicate a level of severity less serious than warning signs or danger signs, but they still convey the message that if a hazardous situation isn't avoided, it could result in minor or moderate injury.
Do Not Enter Signs
Maintain safety and keep workers and visitors protected from hazards. .
Do not enter signs keep your facility secure and safe. All industrial settings have areas that, for one reason or another, need to be restricted. Maybe for security, maybe for safety—no matter the reason, it's important to take steps that ensure your controlled areas are kept intact.
Danger Signs
Keep workers aware of their surroundings and instruct them to take the proper precautions. .
OSHA requires that employers use hazard signs that comply with the ANSI Z535 standard for safety signs. These signs can mark almost any type of hazard, but many need to have a specific format that uses a signal word, header, text, and pictogram.
No Parking Signs
Keep your business compliant with regulations and laws. .
No parking signs are an essential piece to keeping your facility safe. While it's important to have messaging that instructs drivers to stop, yield, and where not to enter, it's equally necessary to instruct drivers—particularly those who are not used to the facility—where parking is prohibited.
Hazard Signs
Ensure safety by marking facility hazards. .
In any industrial workspace, hazards are present at every turn. Whether your warning workers about high voltage, electric rooms, welding arc, confined spaces, or foot protection, Danger Signs will inform quickly and efficiently.
No Smoking Signs
Inform workers and visitors of where smoking is prohibited. .
Laws and regulations regarding smoking continue to tighten with every year; it's important that businesses not only update their own policies. No Smoking signs help to keep smoke out of areas it doesn't belong.
Floor Signs
Mark floors with durable, traffic-resistant signs. .
With long-lasting floor signs, you can get your message across without worrying about damage from traffic, water, chemicals, or UV rays. These signs won't lose color or traction either. Installation is simple, too. Peel the backing off the sign and press it to a clean, dry surface.
SignCast ™ Virtual Signs
Alternative sign solutions for tough environments. .
Display bright, virtual signs on floors that have high traffic or uneven surfaces. SignCast™ Virtual Signs have no physical parts on the floor, which means you won't have a problem with sign damage. Choose from a variety of traffic signs and other safety signs.
Safety Banners
Bold, noticeable visuals to emphasize safety. .
Use eye-catching banners to convey safety messages in your workplace. Order a pre-made banner, or we can customize one for you. Banners are made from durable 13 oz. scrim material, so they'll hold up to the environment of any facility.
Fire Safety Signs
Standard signs for fire-fighting equipment and evacuation. .
Fire safety signs must convey important information about handling a fire in the workplace. These signs use recognizable colors and formats so people can act quickly during an emergency. Choose signs for sprinklers, fire extinguishers, hoses, and exits.
Facility Safety Signs
Common signs communicating instructions. .
Signs that convey policy information, exit routes, and security reminders play an important role in the safety of a workplace. These signs have simple designs and are easy to read. Shop our selection of facility signs to find the messages and styles you need.
Workplace safety programs have many parts, all of which are important to keeping people safe on the job. Safety signs play a key role in many aspects of safety from notifying people of tripping hazards and PPE requirements to explaining arc flash and chemical hazards.
These signs must be noticeable, easy to read and comply with OSHA standards for safety signs in many cases. Since safety is a high priority for both 6S and 5S programs, taking the necessary steps to keep workers safe is key to a successful and productive business.
The Versatility of Safety Signs
Below you'll find a variety of types of safety signs including floor and wall signs, labels, banners, and even virtual signs. Floor safety signs are built to endure forklift traffic, and are chemical, water, and UV-resistant. Wall signs are available in several materials, including PVC, aluminum, and adhesive-backed vinyl, so you can select the material that will work best in your facility.
These signs were made to meet the demanding needs of industrial environments and are made with the toughest material out there to ensure their longevity.
Where Safety Signs are Used
You'll see safety signs just about everywhere you go. They exist in restaurants, farms, swimming pools, and countless more. Safety signs are essential for maintaining employees' and public health and safety. Without them, there is a severe lack of information about hazardous conditions. Especially if those hazards are not recognized immediately.
Reducing Hazardous Chemical Dangers with Safety Signs
Safety signs are a big part of hazardous chemical identification. In fact, GHS labels, HMIS, or NFPA diamonds are excellent examples of chemical safety. Providing your employees with a quantity of information on safety signs and labels is imperative for performing daily tasks.
Customized Safety Signs with Symbols available
Safety signs can also be customized to meet your requirements. Browse through our pre-made signs and if you don't see what you're looking for, get in touch. We'll help you get the safety signs you need. Call us at 1-866-777-1360!
Common Signs for Safety
Workplace health & safety signs communicate important information about hazards. Common hazard warning signs include:
Danger signs
Warning signs
Caution signs
These signs contain a standard header prescribed by OSHA and have standard text and pictograms. These components make warning signs compliant with OSHA signs.
Hazard signs can be used for a wide variety of situations such as chemical hazards, arc flash, slip/trip/fall hazards, fire hazards, dangerous atmospheres, and hazardous equipment. Whatever dangers your workplace has, you can likely find a safety sign or create a custom version that meets OSHA guidelines.
Other safety signs direct people to first aid equipment, fire-fighting equipment, and other important locations. Businesses must mark these items, as they are critical when responding to an emergency. In addition, exit signs and signs directing people to evacuation routes and meeting points are critical to safety.
Additional Workplace Signs
Many safety signs are mandatory signs, but adding other informational signs can also contribute to workplace safety.
Prohibition signs – Signs instructing people not to smoke, not to enter certain areas, not to wear certain types of footwear, etc. can all be important to safety.
Security signs – These signs protect people and property by keeping people out of locations where they shouldn't go.
Office signs – These signs often provide directions or instructions to help people perform tasks.
If a sign will help increase safety, it's worth having in the workplace. Businesses should remember, though, that if too many signs are present in an area, the important messages might get overlooked or diluted. First, achieve compliance with signs, make sure important information is emphasized, and then add signs as needed. Just don't overdo it.
Print Safety Signs In-House
As you can see from the categories on this page, many types and styles of safety signs exist. There are large floor signs and small labels. You can get durable wall signs or indestructible virtual signs. For workplaces that need many safety signs on walls, machines, doors, shelves, etc., printing them in-house can end up being the most economical and practical solution. A LabelTac® industrial label printer can create any type of safety label. Some models can even print larger signs and banners. Consider the demands of your labeling projects and browse in-house labeling options .
Here at Creative Safety Supply, we firmly believe that strategically placed visual communication can help any facility prevent workplace injuries, illnesses, and fatalities. Safety signs can be placed in offices, manufacturing plants, warehouses,... More details
Create Custom Safety Sign
Stop Sign - Basic Floor Sign You can't miss our bright and bold Stop Sign - Basic Floor Sign. This sign is universally recognized to mean stop and can be highly effective when used in conjunction with other pertinent signage. This sign is manufactured... More details
Stop Sign - Basic Floor Sign
Stop Look Out For Forklifts Floor Sign Our Stop Look Out For Forklifts Floor Sign is a great sign to use in any area where forklift and truck traffic are present. This sign warns employees and visitors alike that potentially hazardous forklifts may... More details
Stop Look Out For Forklifts
Fire Exit - Keep Clear At All Times Floor Sign These floor signs warn people not to put any objects, equipment, or vehicles in front of a fire exit. Made from a tough construction that is resistant to chemicals and water, these products are great... More details
Fire Exit - Keep Clear
Eyewash Station Floor Sign These signs signal to workers where they should go for first aid eyewash treatment. They hold up to traffic and are chemical and water-resistant. Customize with an image or text change at no extra charge. Call us at... More details
Eyewash Station
Do Not Block Sign Make it clear and simple that the area that this sign is place in should absolutely never be blocked off by objects with this bright yellow sign that reads "Do Not Block." Install this sign near a fire exit,... More details
Do Not Block - Floor Sign
Floor Stop Signs: Safety Glasses Required This floor sign reminds workers and visitors alike to put on their safety glasses in designated areas. Signs from Creative Safety Supply are made from quality materials and are resistant to chemicals and water... More details
STOP Safety Glasses Required
Emergency Shower and Eyewash Does your facility handle or house dangerous or caustic chemicals, solutions, oils, or solvents? If so, proper safety signage is critical to ensure the highest levels of safety.When a dangerous situation involving hazardous... More details
Emergency Shower and Eyewash
Stop: Look both Ways/High Traffic – Floor Sign It's no lie that facilities with constant pedestrian and forklift traffic have a higher chance of fatal collisions. Lower your chances and keep your employees safe with this easily noticeable... More details
Stop: Look both Ways/High Traffic - Floor Sign
Steel Toe Shoes Floor Sign This sign alerts workers or visitors that they must be wearing steel toe shoes to enter an area. Our floor signs are designed for use in industrial workplaces and hold up to forklift and foot traffic. Customize this sign... More details
Steel Toe Shoes Required
Stop Sign - Authorized Personnel Only Floor Sign This floor sign informs people that only authorized personnel may enter an area. These floor signs are durable and resistant to water and chemicals. Our floor signs are customizable: change the text... More details
Stop Sign - Auth Personnel Only
Stop Sign - S.T.O.P. Floor Sign This stop sign features the use of a helpful acronym using the letters S.T.O.P: Stop, Think, Observe, and Proceed. There are many times out on the work floor when employees act too quickly, this can lead to mistakes or... More details
Stop Sign - S.T.O.P.
Maximum Pallet Height - Wall Sign For most warehouses, stacking pallets is a necessity. Stacking pallets maximizes floor space and creates a tidy and clean warehouse. Although, stack your pallets too high, and you'll create a hazardous work... More details
Maximum Pallet Height - Wall Sign
Prop 65 Bilingual (Spanish) - Wall Sign Proposition 65, also known as the Safe Drinking Water and Toxic Enforcement Act of 1986 is California's proposition to protect the state's drinking water from chemical contamination that is known to... More details
Prop 65 Bilingual (Spanish) - Wall Sign
Foot Protection Required Floor Sign Many industrial work environments warrant the need for protective footwear to protect workers' feet from industrial hazards. Our Foot Protection Required floor sign alerts workers and visitors alike that they must... More details
Foot Protection Required
Stop Please Wait Here Floor Sign This floor sign tells visitors and workers to wait before proceeding. All of our signs are durable and can withstand traffic and extreme temperature changes. They're also resistant to chemicals and water. Our products are... More details
STOP Please Wait Here
Fire Extinguisher Inspection Record - Wall Sign Federal OSHA Standard 1910.157 requires a visual monthly inspection of all portable fire extinguishers. This is includes checking its tamper seal, gage, pin, as well as making sure it's... More details
Fire Extinguisher Inspection Record - Wall Sign
Spill Kit Location - Floor Sign The risk of a hazardous spill in the workplace is always a possibility, and leaving a spill can lead to numerous disasters. From the possible injury of slipping and falling, to inhaling dangerous chemicals,... More details
Spill Kit Location - Floor Sign
Stop - Do Not Enter Floor Sign This basic floor sign signals that drivers and pedestrians should stop and not enter an area. Our durable, easy-to-install floor signs are chemical and water-resistant and hold up to traffic. Customize them at no additional... More details
Stop Sign - Do Not Enter
Caution: Sound Horn - Proceed Slowly - Wall Sign Mounted on a durable 3mm PVC signboard Meets 2016 ANSI sign standards Industrial, long-lasting materials Custom signs available, please call 1-866-777-1360 No set-up charge & no extra... More details
Caution: Sound Horn - Proceed Slowly - Wall Sign
Safety Glasses Required - Floor Sign Eye Protection is not something that should be taken lightly. Workplace accidents involving eye damage happens daily. Even minor accidents can have long-term effects. There are several types of eye... More details
Safety Glasses Required - Floor Sign
Ammonia Alarm Procedure - Wall Sign High levels of ammonia can prove to be incredibly toxic and could create irreversible health effects, such as lung damage and death. Because of its toxicity and dangerous side-effects, safety procedures are often put... More details
Ammonia Alarm Procedure - Wall Sign
Emergency Shower and Eyewash Floor Sign: Right Arrow These signs specifically indicate that the first aid eyewash station in your facility is to the right. These floor signs hold up to vehicle and forklift traffic and they are resistant to UV rays and... More details
Emergency Shower/Eyewash - R Arrow
Visitors Must Stay Behind Yellow Line – Floor Sign This "Safety Zone" floor sign is a perfect way to alert staff and visitors where they need to stand in order to stay safe from harm. This sign is great for industrial facilities,... More details
Safety Zone - Floor Sign
Emergency Shower and Eyewash Floor Sign Left Arrow Emergency shower and eyewash signs are imperative to the overall safety of many industrial work environments. Let's face it, if employees don't know the locations of these showers and wash stations, how... More details
Emergency Shower/Eyewash - L Arrow
Steel Toe & Safety Glasses Required - Floor Sign According to OSHA's 29 CFR 1910.1, employers are required to provide and maintain necessary Personal Protection Equipment (PPE) based on specific hazards that may occur on the... More details
Steel Toe & Safety Glasses Required - Floor Sign
Spill Kit Response (Wall Sign) Use this wall sign to inform workers of the location(s) of spill kits for emergency response. Features Mounted on a durable 3mm PVC signboard Custom signs available, please call 1-866-777-1360 No set-up charge,... More details
Spill Kit Response (Wall Sign)
Hand Protection Required - Industrial Floor Sign Looking for the perfect sign to remind employees to use proper hand protection? Our Hand Protection Required Industrial Floor Sign is a great choice to meet your needs. Our industrial-grade floor signs are... More details
Hand Protection Required
This Remember: Safety Quality Quantity In That Order Landscape - Wall Sign is constructed using durable, industrial-grade materials, and is designed to be easily noticeable from a distance. Our wall signs such as this one, can be mounted anywhere... More details
Remember: Safety Quality Quantity In That Order Landscape - Wall Sign
This Do Not Stand Here - Floor Sign can be easily seen from a distance, and is constructed using tough, industrial-grade materials, allowing it to survive in the most severe work environment. Our floor signs are engineered to not only withstand constant... More details
Do Not Stand Here - Floor Sign
Yield (Red/White) - Floor Sign With a high traffic facility, injuries are become more common, and creating awareness between pedestrian walkways and vehicle lanes is necessary to help prevent future those accidents. This noticeable Yield floor sign is... More details
Yield (Red/White) - Floor Sign
Caution: Work in Progress - Floor Sign Construction projects can be a source of various hazards and its unstableness can cause multiple different types of injuries, from tripping over random objects to objects falling on passerby. With a floor... More details
Caution: Work in Progress - Floor Sign
Prop 65 Facility Bilingual (Spanish) - Wall Sign The Safe Drinking Water and Toxic Enforcement Act of 1986, also known as Proposition 65, is California's proposition created in an effort to protect the state's drinking water from chemical... More details
Prop 65 Facility Bilingual (Spanish) - Wall Sign
SLOW - Floor Sign An excellent sign for facilities with forklift and other miscellaneous vehicle traffic, this Slow sign will catch driver's attention and remind them to slow down where it's necessary. It's often difficult to... More details
SLOW - Floor Sign
Danger: Confined Space (Wall) The Danger: Confined Space wall sign is an effective way to notify employees that a permit or special authorization must be obtained before entering a confined space. This sign notifies employees that the area may be... More details
Danger: Confined Space (Wall)
X-Ray Radiation - Wall Sign Commonly used in X-ray imaging labs, a wall sign that reads "X-Ray Radiation" is the best way to warn staff and facility visitors of X-Ray Radiation before they enter a Radiology room or a room where X-ray... More details
X-Ray Radiation - Wall Sign
Stay Alert, Don't Get Hurt - Active Dock Area - Wall Sign Whether it's a loading, receiving, or shipping dock, a facilities docking area can be prone to potential hazards. With this "Be Alert, Don't Get Hurt – Active Dock... More details
Stay Alert, Don't Get Hurt - Active Dock Area - Wall Sign
Prop 65 Products - Wall Sign Proposition 65, also known as the Safe Drinking Water and Toxic Enforcement Act of 1986 is California's proposition to protect the state's drinking water from chemical contamination that is known to cause cancer,... More details
Prop 65 Products - Wall Sign
This Danger: Protect Yourself From Heat Stress Bilingual Portrait - Wall Sign is constructed using durable, industrial-grade materials, and is designed to be easily noticeable from a distance. Our wall signs such as this one, can be mounted anywhere... More details
Danger: Protect Yourself From Heat Stress Bilingual Spanish Portrait - Wall Sign
Notice: Tornado Shelter- Wall Sign This Notice: Tornado Shelter wall sign lets people know where they should be going during a severe weather event. Tornados and others types of dangerous weather can at any time, which is why most workplaces have an area... More details
Notice: Tornado Shelter - Wall Sign
Helpful Resources
Oops, something went wrong. Please try again.
You are now logged in!
SafeWork Insider covers the workplace topics you care about most.
5S Methodology
Chemical / Hazmat
Fire / Emergency / Medical
Industrial / Construction
Material Handling
Now Trending
Office / Retail / Hospitality
Personal Protective Equipment
Product Spotlight
Safety News
Safety Tips
Transportation
Workplace Health
Pipelines: The Lifeline and Liability of Our Energy Infrastructure
Top 10 OSHA Violations of 2023
Workplace Safety News
5S Lean Information

A Complete Guide to Workplace Safety Signs
Topic Facilities
Share Share via Facebook Share via Twitter Share via LinkedIn
Safety signs are used across industries to promote workplace safety. They reduce accidents and injuries by serving as easily recognizable indicators of potential hazards. As such, industry partners must ensure that proper signage is displayed according to the appropriate standards.
This extensive guide to workplace safety signs, their meanings, and best practices for use is designed to help you navigate the complex web of rules and regulations that govern their display. Use it as a resource to help guide your workplace safety policies and safety sign buying decisions.
Table of Contents
Safety signs in the workplace, safety signs: color coding and meaning, types of safety signs, osha regulations, military & ansi standards, where to place safety signs.
There are many different applications for safety signs in the workplace. In general, they serve one of the following three main purposes.
To Provide Direction: Some workplace signage is used to designate specific locations or traffic patterns. This includes smoking area signs , hand wash station signs and storage area signs. Exit signs and barricade signs ensure you know where you can and can't go. This ensures work zone safety by directing people and items to appropriate areas.
To Provide General Information: When you need to convey information or instructions, or you want to share safety quotes for work, general information signs are a useful tool. Instructional signs detail safety topics for work on a specific machine or operating line, and housekeeping signs direct workers to follow proper sanitation and hygiene practices.
To Warn of Potential Dangers: Some signs are displayed to warn of increased risk of danger. These should always be color-coded according to the level of risk and worded to clearly indicate a potential hazard . Funny safety signs have no place here. Be direct and use positive, action-oriented wording to get your message across quickly and clearly.
Colors play an important role in conveying safety and road work sign information quickly and effectively. The American National Standards Institute and Occupational Safety and Health Administration developed standards to assign meaning to specific colors . This helps ensure that signage is consistent across industries, and that company messaging is delivered in a concise manner.
Red: The color red is used on DANGER and STOP signs. It conveys a high risk of danger that could result in injury or death. Fire suppression equipment and emergency stops or alarms are red to increase their visibility.
Orange: Moderate risks of danger, like those posed by equipment or sharp edges, should be designated by orange WARNING signs . Road construction signs, under construction signs and other traffic safety signs are printed on an orange background.
Yellow: According to OSHA standard 1910.145(d)(4) , situations that require caution are denoted with yellow and black hazard signs. No trespassing signs designed to keep people from potential harm may use this color combination. In addition to trespassing signs, hazard and flammable material storage containers and doorway obstructions will be marked with yellow CAUTION signs .
Fluorescent Orange or orange-red with contrasting lettering is used to denote a biological hazard.
Green: Green safety signs mark first aid and safety equipment.
Blue : A blue background on safety signs indicates that a piece of equipment is under repair and should not be started or moved.
Purple: Purple is reserved for safety signs marking radioactive material and hazards. These are generally on a yellow background with a graphic clearly designating the hazard.
There are three main classifications of safety signs according to OSHA . These are:
Danger signs indicate a serious immediate threat that will cause grave injury or death if it is not avoided. They will be a combination of red, black and white with the word DANGER across the top. Orange warning signs may be used to draw attention to a less serious or less immediate threat.
Caution signs denote the risk of a minor or moderate injury. They have a yellow background with black upper panel, borders and lettering. The upper panel displays the word CAUTION, sometimes accompanied by a graphic.
Safety instruction signs are informational signs that tell workers about policies and procedures. They may have instructions for hygiene practices or equipment operation and shutdown steps. Instructional signs must be white with a green upper panel with white letters. Additional lettering and graphics are black on the white background.
There are several other, smaller categories of safety signs including:
General safety signs may be road safety signs , construction safety signs, no smoking signs or electrical signs to warn of danger or shutoff locations.
Admittance signs and no trespassing signs detail who can and cannot enter a designated area.
Fire safety signs will have white lettering and graphics on a bright red background. They are easy to spot and mark fire extinguishers, hoses and other fire suppression systems.
Non-hazard signs include traffic signs and safety area directional signs.
For temporary applications, lightweight safety tags may be used in place of signs. They must comply with all color and design requirements as laid out under OSHA and ANSI standards.
The Occupational Safety and Health Administration is the main governing body for developing U.S. regulations and standards for workplace safety. OSHA standards and regulations lay out the specific requirements for signage. Failure to comply with those requirements puts you in violation of federal workplace safety laws.
OSHA describes a standard or regulation as "… a regulatory requirement established and published by the agency to serve as criteria for measuring whether employers are in compliance with the OSH Act laws. OSHA standards are published in Title 29 of the Code of Federal Regulations (CFR) and are divided into separate standards for General Industry, Construction, and Maritime."
Safety warning signs play a large role in maintaining workplace safety. They must be posted in accordance with all requirements of your specific industry. OSHA 1926.200(a) states that OSHA signs must be "visible at all times when work is being performed, and shall be removed or covered promptly when the hazards no longer exist." They must be posted where they are visible from a set distance, in most cases five feet.
OSHA-compliant safety signs will be made of a material that is appropriate for the location where they are posted. In most cases, that will be a sturdy material designed to withstand conditions in your facility such as aluminum or heavy plastic. Some safety signs are also available in adhesive vinyl for direct application onto a wall, piece of equipment or another smooth background. They must have "rounded or blunt corners and shall be free from sharp edges, burrs, splinters, or other sharp projections. The ends or heads of bolts or other fastening devices shall be located in such a way that they do not constitute a hazard" as listed under OSHA 1910.145(d)(1)
PPE signs serve as a reminder for workers to wear appropriate gear such as glasses, helmets, gloves or masks. Biohazard signs serve as a further warning to take proper precautions.
In some cases, signage may be required to inform the public about potentially hazardous situations . Community safety signs indicate access requirements, entrances and exits and help with wayfinding. They are often brown, blue or green depending on their function. Fluorescent yellow-green is approved for pedestrian, bicycle, and school crossing warning signs .
In addition to OSHA and ANSI standards, all safety and security signs used in military applications must meet standards set forth in MIL-DTL-15024F . Its specification sheets outline extensive physical requirements for materials, design and packaging of all military signs, plates and equipment tags.
All materials for Military and federal government applications must also adhere to federal procurement guidelines. The Department of Defense Index of Specifications and Standards and the Office of Federal Supply and Services Index of Federal Specifications, Standards and Commercial Item Descriptions are useful resources for navigating the purchasing process of appropriate OSHA and ANSI safety signs.
U.S. General Services Administration Global Supply regulations state that any material that can be classified as a physical or health hazard should be marked with special chemical safety signs. Hazardous materials are commonly referred to as HAZMAT and labeled with safety hazard signs bearing that description. Materials that generally fall under HAZMAT guidelines in military and civilian applications include chemicals that are known to be:
Toxic or highly toxic agents
Carcinogens
Harmful to reproductive processes
Damaging to the lungs, skin, eyes, or mucous membranes
Combustible liquids
Compressed gases
Flammable liquids or solids
Unstable at rest or when exposed to water
ANSI signs should always be used to denote these items and proper storage locations. Emergency supplies should be marked with first aid signs that are highly visible in case of accidental exposure .
Confined spaces, defined as a space that is big enough to fully enter and perform work in, but has restricted access and is not designed for continuous use, must be marked with appropriate confined space signs. OSHA standard 1910.146 addresses permit-required confined spaces that may contain hazardous material.
Proper sign placement increases its effectiveness. In general, no sign should interfere with the placement or message of another sign. It should also be visible from a set required minimum distance.
The best way to determine whether you are meeting requirements for sign placement is to check the appropriate local and OSHA standards. While you may need additional signs depending on your specific situation, you can get started by checking your signage to see if it meets this basic guide to workplace safety signs:
All evacuation routes are marked with appropriate evacuation signs. (Add periods to all bullets)
Exits from individual rooms and buildings are clearly marked with red and white exit signs.
Areas where food is prepared display hygiene and food safety signs.
Hazardous materials are clearly labeled with appropriate HAZMAT designations.
Equipment and general hazards are all marked with proper warehouse safety signs.
All restrooms are marked with restroom signs.
Having the proper signs posted in the correct locations helps keep workers, customers and visitors safe. This guide to workplace safety signs helps you know which signs you need so you can post them where people will easily see and recognize them.
Guide to Workplace Safety Signs FAQ
What are safety signs.
Safety signs are placards that can be placed throughout workplaces to help ensure safety. They are used in manufacturing, agricultural and traffic situations to remind workers of requirements, help them locate items and specific areas, and raise awareness of potential hazards.
What do safety signs mean?
The meaning of a safety sign is determined by the color, shape and graphics used on it. Red generally means danger, yellow indicates a need for caution and blue is used for information signs.
What is the purpose of safety signs?
According to OSHA 1910.145(a)(1), safety signs are used to "define specific hazards that could harm workers or the public, or both, or to property damage."
Why do we need safety signs?
Safety signs are a crucial component of workplace safety measures. They alert workers to potential hazards, direct traffic and help in identifying emergency equipment. This reduces accidents and injuries in the workplace.
What color is a warning safety sign?
Per OSHA and ANSI standards, warning signs are printed on an orange background.
What health and safety signs do I need to post?
The specific signs you need to post will depend on the type of business you operate. According to OSHA's Hazard Communication Standard , you can use signs that comply with ANSI Z35.1-1968 or ANSI Z535.2-2011, and ANSI Z35.2-1968 or Z535.5-2011 in addition to OSHA signs.
Where can you find the rules for safety sign usage?
Safety standards, laws and regulations are listed on the OSHA website under standard 191.145(a)(1).
What do blue health and safety signs mean?
Blue signs are used to warn workers against moving or starting equipment that is undergoing repair. You may see it near ladders, scaffolding or electrical controls.
Workplace Safety Signs
JavaScript is not enabled.
This site requires the use of JavaScript. Please enable JavaScript .
Social Distancing Signs
Floor Signs
Face Masks Signs
Wash Your Hands Signs
Temperature Check Signs
Office Reopening Signs
Custom Safety Signs
Custom Workplace Signs
Construction Site Signs
Warehouse Safety Signs
Office Etiquette Signs
Health Hazard Signs
Occupancy Signs
Safety Awareness Signs
Think Quality Signs
Watch Your Step Signs
Forklift Signs
No Cell Phone Signs
Housekeeping Signs
No Food Or Drink Signs
Cafeteria Signs
All Safety Signs
Your cart is empty.
JavaScript seems to be disabled in your browser. For the best experience on our site, be sure to turn on Javascript in your browser.
0800 043 0161 [email protected]
The Most Common Safety Signs and Their Meanings
As an employer, you must understand safety signs and their meanings so that you can appropriately use the correct safety signs in the workplace. Health and safety signs come in four distinct colours, and each indicates a different warning or precaution. 
Blue safety signs are mandatory signs that explain a specific action. A yellow safety sign is a warning or caution sign. Red safety signs usually indicate danger or prohibition of a certain substance or act. Green signs are not designed to highlight danger, and instead indicate helpful information and safe points, such as fire exits or first aid points. 
Using the correct safety sign as an employer is a legal requirement set out by the Health and Safety Executive, and it is therefore essential to understand health and safety signs and their meanings in order to ensure your workplace is being kept safe.
Safety signs and the law
All employers have a legal duty to display safety signs where there is a risk to the safety of pedestrians or employees, despite putting other safety measures in place. You can minimise risks by conducting routine workplace health and safety assessments, and following the Control of Substances Hazardous to Health ( COSHH ) guidelines if you use hazardous substances in your place of work.
Every safety sign should be clearly visible and legible and should only be used to identify the correct actions, such as the use of personal protective equipment (PPE) , or no access zones. Using too many signs could be confusing. You only need to put up a safety sign if there is a danger that poses a significant risk. Whilst health and safety signs are not always required by law, they can still be helpful. 
You can find out more information about the Health and Safety (Safety Signs and Signals) Regulations 1996 on the government website. This is the law you must follow when displaying health and safety signs in the workplace.
Explaining the meaning of common health and safety signs
Safety signs can vary in colour, size and shape. You should understand which safety sign you need in your business, as this will depend on the type of business you run. Usually, green safety signs are the most common, as all workplaces must indicate fire exits. If you use or store hazardous substances, yellow safety signs should be used. 
Below we look at the different common types of health and safety signs and their meanings:
Danger or prohibition signs
These safety symbols must be red and indicate that dangerous behaviour must be stopped. They can also tell the reader to stop or not enter. For a prohibition sign to be within the law, red must cover at least 35% of the sign. Usually, these safety symbols have a black image on a white and red background. For prohibition signs, a red circle with a strike-through line indicates which action must be stopped. The most common red prohibition signs are no-smoking signs.
Warning safety signs
These are health and safety signs with a yellow background that tell the reader to take precautions or be careful. They warn of possible dangers, such as an electric or trip hazard. Warning signs are often triangular in shape, with a black image and black edging. These warning safety signs are usually accompanied by some text explaining the warning in more detail. 
Mandatory signs
Mandatory health and safety signs are always blue and tell the reader that a certain action is required. If you work in construction, these are commonly seen at the entrance to the construction site and tell employees that they must follow a certain action, such as wearing the appropriate PPE. These mandatory signs are on a blue background with white text and a white image.
Emergency exit signs
Emergency exit signs are always green in colour. They represent a safe escape route if there were to be a fire in the building. These are usually standardised and have a green background with white writing, with a man running out of a door.
First aid signs
First aid signs are also green and indicate a first aid zone within an area. As green is a neutral colour, it can indicate help and safety. First aid signs are not always mandatory, but can be helpful depending on your work setting. They can also be used to indicate where specialist first aid equipment is kept, such as a defibrillator.
Fire safety signs and fire equipment signs
Fire safety signs are always red, as this colour represents danger or fire, and is eye-catching in an emergency situation. It could indicate a fire alarm call point or fire fighting equipment. Usually, these are a rectangular or square shape with a white image on a red background. They may also be accompanied by some text. 
Combined signs
ISO 7010 is the UK law designed ensure the safety signs used here in Britain are consistent with those used across the European Union. Under this legislation, a health and safety sign can be combined to give several messages at once. These are ideal for garage courtyards or construction sites, where a combination of safety signs need to be used. This avoids confusion and ensures that employees see all safety signs before entering an area.
Find out more
To learn more about health and safety signs and finding the right sign for your application, take a look at our  Ultimate Guide to Safety Signs , or give the experts at SafetyBuyer a call on 0800 043 1061 if you have any questions. You can also browse our range of safety signs online today.
Posted in Safety Signs and Featured
Disposing of Hazardous Substances and Materials: A Best Practice Guide
Safety Signs
Coshh and Spill Control
Health and Safety
Manufacturing
A Guide to Regulatory Compliance for the Treatment, Storage, and Disposal of Hazardous Waste for Facility Managers
Compliance and Regulations: Ensuring Safe Storage and Disposal of Hazardous Waste
12 Most Important Workplace Hazard Safety Signs
Safety signs are an essential part of maintaining a safe work environment. They serve as visual reminders to employees and visitors about the potential hazards in a workplace and the precautions that need to be taken to avoid injury or accidents.
This blog will discuss the 12 most important workplace hazard safety signs that every employer should have. By being aware of these signs and understanding what they mean, employees can work together to create a safer work environment for themselves and their colleagues. So, whether you're a new employee or a seasoned veteran, paying attention to these safety signs and following their guidelines to ensure you stay safe on the job is important.
Workplace Hazard Safety Signs
Workplace Hazard Safety Signs are visual indicators used in workplaces to communicate specific hazards, precautions, or safety measures to employees and visitors. They play a crucial role in preventing accidents and ensuring the safety of everyone in the vicinity. These signs are typically standardized, using specific colors, shapes, and symbols to convey particular meanings.
Importance of Workplace Hazard Safety Signs:
Awareness : They inform workers and visitors about potential hazards, ensuring that everyone is aware of the risks in a particular area or while performing a specific task.
Prevention : By making individuals aware of hazards, these signs can prevent accidents and injuries.
Legal Compliance : Many countries have regulations that mandate the use of specific safety signs in workplaces. Using these signs ensures compliance with these laws.
Guidance : In emergencies, safety signs (like exit signs or fire equipment signs) guide individuals to safety.
Standardization : Because many safety signs are standardized, they provide consistent and clear messages regardless of language or cultural differences.
Reinforcement : Even if workers are trained and aware of certain hazards, safety signs serve as a continuous reminder, reinforcing safety protocols.
Liability : In the event of accidents or injuries, having appropriate safety signs can demonstrate that a business took reasonable steps to warn of hazards, potentially reducing liability.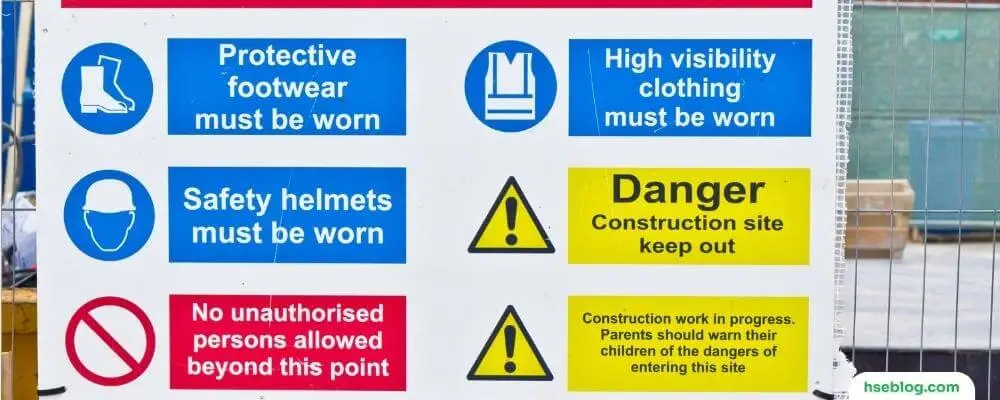 10 Most Important Workplace Hazard Safety Signs
Here are 12 of the most important workplace hazard safety signs that should be displayed in any workplace:
1. Exit Sign
An exit sign is a type of safety sign used to indicate the location of an exit or escape route from a building in an emergency. The purpose of an exit sign is to help people quickly and safely evacuate a building in the event of a fire, earthquake, or another emergency.
Exit signs come in various shapes, sizes, and colors, but most commonly, they are rectangular and feature the word "EXIT" in bold, contrasting letters. Some exit signs also include an arrow pointing toward the exit. The sign's color is typically green or red, with the letters and arrow being white or another contrasting color.
In addition to standard exit signs, there are also illuminated exit signs that use battery backup or an electrical connection to provide additional visibility in the event of a power outage. These signs are particularly important in large buildings, where visibility may be limited during an emergency.
It is important to note that exit signs should be placed in clear and visible locations throughout a building, such as near doors, stairways, and hallways. This helps ensure that people can quickly and easily locate an exit in an emergency. Additionally, exit signs should be regularly checked and maintained to ensure they function properly and remain visible.
2. Slips, Trips, And Falls Sign
A "Slips, Trips and Falls" sign is a type of workplace hazard safety sign that alerts employees and visitors to the potential dangers of slipping, tripping, or falling in a specific area. These signs are usually posted in areas where the floor surface is slippery, uneven, or cluttered and where there is a higher risk of falls.
Slips, trips, and falls are some of the most common causes of workplace accidents and can result in serious injuries, such as broken bones, head trauma, and sprains. To prevent these types of accidents, it is important to identify and address the hazards that contribute to them.
The "Slips, Trips and Falls" sign typically features a symbol or illustration of a person slipping, tripping, or falling, accompanied by a warning message. The message may advise employees and visitors to take extra caution when walking in the area, to watch their steps, and to avoid distractions, such as using their phones while walking. The sign may also provide information on what to do in a fall, such as reporting it immediately to a supervisor.
There are several types of "Slips, Trips and Falls" signs that can be used in the workplace to alert employees and visitors to potential hazards:
Caution Wet Floor Sign: This sign is used in areas where the floor is wet, such as near a spill, leak, or freshly mopped floor. It alerts people to take extra care when walking in the area to avoid slipping.
Watch Your Step Sign: This sign is used in areas where the floor surface is uneven, such as near a step, ramp, or threshold. It reminds people to watch their steps to avoid tripping.
No Running Sign: This sign is used where running is not allowed, such as near stairs or crowded areas. It reminds people to walk at a controlled pace to avoid falling.
Keep Aisle Clear Sign: This sign is used in areas where aisles or pathways are cluttered or obstructed, such as near storage shelves or equipment. It reminds people to keep the aisle clear to avoid tripping or falling.
Floor Cleaning In Progress Sign: This sign is used where floor cleaning occurs, such as near a floor buffer or mop bucket. It alerts people to avoid the area to avoid slipping on a wet floor.
These are just a few examples of "Slips, Trips, and Falls" signs that can be used in the workplace. The specific signs used will depend on the specific hazards present in the workplace.
In conclusion, the "Slips, Trips and Falls" sign is an important workplace safety tool that helps to create awareness of the risks associated with slipping, tripping, or falling and promotes safe behavior in the workplace.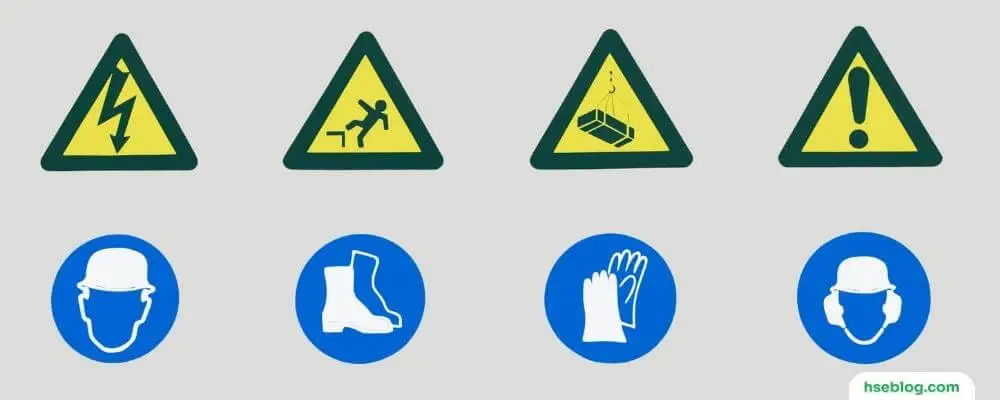 3. Authorized Personnel Only Sign
The "Authorized Personnel Only" sign is an important safety and security measure in many workplaces. It is used to restrict access to specific areas or rooms that contain sensitive information, hazardous materials, or equipment that could pose a risk to employees or the workplace.
The purpose of this sign is to control access to these areas and prevent unauthorized individuals from entering and potentially causing harm or damage. By restricting access to authorized personnel, the workplace can ensure that only individuals trained and qualified to handle the materials or equipment in the restricted area are allowed to enter.
The sign is typically displayed at the entrance to the restricted area and features bold, clear text that reads "Authorized Personnel Only." It may also include additional information, such as the type of hazard present in the area or the qualifications required for personnel to enter. The sign may also feature an image or symbol, such as a warning triangle, to reinforce the message and draw attention to the restriction.
It is important to note that the "Authorized Personnel Only" sign is not a substitute for proper training, safety procedures, or other measures that should be in place to ensure the safety and security of the workplace. Instead, it is one aspect of a comprehensive safety and security program that protects employees and the workplace.
4. Personal Protective Equipment (PPE) Sign
PPE, or Personal Protective Equipment, is a type of safety gear worn by workers to protect themselves from potential hazards in the workplace. The PPE sign indicates areas where personal protective equipment is required. This sign is typically displayed in areas with a risk of physical harm, such as exposure to chemicals, high noise levels, or other hazardous conditions.
The PPE sign typically includes a symbol or pictogram of a person wearing protective gear, such as a hard hat , safety glasses, or earplugs. The sign may include text specifying the protective equipment required for the particular hazard. The sign may be displayed near the entrance to an area, on equipment or machinery, or in any other location where workers are likely to encounter a hazard.
It is important to note that using PPE is just one part of a comprehensive safety program. Other important elements include regular training and education, proper maintenance and inspection of equipment, and safe work practices. By following these guidelines, workers can help ensure their and their colleagues' safety.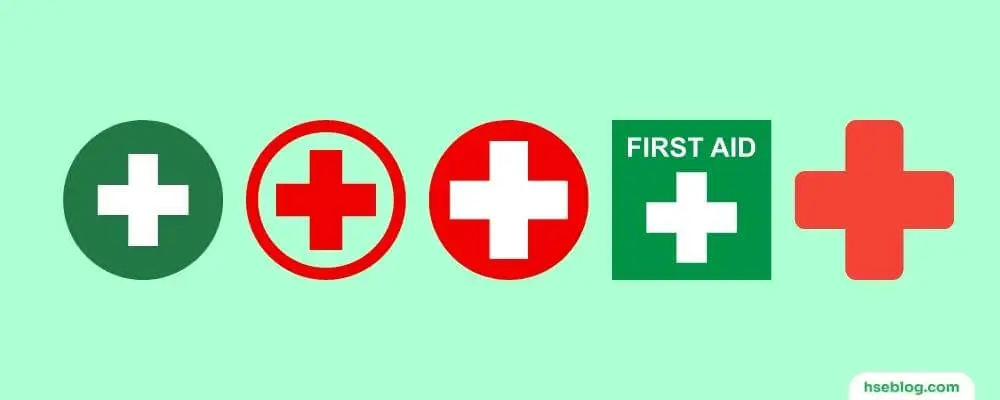 5. First Aid Sign
A first aid sign is a type of safety sign that indicates the location of a first aid station or kit in a workplace. The sign typically features a white cross on a green background and the words "FIRST AID" or "FIRST AID STATION". The purpose of a first aid sign is to quickly and easily direct employees or visitors to the designated area in case of a medical emergency so that they can receive prompt and appropriate care.
First aid signs are usually placed in visible locations near the first aid station or kit, such as on walls, doors, or in hallways. They may also be placed near hazardous, high-risk areas where accidents or injuries are most likely to occur. The placement of first aid signs is important to ensure that employees and visitors can find the first aid station or kit quickly in case of an emergency.
Having a well-marked and easily accessible first aid station is crucial for the safety and well-being of employees and visitors in a workplace. It helps to ensure that they receive prompt and appropriate care in case of an injury or illness and can help to prevent minor injuries from becoming more serious.
6. Danger Flammable Sign
The "Danger Flammable" sign is a safety sign used to warn workers and others of flammable materials or substances. This sign is typically used in areas with a risk of fire or explosion, such as near fuel storage tanks, gasoline dispensing stations, or chemical storage rooms.
Flammable materials such as gasoline, oil, propane, natural gas, and many chemicals can easily ignite and burn. These materials can seriously threaten workers and others in the area if not handled or stored properly.
The "Danger Flammable" sign is usually brightly colored, with a clear and easily recognizable symbol of flames. The sign also typically includes a warning message in bold text, reminding workers and others to handle flammable materials cautiously and avoid creating sparks or flames that could ignite the materials.
7. Biohazard Sign
A biohazard sign is a symbol used to indicate the presence of biological substances that threaten the health of living organisms, including humans. These substances can include infectious diseases, pathogens, and other harmful microorganisms. The biohazard sign is usually a bright yellow triangle with a black border and a black symbol, such as a silhouette of a microbe or a test tube inside.
The purpose of a biohazard sign is to alert people to the presence of dangerous biological materials, to help prevent the spread of infections, and to promote safety in the workplace. These signs are commonly found in healthcare facilities, research laboratories, and other places where biological materials are handled, stored, or transported.
In the event of a biohazard incident, the sign helps quickly identify the hazard's location. It can provide important information on the necessary precautions and protective measures. It is important to follow the guidelines and protocols established by the relevant authorities and take all necessary steps to minimize the risk of biohazard exposure.
8. Electrical Safety Sign
Electrical safety signs are used to alert workers and visitors to potential electrical hazards in the workplace. These hazards can include exposed electrical wires, high-voltage equipment, or other sources of electrical energy that could cause injury or death if not handled properly.
The electrical safety signs typically feature a yellow background with a black symbol or text that clearly communicates the danger. For example, a sign that reads "Danger: High Voltage" or "Warning: Electrified Equipment" would warn workers and others of the presence of electrical equipment or lines that pose a risk of electric shock or electrocution.
In addition to warning signs, electrical safety signs can indicate the location of electrical panels, electrical shut-off switches, or other important electrical equipment. This can be particularly important in an emergency, as it helps workers locate the necessary equipment to safely shut off electrical power.
It is important to note that electrical safety signs are just one component of an overall electrical safety program. Employers are also responsible for providing training and education on electrical safety and regular inspections and maintenance of electrical equipment to ensure it is in good working condition and poses no risk to workers.
9. Danger Confined Space Sign
The "Danger Confined Space" sign is a warning sign used in the workplace to indicate the presence of a confined space that presents a hazardous situation to employees. Confined spaces are limited in size, not intended for continuous human occupancy, and have limited or restricted means for entry and exit. Examples of confined spaces include tanks, vessels, silos, storage bins, hoppers, vaults, and pipelines.
Working in confined spaces can be extremely dangerous due to various hazards, such as hazardous atmospheres, entrapment, and asphyxiation. The "Danger Confined Space" sign is used to warn employees of these hazards and to emphasize the need for caution when entering or working near a confined space.
The sign typically features "Danger Confined Space" in bold, black letters on a yellow background. An image of a person in danger or an exclamation mark is often used to draw attention to the sign. The sign is typically placed at the entrance to a confined space or in a prominent location where employees can easily see it.
Employers need to follow strict safety procedures and guidelines when working in confined spaces to prevent accidents and injuries. These procedures may include conducting a hazard assessment, providing personal protective equipment, establishing a communication system, and implementing rescue and emergency response plans.
10. Assembly Point Sign
The Assembly Point Sign is a safety sign used in the workplace to indicate the designated location where employees should gather in an emergency, such as a fire or natural disaster. The sign is displayed in a prominent location and includes clear, easy-to-understand symbols and text directing employees to the designated assembly area.
The purpose of the Assembly Point Sign is to ensure that all employees can safely evacuate the building, gather in a designated area where they can be accounted for, and receive further instructions from emergency responders or designated personnel. This sign helps ensure all employees' safety by providing clear and concise instructions on where to go in an emergency, minimizing confusion, and ensuring a quick and orderly evacuation.
In general, the Assembly Point Sign should be placed in areas that are easily visible and accessible to all employees, such as near exits or in common areas. The sign should also be illuminated to be visible even in low-light conditions. Additionally, it is important to regularly review and update the designated assembly point to ensure that it remains a safe and effective location for employees to gather in an emergency.
11. Machine Safety Sign
A machine safety sign is a visual warning indicator used to alert workers of potential hazards associated with the operation of machinery. These signs are typically posted near or on machinery to inform employees of the dangers that may be present while operating or working near the equipment. A machine safety sign aims to increase awareness of potential hazards and reduce the risk of injury or harm to workers.
Machine safety signs typically include symbols and images that are universally recognized and easily understood, such as a circle with a slash through a symbol to indicate "prohibited" or "do not operate". They may also include written warnings and instructions to provide additional information on safely operating or working near the machinery.
Examples of hazards that may require a machine safety sign include:
Moving parts that can cause entanglement, crushing, or amputation
Sharp edges or surfaces that can cause cuts or punctures
Hot surfaces that can cause burns
Electrical hazards that can cause shock or electrocution
Flying debris that can cause eye injury or impact injury
It is important for employers to assess the hazards associated with each piece of machinery in their workplace and to post appropriate machine safety signs in a visible location to ensure workers are aware of potential dangers.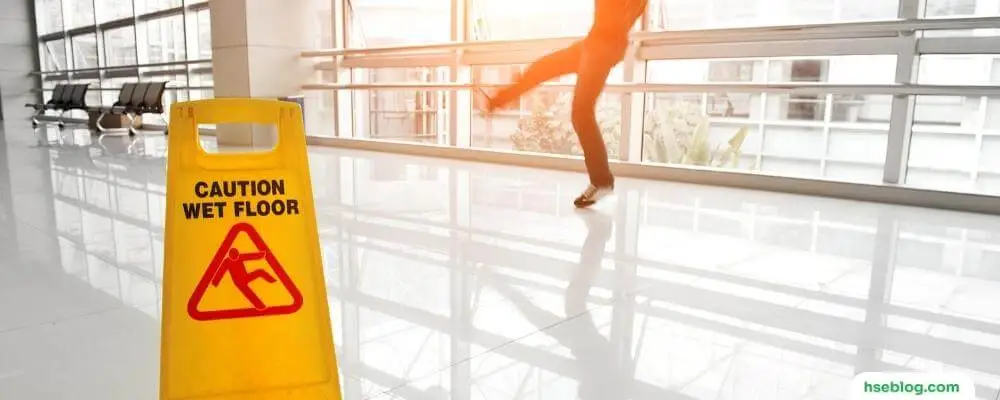 12. Forklift Safety Sign
A forklift safety sign is a visual warning or informational sign placed in areas where forklifts are used. These signs help prevent accidents and injuries due to forklift operations. A forklift safety sign aims to inform workers and visitors of the potential hazards associated with forklifts and provide clear instructions on staying safe while in their vicinity.
Forklift safety signs come in various shapes, sizes, and colors and may include symbols, images, and text. Some common types of forklift safety signs include:
Prohibited Entry: These signs indicate areas where forklifts operate and warn people not to enter.
Caution: These signs warn people of the potential danger of forklifts and instruct them to use caution when near them.
Speed Limit: These signs indicate the maximum speed at which forklifts can travel.
One-Way Traffic: These signs are used to direct forklifts in a specific direction and to prevent collisions.
Pedestrian Walkway: These signs designate areas where pedestrians can walk and warn them to stay clear of forklifts.
Load Capacity: These signs indicate the maximum weight that a forklift can safely carry.
In conclusion, forklift safety signs promote workplace safety and prevent accidents and injuries. Employers need to ensure that these signs are clearly visible and easily understood by all workers and visitors.
Workplace hazard safety signs play a crucial role in promoting safety in the workplace. The 12 most important signs discussed in this blog post are essential for alerting employees to potential hazards and preventing accidents. It is the responsibility of both employers and employees to ensure that these signs are clearly visible and understood. By following proper safety protocols and paying attention to hazard signs, workplaces can avoid injuries and fatalities and create a safer and healthier environment for everyone. Remember, safety should always be a top priority in any workplace.
Shehzad Zafar
Leave a Comment Cancel reply
Get more inspiration & our latest news.
Stay informed and protected with our exclusive updates delivered right to your inbox.
Welcome to the must-read blog for professionals in the health and safety field. Dive into the universe of health and safety with our enlightening blog crafted for professionals like you.
Quick Links
© Occupational Health and Safety Blog
Search Menu
Browse content in Disability assessment
Assessment for capacity to work
Assessment of functional capability
Browse content in Fitness for work
Civil service, central government, and education establishments
Construction industry
Emergency Medical Services
Fire and rescue service
Healthcare workers
Hyperbaric medicine
Military - Other
Military - Fitness for Work
Military - Mental Health
Oil and gas industry
Police service
Rail and Roads
Remote medicine
Telecommunications industry
The disabled worker
The older worker
The young worker
Travel medicine
Women at work
Browse content in Framework for practice
Health and Safety at Work etc. Act 1974 and associated regulations
Health information and reporting
Ill health retirement
Questionnaire Reviews
Browse content in Occupational Medicine
Blood borne viruses and other immune disorders
Dermatological disorders
Endocrine disorders
Gastrointestinal and liver disorders
Gynaecology
Haematological disorders
Mental health
Neurological disorders
Occupational cancers
Opthalmology
Renal and urological disorders
Respiratory Disorders
Rheumatological disorders
Browse content in Rehabilitation
Chronic disease
Mental health rehabilitation
Motivation for work
Physical health rehabilitation
Browse content in Workplace hazard and risk
Biological/occupational infections
Dusts and particles
Occupational stress
Post-traumatic stress
Advance articles
Editor's Choice
Themed and Special Issues
Author Guidelines
Submission Site
Open Access
Books for Review
Becomes a Reviewer
About Occupational Medicine
About the Society of Occupational Medicine
Editorial Board
Advertising and Corporate Services
Journals Career Network
Self-Archiving Policy
Dispatch Dates
Journals on Oxford Academic
Books on Oxford Academic
Article Contents
Should occupational health and safety signs be evidence-based?

Article contents
Figures & tables
Supplementary Data
Gareth Davey, Should occupational health and safety signs be evidence-based?, Occupational Medicine , Volume 73, Issue 3, April 2023, Page 174, https://doi.org/10.1093/occmed/kqad006
Permissions Icon Permissions
There are a range of safety signs and symbols that duty holders and employers provide in workplaces, public places and elsewhere. The design and location of signage are typically standardized and in compliance with health and safety regulations, such as the United Kingdom's Health and Safety (Safety Signs and Signals) Regulations 1996, creating an illusion that they are authoritative and evidence-based. This is aided by the harmonization and normalization of specific signs across the European Union (EU), as dictated by an EU Directive, and to some extent globally, so that signs are the same in different countries, although their specific requirements and regulations and laws differ across countries. There is also an assumption that everyone understands the meanings of safety signs and symbols. Yet, these conventions need to be scrutinized to ensure that health and safety information is being communicated appropriately and effectively.
Arguably, safety signs are clear and have legible words and messages and universally recognized visual symbols, making the identification of prohibited actions, safeguards to follow, and warnings of potential hazards much easier and quicker. Yet, there is no evidence for the effectiveness of certain wording, symbols and colours over alternative options. Also, although signs in the workplace are likely to be understood by employees who have undertaken health and safety training (and, ideally, refresher training), research on this topic is lacking, and it is not clear if the public understands the safety signs encountered in daily life. Research is urgently needed on safety signs to ensure they are evidence-based.
For example, Davey (in press) critically discussed the appearance of no-smoking signs in public places [ 1 ], and made the point that their standard features (e.g. a round shape, red circle, diagonal line and black pictogram of a lit cigarette on a white background) might be unattractive, and that their warning messages could be interpreted as patronizing and preachy, and in a uniform language rather than as multilingual, raising questions about effectiveness. Since violations of no-smoking signs can be commonly seen in public places, it is unclear without further research whether signs actually prohibit a behaviour that is a risk to health. The pictogram of a cigarette is less appropriate in cultures with different predominant forms of tobacco use, and with positive underlying social norms, so safety signs are ethnocentric and actually serve as a tool of western hegemony. Other types of safety signs (e.g. warning signs, emergency escape signs, first-aid signs) also require critical discussion.
Davey G. You can't smoke here! Some observations of no-smoking signs in Bangkok, Thailand . Cities Health 2023 , in press. doi: 10.1080/23748834.2022.2144106 .
Google Scholar
Email alerts
Citing articles via.
Contact SOM
Recommend to your Library
Affiliations
Online ISSN 1471-8405
Print ISSN 0962-7480
Copyright © 2023 Society of Occupational Medicine
About Oxford Academic
Publish journals with us
University press partners
What we publish
New features
Open access
Institutional account management
Rights and permissions
Get help with access
Accessibility
Advertising
Media enquiries
Oxford University Press
Oxford Languages
University of Oxford
Oxford University Press is a department of the University of Oxford. It furthers the University's objective of excellence in research, scholarship, and education by publishing worldwide
Copyright © 2023 Oxford University Press
Cookie settings
Cookie policy
Privacy policy
Legal notice
This Feature Is Available To Subscribers Only
Sign In or Create an Account
This PDF is available to Subscribers Only
For full access to this pdf, sign in to an existing account, or purchase an annual subscription.
The nation's health workers need support
Health worker jobs in the U.S. involve demanding and sometimes dangerous duties, including exposure to infectious diseases and violence from patients and their families. The COVID-19 pandemic presented even more stressors. These included a surge of patients, longer working hours, and shortages of supplies and protective equipment. Health workers are reporting feeling fatigue, loss, and grief at levels higher than before the pandemic.
Study finds health worker mental health is suffering
This Vital Signs report contains an analysis from the CDC Quality of Worklife survey focused on well-being and working conditions, comparing data from 2018 to 2022. This timeline captures data before and after the start of the COVID-19 pandemic. The study also compared health workers with two other groups: essential workers and all other workers across industries.* Reports of poor mental health symptoms increased more for health workers than for other worker groups.
Supportive workplaces can help to promote well-being
Health workers reported fewer mental health issues when they said they work in supportive environments. Factors that may make workplaces more supportive include:
Participation in workplace decisions
Trust between management and workers
Stress prevention,
Psychological health,
Support for productivity,
A harassment-free workplace, and
Enough time to complete tasks.
Health workers were more likely to report poor working conditions than other workers.
Health workers reported more poor mental health days than other workers.
Supportive workplaces may lessen mental distress health workers experience.
Health workers were more likely than workers in other sectors to report poor working conditions during the COVID-19 pandemic. Specific aspects of health work added to this disparity. The study showed how symptoms of poor mental health and negative workplace conditions increased among health workers from 2018 to 2022 compared to other worker groups:
Burnout: In 2022, 46% of health workers reported feeling burned out often or very often compared to 32% in 2018. The percentage of other essential workers and all other workers reporting burnout was similar in the two years.
Harassment: The percentage of health workers who reported experiencing harassment more than doubled, going from 6% in 2018 to 13% in 2022. Other essential workers also reported an increase, from 8% in 2018 to 11% in 2022.
Trust in management: In 2022, 78% of health workers agreed or strongly agreed that they trusted management, compared to 84% in 2018. Other essential workers reported a smaller drop in trust in management—down to 77% in 2022 from 81% in 2018.
Workplace productivity: In 2022, 82% of health workers reported that their workplace conditions supported productivity, down from 91% in 2018. Other essential workers reported a smaller decrease–down to 77% in 2022 from 84% in 2018.
Turnover intention: In 2022, the percentage of health workers who intended to look for a new job increased to 44%, up from 33% in 2018. The percentage of other essential workers and all other workers who intended to look for a new job decreased.
Health Workers Had Worse Outcomes in 2022 Compared to 2018
Health workers reported higher levels of poor mental health days, burnout, intent to change jobs (turnover intention) and being harassed at work in 2022 compared to 2018.
Health Workers Had Worse Outcomes in 2022 Compared to 2018 Health workers reported higher levels of poor mental health days, burnout, intent to change jobs (turnover intention) and being harassed at work in 2022 compared to 2018.
Poor Mental Health Days Past 30 days
Health Workers 2018: 3 days 2022: 5 days
Other Essential Workers 2018: 4 days 2022: 4 days
All Other Workers 2018: 4 days 2022: 4 days
Burnout % of workers
Health Workers 2018: 32% 2022: 46%
Other Essential Workers 2018: 39% 2022: 40%
All Other Workers 2018: 34% 2022: 37%
Turnover Intention % of workers
Health Workers 2018: 33% 2022: 44%
Other Essential Workers 2018: 40% 2022: 32%
All Other Workers 2018: 48% 2022: 39%
Harassed at Work % of workers
Health Workers 2018: 6% 2022: 13%
Other Essential Workers 2018: 8% 2022: 11%
All Other Workers 2018: 7% 2022: 7%
Harassment Is Linked to Poorer Mental Health
Health workers who experienced harassment were more likely to report burnout, depression, and anxiety, compared with those who did not.
Harassment Is Linked to Poorer Mental Health Health workers who experienced harassment were more likely to report burnout, depression, and anxiety, compared with those who did not.
Did Experience Harassment Reported feelings of anxiety 85% Reported feelings of depression 60% Reported feelings of burnout 81%
Did Not Experience Harassment Reported feelings of anxiety 53% Reported feelings of depression 31% Reported feelings of burnout 42%
Employers Can Take Steps to Address These Problems Now
Improving workplace policies and practices may also improve worker well-being. Here are 6 tips to get started.
Employers Can Take Steps to Address These Problems Now Improving workplace policies and practices may also improve worker well-being. Here are 6 tips to get started. Model and support taking time off. Include workers in decision-making. Value worker safety and health. Assign a senior leader to promote staff well-being. Ensure adequate staffing. Train supervisors to provide support.
What Can Be Done
How health workers viewed their workplace had a big impact on their stress from the COVID-19 pandemic. When they reported trusting their management, health workers had fewer symptoms of burnout. This shows that positive, supportive workplaces may act as a buffer and lessen the mental distress health workers experience.
Health workers' mental health, under unprecedented strain from the pandemic, demands immediate attention and decisive action. The Vital Signs study is a wake-up call to the pressing need to support the mental health of health workers. By understanding which working conditions harm mental health, employers can address these work-related factors and promote worker well-being.
Employers can:
Supporting adequate staff levels,
Providing helpful supervision, and
Preventing harassment of employees.
Encourage worker participation and two-way communication in decision-making.
Reduce stigma related to seeking help by eliminating intrusive questions for credentialing.
Provide and encourage use of paid leave for illness, family needs, and rest.
Supervisors and workers can :
Talk together about how to improve workplace conditions.
Use this study to show the importance of improving these working conditions in health occupations.
Discuss the benefits of better workplaces for everyone's health and well-being.
Everyone can:
Support health workers by expressing appreciation for their essential work.
Treat them with understanding and respect as they care for us and our families.
*Health workers include registered nurses, home health and personal care aides, licensed practical nurses and licensed vocational nurses, nursing assistants and orderlies, physicians and surgeons, pharmacy technicians, dental and vision staff, and many other types of workers. Worker classifications were adapted from categories and industries defined by the Advisory Committee on Immunization Practices (ACIP; Interim List of Categories of Essential Workers Mapped to Standardized Industry Codes and Titles ). North American Industry Classification System (NAICS) codes, published by CDC, were cross-referenced with industry codes for respondents' employment provided in the General Social Survey. Health workers include those in the health occupations described above; other essential workers include frontline, non-healthcare workers; "all other workers" include all remaining workers.
Related Pages and Resources
Vital Signs: Media Statement – Health Workers Report Harassment, Symptoms of Poor Mental Health, and Difficult Working Conditions [English]
Vital Signs: Comunicado de Prensa – Trabajadores de la salud reportan acoso, síntomas de mala salud mental y condiciones de trabajo difíciles [Spanish]
Morbidity and Mortality Weekly Report (MMWR): Vital Signs: Health Worker Perceived Working Conditions and Symptoms of Poor Mental Health—Quality of Worklife Survey, United States, 2018-2022
Healthcare Worker Wellbeing
Understanding and Preventing Burnout among Public Health Workers: Guidance for Public Health Leaders
Workplace Violence Prevention for Nurses
Addressing Health Worker Burnout: The U.S. Surgeon General's Advisory on Building a Thriving Health Workforce
Get email updates about Vital Signs
VITAL SIGNS RESOURCES
Exit Notification / Disclaimer Policy
The Centers for Disease Control and Prevention (CDC) cannot attest to the accuracy of a non-federal website.
Linking to a non-federal website does not constitute an endorsement by CDC or any of its employees of the sponsors or the information and products presented on the website.
You will be subject to the destination website's privacy policy when you follow the link.
CDC is not responsible for Section 508 compliance (accessibility) on other federal or private website.
Academic Medicine
Acid Base, Electrolytes, Fluids
Allergy and Clinical Immunology
Anesthesiology
Anticoagulation
Art and Images in Psychiatry
Assisted Reproduction
Bleeding and Transfusion
Caring for the Critically Ill Patient
Challenges in Clinical Electrocardiography
Climate and Health
Clinical Challenge
Clinical Decision Support
Clinical Implications of Basic Neuroscience
Clinical Pharmacy and Pharmacology
Complementary and Alternative Medicine
Consensus Statements
Coronavirus (COVID-19)
Critical Care Medicine
Cultural Competency
Dental Medicine
Dermatology
Diabetes and Endocrinology
Diagnostic Test Interpretation
Drug Development
Electronic Health Records
Emergency Medicine
End of Life
Environmental Health
Equity, Diversity, and Inclusion
Facial Plastic Surgery
Gastroenterology and Hepatology
Genetics and Genomics
Genomics and Precision Health
Global Health
Guide to Statistics and Methods
Hair Disorders
Health Care Delivery Models
Health Care Economics, Insurance, Payment
Health Care Quality
Health Care Reform
Health Care Safety
Health Care Workforce
Health Disparities
Health Inequities
Health Informatics
Health Policy
History of Medicine
Hypertension
Images in Neurology
Implementation Science
Infectious Diseases
Innovations in Health Care Delivery
JAMA Infographic
Law and Medicine
Leading Change
Less is More
LGBTQIA Medicine
Lifestyle Behaviors
Medical Coding
Medical Devices and Equipment
Medical Education
Medical Education and Training
Medical Journals and Publishing
Mobile Health and Telemedicine
Narrative Medicine
Neuroscience and Psychiatry
Notable Notes
Nutrition, Obesity, Exercise
Obstetrics and Gynecology
Occupational Health
Ophthalmology
Orthopedics
Otolaryngology
Pain Medicine
Pathology and Laboratory Medicine
Patient Care
Patient Information
Performance Improvement
Performance Measures
Perioperative Care and Consultation
Pharmacoeconomics
Pharmacoepidemiology
Pharmacogenetics
Pharmacy and Clinical Pharmacology
Physical Medicine and Rehabilitation
Physical Therapy
Physician Leadership
Population Health
Professional Well-being
Professionalism
Psychiatry and Behavioral Health
Public Health
Pulmonary Medicine
Regulatory Agencies
Research, Methods, Statistics
Resuscitation
Rheumatology
Risk Management
Scientific Discovery and the Future of Medicine
Shared Decision Making and Communication
Sleep Medicine
Sports Medicine
Stem Cell Transplantation
Substance Use and Addiction Medicine
Surgical Innovation
Surgical Pearls
Teachable Moment
Technology and Finance
The Art of JAMA
The Arts and Medicine
The Rational Clinical Examination
Tobacco and e-Cigarettes
Translational Medicine
Trauma and Injury
Treatment Adherence
Ultrasonography
Users' Guide to the Medical Literature
Vaccination
Venous Thromboembolism
Veterans Health
Women's Health
Workflow and Process
Wound Care, Infection, Healing
Download PDF
Share Twitter Facebook Email LinkedIn
Permissions
Complexity in the US Health Care System Is the Enemy of Access and Affordability
1 KFF, San Francisco, California
Lack of insurance coverage, high costs, and poor outcomes are well-documented problems in the US health care system, and policies to address them have been hotly debated for decades. However, complexity is another underappreciated problem that hinders access and affordability and is more difficult to quantify.
A recent survey by KFF, with support from the Robert Wood Johnson Foundation, provides some hints at the scope of the problem for US consumers with various types of health coverage. Findings from interviews with a nationally representative sample of 3605 privately and publicly insured adults reveal that many are perplexed with their health care plans.
Almost 6 in 10 people with insurance reported a problem with using their health insurance during the past year. The share increases to two-thirds for people in fair or poor health, three-fourths for those who need mental health services, and almost 8 in 10 for people who use the health system the most. The result is that many delay or skip care or accumulate bills they cannot afford.
Problems vary somewhat by type of coverage, with difficulties generally less prevalent in Medicare than in private insurance, but at least half of those with any of the 4 major types of health insurance (employer-provided, Medicare, Medicaid, or from the Affordable Care Act [ACA] marketplace) said they had a problem using their coverage during the past year. The issues ranged from the most basic, such as not getting an appointment with a physician covered by their plan, to discovering that their medications are not covered or being denied prior authorization for care recommended by their physician. Of those who reported insurance problems, 15% said their health declined as a result. More than one-quarter of those who reported problems say they had to pay more for their care.
To be sure, these are problems perceived by consumers, and the insurance company may or may not be at fault. Sometimes care is unnecessary even when a clinician recommends it, and a patient believes that it is needed. And sometimes consumers or their clinicians do not quite follow the rules.
But the reality is that many people are hopelessly confused by how their insurance works. About half of consumers say they do not understand some aspect of their coverage, including about one-third who do not understand what costs their plan covers or what costs they will owe.
For public programs including Medicare, Medicaid, and the ACA marketplace, the complexity also extends to signing up for coverage. For example, millions of people are now being disenrolled from Medicaid as the process for redetermining eligibility resumes after being paused during the COVID-19 public health emergency. Some individuals are no longer eligible for Medicaid, but about three-quarters have been terminated for "procedural" reasons, meaning they have been tangled in red tape or unable to be reached, and it is unknown whether they are still eligible for the program.
In Medicare, beneficiaries can now choose from an average of 43 private Medicare Advantage plans, and during open enrollment season, the airwaves are flooded with ads that may do more to confuse than illuminate. And people getting ACA coverage through healthcare.gov have a choice of more than 100 plan options on average. Choice in health care is generally believed to be a positive feature, but the complexity of too many choices can also lead to paralysis on the part of consumers or suboptimal decisions.
The idea of making the health care system simpler and more transparent certainly sounds good, at least in concept. Who could disagree with the principle that everyone should be able to learn which physicians and hospitals are in their network and taking patients, or that patients should get easily understandable explanations of benefits, statements, and medical bills? And does anyone want an artificial intelligence algorithm to deny claims without any review by real medical professionals?
Yet, any push for health care simplification inevitably clashes with commercial interests. The health insurance system is structured to simultaneously maximize profits, control costs, and serve consumers, which are competing goals that add to the challenge of simplifying it. For instance, limiting denials of claims or prior authorization requests will make the system more consumer friendly, but could also raise costs and might lead to care that is less grounded in evidence.
Although mechanisms already exist to protect patients and consumers, oversight and enforcement has been uneven. A federal law passed in 2021 requires private insurers to keep clinician directories up to date even though regulations implementing that requirement have not yet been issued. Private insurers are already required to give consumers clear explanations of benefits and provide notices of denied claims in a way that it is understandable, but any patient who has received them knows they can still be quite confusing.
Consumers have the right to appeal denials of claims, but the KFF survey found that 60% do not know they have that right, and 76% do not know the government agency to contact for help in dealing with insurance problems. People who work for companies with well-staffed human resources departments may have access to help in navigating the health insurance maze, but others are largely on their own.
To get health care, people do persevere. In the KFF survey, about half of those who had a problem said they ultimately were able to resolve it and receive care. But what about the other half? What happens the next time, and at what personal and family cost?
Health care simplification does not necessarily resonate in the same way as rallying cries for universal coverage or lower health care prices, but simplifying the system would address a problem that is frustrating for patients and is a barrier to accessible and affordable care.
The regulatory structure largely already exists to require explanations of benefits that make sense to consumers, clinician directories that are accurate, and rights to appeal when claims are denied. What is missing is effective enforcement of these requirements and support for consumers (especially those with serious and chronic health conditions) to comprehend and navigate the complex labyrinth the US health insurance system has become.
Published: October 26, 2023. doi:10.1001/jamahealthforum.2023.4430
Open Access: This is an open access article distributed under the terms of the CC-BY License . © 2023 Levitt L et al. JAMA Health Forum .
Corresponding Author: Larry Levitt, MPP, KFF, 185 Berry St, Ste 2000, San Francisco, CA 94107 ( [email protected] ).
Conflict of Interest Disclosures: Dr Levitt reported receiving grants from the Robert Wood Johnson Foundation. No other disclosures were reported.
See More About
Levitt L , Altman D. Complexity in the US Health Care System Is the Enemy of Access and Affordability. JAMA Health Forum. 2023;4(10):e234430. doi:10.1001/jamahealthforum.2023.4430
Manage citations:
© 2023
Artificial Intelligence Resource Center
Best of JAMA Network 2022
Browse and subscribe to JAMA Network podcasts!
Others Also Liked
An official website of the United States government.
Here's how you know
The .gov means it's official. Federal government websites often end in .gov or .mil. Before sharing sensitive information, make sure you're on a federal government site.
The site is secure. The https:// ensures that you are connecting to the official website and that any information you provide is encrypted and transmitted securely.
US Department of Labor, National Labor Relations Board sign agreement to strengthen information-sharing, outreach on whistleblower protections
Osha national news release.
October 31, 2023
WASHINGTON – The U.S. Department of Labor and the National Labor Relations Board today announced that the department's Occupational Safety and Health Administration and the board have signed an agreement to strengthen the agencies' partnership and outline procedures for information-sharing, referrals, training and outreach that explain federal anti-retaliation protections.
The Memorandum of Understanding will also enable OSHA and the board to cooperate more effectively and efficiently to enforce related laws and protect workers' rights.
"Everyone should be able to exercise their legal rights in the workplace without fear of losing their job or other forms of punishment," explained Assistant Secretary for Occupational Safety and Health Doug Parker. "Our partnership with the National Labor Relations Board will expand both of our agencies' impact and effectiveness in protecting workers who raise concerns about workplace violations or retaliation."
The collaboration will also create mechanisms to increase overall awareness on the rights and remedies available under federal anti-retaliation and whistleblower protection laws. The agencies have jointly created a fact sheet, " Building Safe & Healthy Workplaces by Promoting Worker Voice " to help workers better understand what recourse they have when their rights are violated.
"Workplace safety can be a matter of life and death for workers and so the ability to report workplace hazards without fear of retaliation is critically important," said National Labor Relations Board General Counsel Jennifer A. Abruzzo. "Today's MOU will bolster protections for workers to speak out about unsafe working conditions by strengthening coordination between OSHA and the NLRB on our enforcement efforts."
Learn more about the National Labor Relations Board or call 1-844-762-6572. For assistance in filing a charge, contact your NLRB Regional Office.
For more information on whistleblower protections, visit OSHA's Whistleblower Protection Program website .
Media Contacts:
Frances Alonzo, 202-693-526, [email protected] Victoria Godinez, 202-693-4667, [email protected]
Release Number: 23-2235-NAT
Mobile Menu Overlay
The White House 1600 Pennsylvania Ave NW Washington, DC 20500
FACT SHEET: President Biden Issues Executive Order on Safe, Secure, and Trustworthy Artificial Intelligence
Today, President Biden is issuing a landmark Executive Order to ensure that America leads the way in seizing the promise and managing the risks of artificial intelligence (AI). The Executive Order establishes new standards for AI safety and security, protects Americans' privacy, advances equity and civil rights, stands up for consumers and workers, promotes innovation and competition, advances American leadership around the world, and more. As part of the Biden-Harris Administration's comprehensive strategy for responsible innovation, the Executive Order builds on previous actions the President has taken, including work that led to voluntary commitments from 15 leading companies to drive safe, secure, and trustworthy development of AI. The Executive Order directs the following actions: New Standards for AI Safety and Security
As AI's capabilities grow, so do its implications for Americans' safety and security. With this Executive Order, the President directs the most sweeping actions ever taken to protect Americans from the potential risks of AI systems :
Require that developers of the most powerful AI systems share their safety test results and other critical information with the U.S. government. In accordance with the Defense Production Act, the Order will require that companies developing any foundation model that poses a serious risk to national security, national economic security, or national public health and safety must notify the federal government when training the model, and must share the results of all red-team safety tests. These measures will ensure AI systems are safe, secure, and trustworthy before companies make them public.
Develop standards, tools, and tests to help ensure that AI systems are safe, secure, and trustworthy. The National Institute of Standards and Technology will set the rigorous standards for extensive red-team testing to ensure safety before public release. The Department of Homeland Security will apply those standards to critical infrastructure sectors and establish the AI Safety and Security Board. The Departments of Energy and Homeland Security will also address AI systems' threats to critical infrastructure, as well as chemical, biological, radiological, nuclear, and cybersecurity risks. Together, these are the most significant actions ever taken by any government to advance the field of AI safety.
Protect against the risks of using AI to engineer dangerous biological materials by developing strong new standards for biological synthesis screening. Agencies that fund life-science projects will establish these standards as a condition of federal funding, creating powerful incentives to ensure appropriate screening and manage risks potentially made worse by AI.
Protect Americans from AI-enabled fraud and deception by establishing standards and best practices for detecting AI-generated content and authenticating official content . The Department of Commerce will develop guidance for content authentication and watermarking to clearly label AI-generated content. Federal agencies will use these tools to make it easy for Americans to know that the communications they receive from their government are authentic—and set an example for the private sector and governments around the world.
Establish an advanced cybersecurity program to develop AI tools to find and fix vulnerabilities in critical software, building on the Biden-Harris Administration's ongoing AI Cyber Challenge. Together, these efforts will harness AI's potentially game-changing cyber capabilities to make software and networks more secure.
Order the development of a National Security Memorandum that directs further actions on AI and security, to be developed by the National Security Council and White House Chief of Staff. This document will ensure that the United States military and intelligence community use AI safely, ethically, and effectively in their missions, and will direct actions to counter adversaries' military use of AI.
Protecting Americans' Privacy
Without safeguards, AI can put Americans' privacy further at risk. AI not only makes it easier to extract, identify, and exploit personal data, but it also heightens incentives to do so because companies use data to train AI systems. To better protect Americans' privacy, including from the risks posed by AI, the President calls on Congress to pass bipartisan data privacy legislation to protect all Americans, especially kids, and directs the following actions:
Protect Americans' privacy by prioritizing federal support for accelerating the development and use of privacy-preserving techniques— including ones that use cutting-edge AI and that let AI systems be trained while preserving the privacy of the training data.
Strengthen privacy-preserving research and technologies, such as cryptographic tools that preserve individuals' privacy, by funding a Research Coordination Network to advance rapid breakthroughs and development. The National Science Foundation will also work with this network to promote the adoption of leading-edge privacy-preserving technologies by federal agencies.
Evaluate how agencies collect and use commercially available information —including information they procure from data brokers—and strengthen privacy guidance for federal agencies to account for AI risks. This work will focus in particular on commercially available information containing personally identifiable data.
Develop guidelines for federal agencies to evaluate the effectiveness of privacy-preserving techniques, including those used in AI systems. These guidelines will advance agency efforts to protect Americans' data.
Advancing Equity and Civil Rights
Irresponsible uses of AI can lead to and deepen discrimination, bias, and other abuses in justice, healthcare, and housing. The Biden-Harris Administration has already taken action by publishing the Blueprint for an AI Bill of Rights and issuing an Executive Order directing agencies to combat algorithmic discrimination , while enforcing existing authorities to protect people's rights and safety. To ensure that AI advances equity and civil rights, the President directs the following additional actions:
Provide clear guidance to landlords, Federal benefits programs, and federal contractors to keep AI algorithms from being used to exacerbate discrimination.
Address algorithmic discrimination through training, technical assistance, and coordination between the Department of Justice and Federal civil rights offices on best practices for investigating and prosecuting civil rights violations related to AI.
Ensure fairness throughout the criminal justice system by developing best practices on the use of AI in sentencing, parole and probation, pretrial release and detention, risk assessments, surveillance, crime forecasting and predictive policing, and forensic analysis.
Standing Up for Consumers, Patients, and Students
AI can bring real benefits to consumers—for example, by making products better, cheaper, and more widely available. But AI also raises the risk of injuring, misleading, or otherwise harming Americans. To protect consumers while ensuring that AI can make Americans better off, the President directs the following actions:
Advance the responsible use of AI in healthcare and the development of affordable and life-saving drugs. The Department of Health and Human Services will also establish a safety program to receive reports of—and act to remedy – harms or unsafe healthcare practices involving AI.
Shape AI's potential to transform education by creating resources to support educators deploying AI-enabled educational tools, such as personalized tutoring in schools.
Supporting Workers
AI is changing America's jobs and workplaces, offering both the promise of improved productivity but also the dangers of increased workplace surveillance, bias, and job displacement. To mitigate these risks, support workers' ability to bargain collectively, and invest in workforce training and development that is accessible to all, the President directs the following actions:
Develop principles and best practices to mitigate the harms and maximize the benefits of AI for workers by addressing job displacement; labor standards; workplace equity, health, and safety; and data collection. These principles and best practices will benefit workers by providing guidance to prevent employers from undercompensating workers, evaluating job applications unfairly, or impinging on workers' ability to organize.
Produce a report on AI's potential labor-market impacts , and study and identify options for strengthening federal support for workers facing labor disruptions , including from AI.
Promoting Innovation and Competition
America already leads in AI innovation—more AI startups raised first-time capital in the United States last year than in the next seven countries combined. The Executive Order ensures that we continue to lead the way in innovation and competition through the following actions:
Catalyze AI research across the United States through a pilot of the National AI Research Resource—a tool that will provide AI researchers and students access to key AI resources and data—and expanded grants for AI research in vital areas like healthcare and climate change.
Promote a fair, open, and competitive AI ecosystem by providing small developers and entrepreneurs access to technical assistance and resources, helping small businesses commercialize AI breakthroughs, and encouraging the Federal Trade Commission to exercise its authorities.
Use existing authorities to expand the ability of highly skilled immigrants and nonimmigrants with expertise in critical areas to study, stay, and work in the United States by modernizing and streamlining visa criteria, interviews, and reviews.
Advancing American Leadership Abroad
AI's challenges and opportunities are global. The Biden-Harris Administration will continue working with other nations to support safe, secure, and trustworthy deployment and use of AI worldwide. To that end, the President directs the following actions:
Expand bilateral, multilateral, and multistakeholder engagements to collaborate on AI . The State Department, in collaboration, with the Commerce Department will lead an effort to establish robust international frameworks for harnessing AI's benefits and managing its risks and ensuring safety. In addition, this week, Vice President Harris will speak at the UK Summit on AI Safety, hosted by Prime Minister Rishi Sunak.
Accelerate development and implementation of vital AI standards with international partners and in standards organizations, ensuring that the technology is safe, secure, trustworthy, and interoperable.
Promote the safe, responsible, and rights-affirming development and deployment of AI abroad to solve global challenges, such as advancing sustainable development and mitigating dangers to critical infrastructure.
Ensuring Responsible and Effective Government Use of AI
AI can help government deliver better results for the American people. It can expand agencies' capacity to regulate, govern, and disburse benefits, and it can cut costs and enhance the security of government systems. However, use of AI can pose risks, such as discrimination and unsafe decisions. To ensure the responsible government deployment of AI and modernize federal AI infrastructure, the President directs the following actions:
Issue guidance for agencies' use of AI, including clear standards to protect rights and safety, improve AI procurement, and strengthen AI deployment.
Help agencies acquire specified AI products and services faster, more cheaply, and more effectively through more rapid and efficient contracting.
Accelerate the rapid hiring of AI professionals as part of a government-wide AI talent surge led by the Office of Personnel Management, U.S. Digital Service, U.S. Digital Corps, and Presidential Innovation Fellowship. Agencies will provide AI training for employees at all levels in relevant fields.
As we advance this agenda at home, the Administration will work with allies and partners abroad on a strong international framework to govern the development and use of AI. The Administration has already consulted widely on AI governance frameworks over the past several months—engaging with Australia, Brazil, Canada, Chile, the European Union, France, Germany, India, Israel, Italy, Japan, Kenya, Mexico, the Netherlands, New Zealand, Nigeria, the Philippines, Singapore, South Korea, the UAE, and the UK. The actions taken today support and complement Japan's leadership of the G-7 Hiroshima Process, the UK Summit on AI Safety, India's leadership as Chair of the Global Partnership on AI, and ongoing discussions at the United Nations. The actions that President Biden directed today are vital steps forward in the U.S.'s approach on safe, secure, and trustworthy AI. More action will be required, and the Administration will continue to work with Congress to pursue bipartisan legislation to help America lead the way in responsible innovation. For more on the Biden-Harris Administration's work to advance AI, and for opportunities to join the Federal AI workforce, visit AI.gov .
Stay Connected
We'll be in touch with the latest information on how President Biden and his administration are working for the American people, as well as ways you can get involved and help our country build back better.
Opt in to send and receive text messages from President Biden.
Blog Social care
https://socialcare.blog.gov.uk/2023/11/06/the-importance-of-speaking-up-in-the-workplace/
The importance of speaking up in the workplace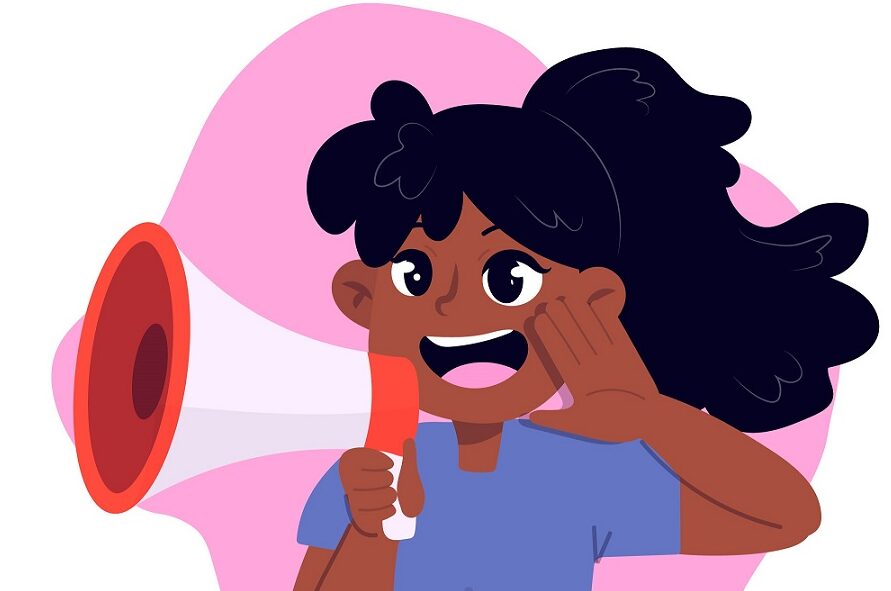 Promoting safety and support
October was the sixth annual Speak Up Month, led by the National Guardian 's office. It provided an opportunity to raise awareness and highlight the difference which Freedom to Speak Up is making in the workplace.
Across Cygnet Health Care and Cygnet Social Care services, we want to make sure all staff are empowered to speak up regardless of their role or background. We have worked tirelessly to make sure each site has a Freedom to Speak Up Ambassador.
Today, we have more than 180 ambassadors across our many sites. It's a real achievement and something that gives us a sense of pride as an organisation.
We want to make sure we are protecting our patients' safety and improving the lives of all our colleagues. We spend more time at work than we do anywhere else, so it's important staff feel there is a safe way to raise concerns, without negative repercussions.
The ambassador role is voluntary. Colleagues who choose to take it on are passionate about supportive workplace cultures and patient safety. They have been drawn from all different kinds of roles, including doctors, support workers and our administrative teams. This creates a diverse network, where we can all learn from each other.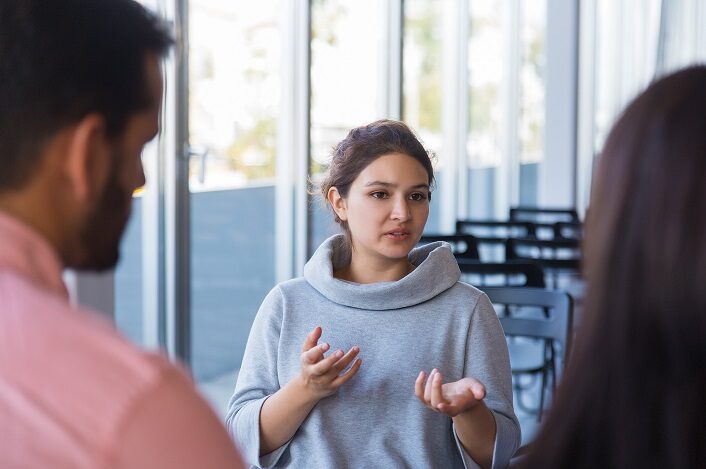 Giving colleagues a voice
My role within the organisation is to give colleagues an extra level of support if they are worried, unsure or feel they can't talk to someone within their line management or team.
At Cygnet, there are many channels for speaking up – from a discussion with a line manager to submitting suggestions for improvements. They can raise concerns anonymously and confidentially. Or they can use our whistleblowing helpline, an independent service, available 24 hours a day.
Staff can also raise concerns with us in person openly and we can then give them advice on next steps. It's important colleagues feel listened to and their feedback acted on. Following-up closes the loop and makes sure we demonstrate positive change, learning and improvement as an organisation. Ultimately this will help us all to deliver better care, share knowledge to identify best practice and review guidance where necessary.
Never stop listening
The sign of a healthy organisation is one that listens to its colleagues. We have learnt the healthiest – and safest – cultures for patient care are those that are aware, transparent and reflective.
All these values are fed by one crucial skill: our capacity to listen. Cultures of silence, where colleagues feel unable to alert others to things they believe are wrong, are the most dangerous.
Colleagues need to feel heard and understood, and leaders must demonstrate they are open to new ideas. Leaders who do not listen will eventually be surrounded by staff who have nothing to say. A valued, motivated and committed team will improve care outcomes, so listening is at the very core of better service delivery and improving the lives of those we care for.
I urge all those working in the health and social care sector to raise awareness of Freedom to Speak Up Guardians to help foster a culture which will improve the care provided to those who need it.
Sharing and comments
Share this page, leave a comment.
Cancel reply
By submitting a comment you understand it may be published on this public website. Please read our privacy notice to see how the GOV.UK blogging platform handles your information.
Related content and links
Social care.
News, views and information updates for anyone working in - or receiving support from - the care and support sector.
Find out more .
About this blog
Other DH blogs
Sign up and manage updates